Fancy taking the kids out for some springtime sunshine? Stockland has compiled a list of the best playgrounds in Southeast Queensland that are perfect for a spring playdate – and if you are up for a day trip, some great parks on the Gold Coast and Sunshine Coast!
David Laner, Acting Queensland General Manager for Residential Communities at Stockland, said Stockland was leading the way in playground fun and innovation, creating adventure playgrounds that offer inclusive and interactive fun for the ultimate day trip.
"Spring is a wonderful time of the year to shake off the cobwebs and enjoy the sunshine," Mr Laner said.
"Our parks offer both locals and visitors a great outing for all the family to enjoy. Many have cafés close by, and all feature the latest innovative playground designs to support the health and wellbeing of residents of all ages, fitness levels and abilities.
Stockland's top five spots for a spring playdate in Brisbane are:
Newport Central Park – Brindabella Street, Newport
Central Park features elevated rope walks, ladders, slides and swings, and the park has two separate play areas which provide different spaces for toddler and older child to play. The central paved area provides multiple shaded areas and space for bike riding and scooters and there is an open grass area for ball games. With shelters, barbecues and toilets, Central Park is a great day out for all the family to enjoy.
Feng Shui Park – Pallara Avenue, Pallara
The innovative park has been designed to take advantage of elements of Feng Shui, and features both quiet and active spaces. The reflexology walk is worth visiting and has been designed to encourage people to take their shoes off and walk on rounded pebbles to massage key meridian points within the feet. Other highlights include a designated sanctuary area, picnic tables, and seating areas. The park has a custom birds nest swing, a large arc ladder, a ping pong table and tubing which allows children to discover the principles of music and sound through play, and transforms the playground into interactive art.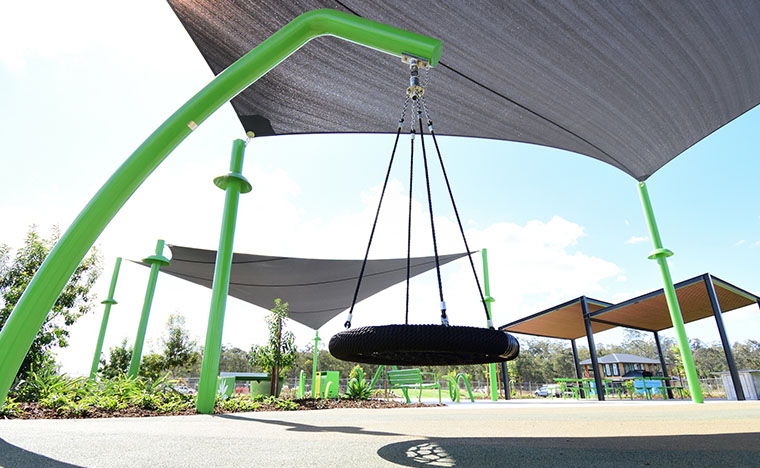 Augusta Green Park – Benezet Drive and Kearney Street, Augustine Heights
This 3,880 square metre park features a BMX track, the brainchild of retired BMX champion, Tim Wood. The track has a total length of around 90 metres and is ideal for beginners and children who wanted to develop their skills. The park includes a basketball half court, barbecue shelter, kick about area, as well as a number of walking and cycling paths.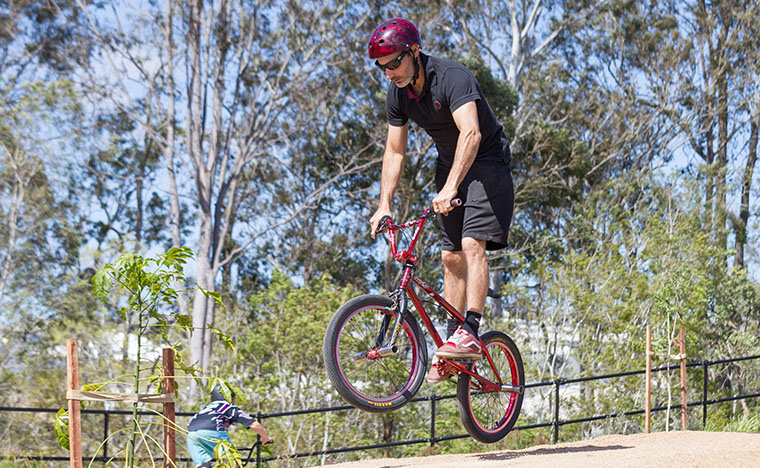 Central Park – Stone Ridge Boulevard, Narangba
Exploration is the key feature of Stone Ridge's innovative park at Narangba. The multi-use space includes a flying fox, climbing frames, play equipment and a picnic area, a half-basketball court and a traffic school bike path for youngsters. The park is located off Stone Ridge Boulevard.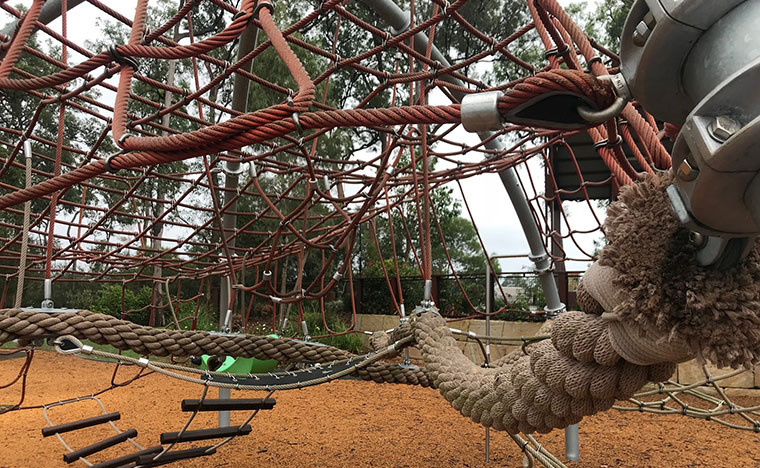 Aurora Boulevard Park – Aurora Boulevard, North Lakes
Kick the ball around, get adventurous on the enormous climbing net or explore the cubby house at this funtastic park. The park features a motorbike rocker, five-way swings, grassed football field, a fenced off-leash area for dogs as well as barbecues and sheltered tables.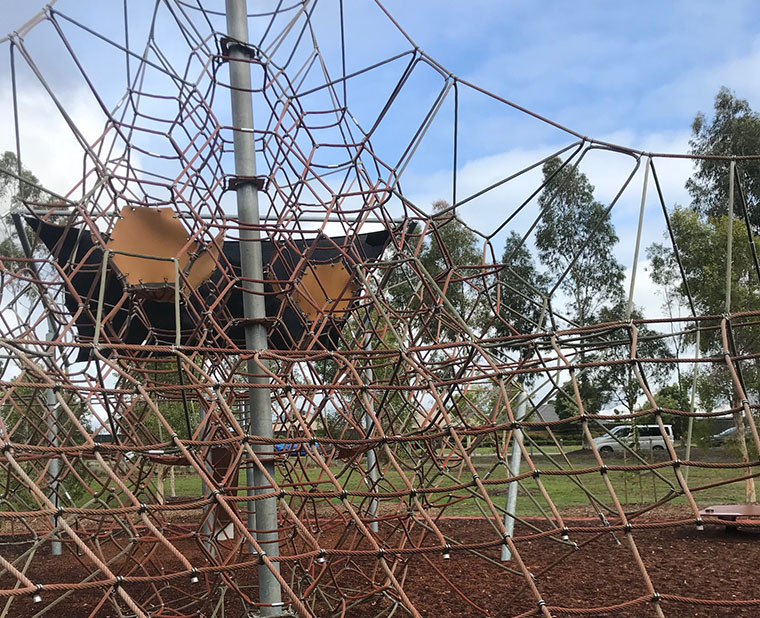 Stockland's top pick for a GOLD COAST playdate:
Adventure Park and BMX Track, Highland Reserve, Gold Coast
Gear up for a wheelie good time at Highland Reserve's 4,600 square metre Adventure Park off Wimmera Crescent in Upper Coomera. Designed and built by former freestyle BMX champion Tim Wood, the BMX track offers fun jumps for bikers of all levels, while the nearby playground offers a variety of equipment such as climbing frames and swings. Undercover seating is also available.
Stockland's top picks for a SUNSHINE COAST playdate:
Pedal Park- Steiner Crescent, Baringa, Sunshine Coast
Pedal Park features a detailed 'learn to ride' bike circuit, which includes a tunnel, bridge, speed humps, traffic lights and road signage. The circuit caters for a range of skill levels and surrounds a large central playground with slides, swings, a see-saw and 7.5-metre-high climbing tower, while the park also includes a netball/basketball half-court, shelters, barbecues and toilets.
Tip: Make time to visit the Treehouse Adventure Playground next to the Izba Espresso café on Lukin Terrace, with its huge central metallic tree with two elevated wooden treehouses linked by a rope bridge, a toddler swing and a bird's nest swing.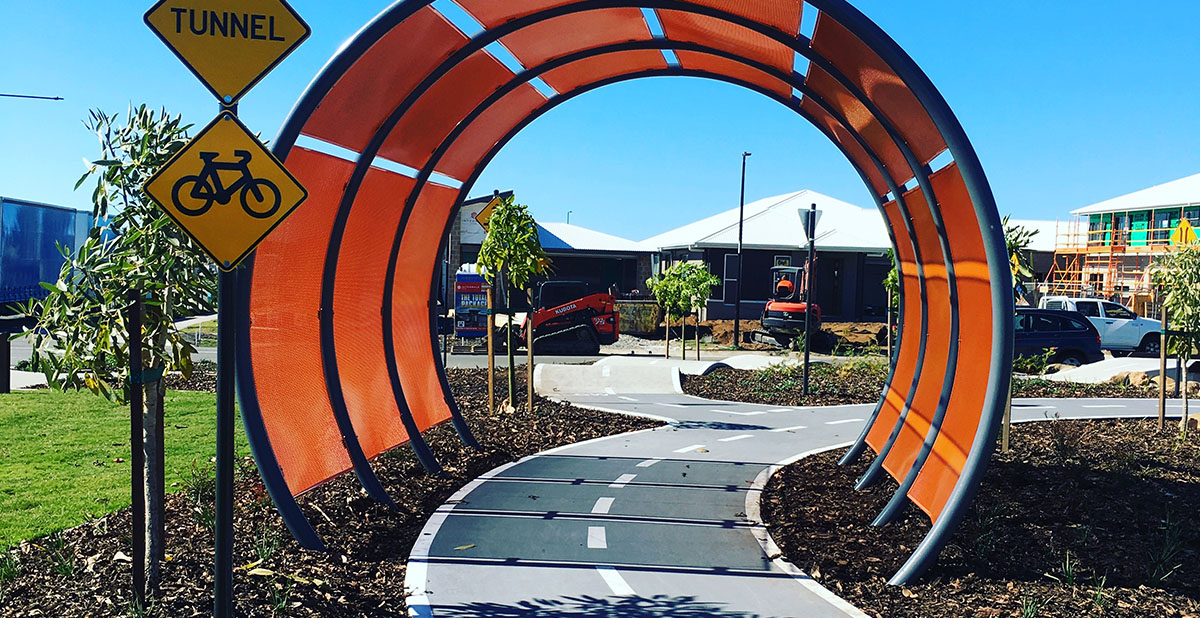 Sunny Park – Prosperity Drive/Prime Parade, Birtinya Island, Sunshine Coast
Slides, swings, a spinner and a sand play area define fun time for kids at the new Birtinya Island play space, Sunny Park. This park has three separate play spaces, a barbecue area and public toilets. The park is also close to Birtinya Island's other parks – Florey Park, Beach Park and Viridian Park, a short stroll away.
Tip: Take the kids to the nearby six-metre high iDIDIT! sculpture at Village Park, on the corner of Lake Kawana Boulevard and Kawana Way at Birtinya, for a memorable photo of the day out.
---
You may also like…
11 fun playgrounds on the Gold Coast
Aura's network of parks grows as Stockland opens tenth community park