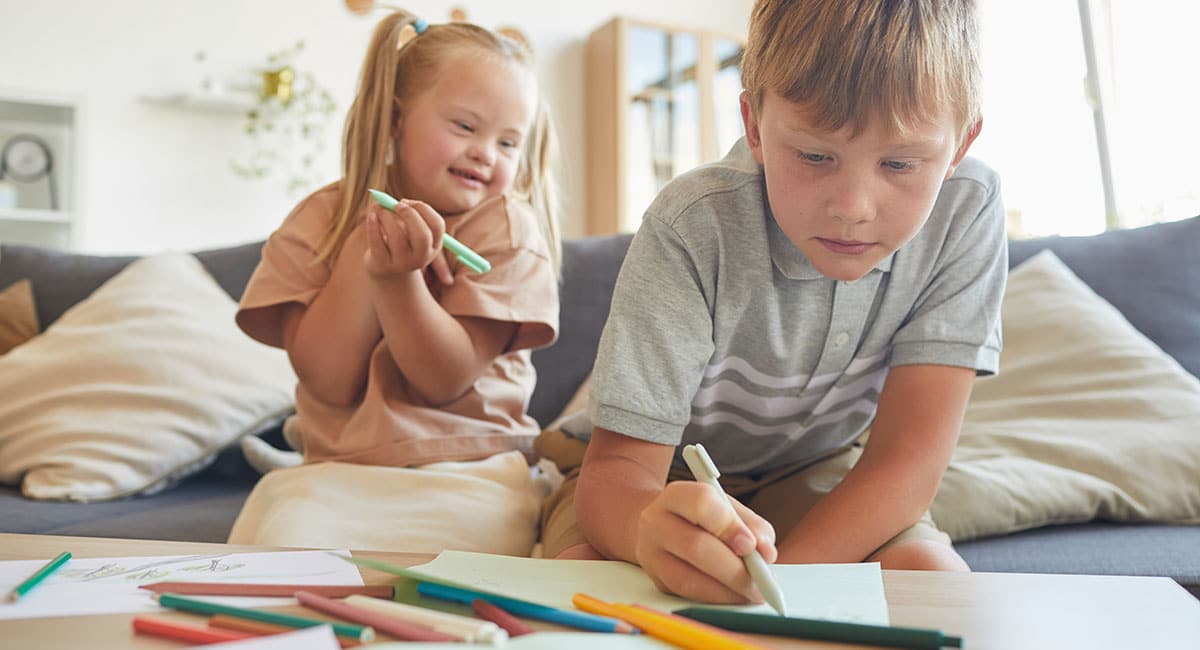 Family Programs
The Sunshine Coast children's therapy service improving outcomes for kids
Accessing children's therapy services is a challenge that many Sunshine Coast families know all too well. Phoning around each separate therapist trying to find availability, juggling appointments, taking a child from place to place, and then piecing together all the recommendations yourself into a semblance of a therapy plan. 
One Sunshine Coast children's therapy service has developed a far more family-friendly service model, which is proving to have exceptional outcomes for all involved.
Offering a collaborative service for children's therapy, Montrose Therapy & Respite Services combines paediatric Physiotherapy, Occupational Therapy and Speech Pathology all under one roof.
"Being a multi-disciplinary service means we are able to work on joint goals for families," explains Kate McMahon, Service Centre Manager and Occupational Therapist at Montrose. 
"This combined service means better therapy outcomes for the child, because there's no conflicting information, and the therapists have collaborated to ensure the best plan is in place."
Typically when accessing therapy services, families would go around to each different service and, themselves, try to pull all the information together, Kate continues. "Our approach makes this easier for families by bringing therapists to work together. As experts in disability and paediatrics our therapists understand typical development and can identify gaps and opportunities to support your child with different types of therapy as they grow up."
Multi-disciplinary children's therapy services
Sunshine Coast mum, Tayla, has experienced the significant benefits of working with a multi-disciplinary team for son Harrison (5) and daughter Ella (2) who both attend Montrose for Occupational Therapy and Speech Pathology, and Ella also sees their Physiotherapist.
Ella has Congenital Myotonic Dystrophy which is associated with severe muscle weakness as well as speech, hearing and vision difficulties. The Sunshine Coast team have been working with Ella since she was six months old. Ella's brother Harrison also attends Montrose and is working on his social skills and emotional regulation as he gets ready for Prep.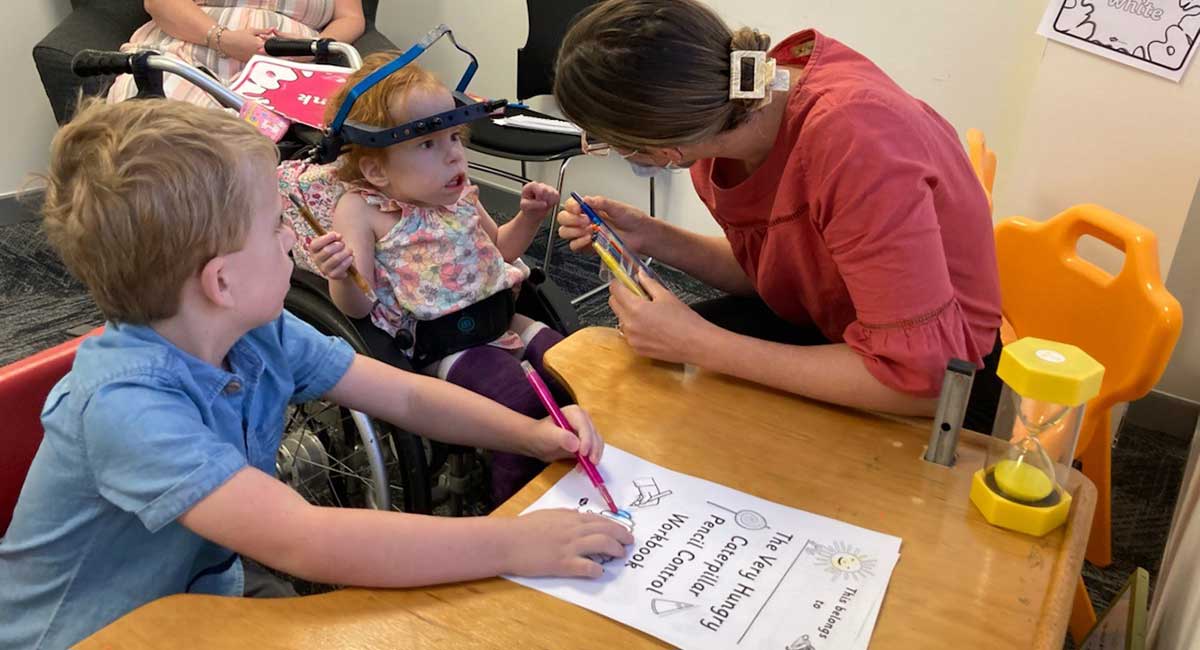 "Having a multi-disciplinary team that understands complex disabilities has many benefits," says Tayla. "For example, following a recent stay in hospital, all therapists shared information from health teams to plan for discharge, ordering equipment and ensuring I didn't have to tell each therapist the story over again."
"Whereas, for Harrison, his Speech Pathologist and Occupational Therapist plan their sessions so that each week he is focused on the same goal. Harrison's Occupational Therapist also ensures she uses the same communication strategies such as key word signs in her sessions," Tayla says.
As well as providing better outcomes, this combined approach to children's therapy is far more practical for families. And for children like Ella, who attend multiple therapy sessions each week, this coordinated approach can help reduce fatigue and free up time for other family activities.
"Families can arrange appointments back-to-back – so they only visit the centre once and see every therapist they need, instead of travelling around various services," says Kate.
"And for kids with ASD, who can sometimes struggle going into new environments, we can use the same room for all their appointments. So there is no need to change environment each time."
The parent-therapist partnership is also essential in children's therapy
Families are the expert on their child. They know what happens in their family life and in that child's life and what things that they need help with. And this expertise is a significant piece of the puzzle when building a successful therapy plan.
"All parents want is what is best for their child. But nobody expects them to be a therapist!" Kate says.
"They bring the expertise on what the child needs and what is happening at home, and our team brings the therapy expertise." 
"It's this partnership between the family and the therapist that can really make a big difference for their kids."
Recent expansion creates more availability for Sunshine Coast families
"Availability at children's therapy services has been a long-standing problem on the Sunshine Coast," says Kate. "Therefore, we recently expanded our Maroochydore centre to have greater capacity."
Opening their additional therapy rooms in July, Montrose can now offer their popular one-stop service to more families, without delay. 
"The expansion has been really nice for families. They don't need to do the ring around or wait for months for an appointment. We now have the capacity to help them straight away."
Montrose is a not-for-profit with a long history of providing services for people with a disability or developmental delay. Today, they provide support to children and young adults with a range of disabilities but with a particular focus on Autism and sensory disorders, Intellectual Disabilities and Neuromuscular and other physical disabilities.
The Maroochydore centre serves all of the Sunshine Coast and Gympie. They also do home visits, school visits and community visits.
Montrose is a registered National Disability Insurance Scheme (NDIS) provider.
Based in Brisbane, Montrose has centres across Queensland including  Brisbane South, Brisbane North, Gold Coast, Sunshine Coast, Slacks Creek, Ipswich and Toowoomba.
---
You may also like…
Meet the new therapy dog at Suncoast
Written by
Angela Sutherland
After spending many years hustling stories on busy editorial desks around the world, Angela is now mum of two little ones and owner/editor at Kids on the Coast / Kids in the City. She is an atrocious cook and loves cutting shapes to 90s dance music.