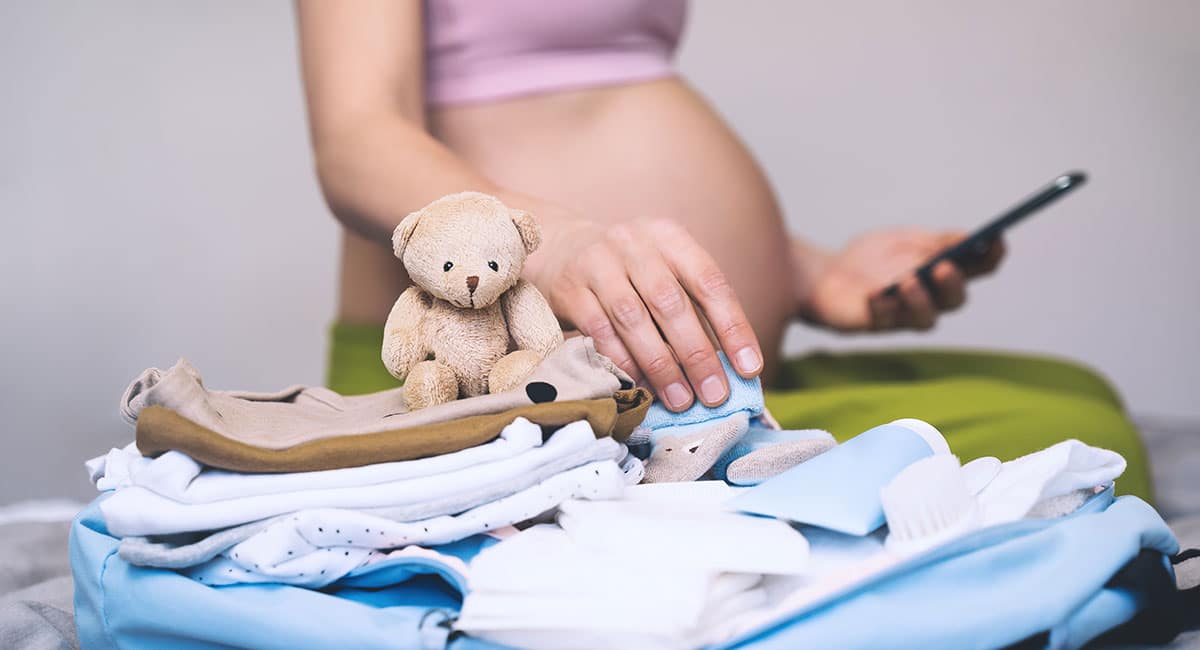 Kids & Parenting
Top tips for packing your hospital maternity bag
Waiting for your water to break and baby to arrive is one of the most exciting (and terrifying) time for an expecting mother. Tiba + Marl Founders Anna Tizard and Lydia Barron provide a comprehensive checklist of MUST HAVES and top tips for packing your hospital maternity bag so you can be 100% prepared for delivery.
When should you start packing your hospital maternity bag?
It's important to take the time to prepare your hospital bag to avoid last-minute stress. We recommend 35-36 weeks as the perfect time to start compiling a list and preparing your bags. For those expecting twins or likely to go into labour earlier, best to prepare at 33 weeks.
Essentials
A comfy, light dressing gown will come in handy after you deliver (both in the hospital and at home), but you will also appreciate having it on hand during your labor, especially if you plan on walking around the hospital. For those who are breastfeeding, front-opened shirts or pyjamas are practical garments.
Must-haves for your bub
The hospital will have a full check list of what they provide baby. Double check this so you don't pack any duplicates.
Onesies are perfect for newborns. We suggest natural, breathable fabrics such as cotton and bamboo.
Muslin wraps are not only used for swaddling, but can also be used when burping and feeding your baby.
A beanie will protect baby's head from the cold, if it is winter.
Formula/breastfeeding
Whether you're breastfeeding or not you still need to be prepared. Nursing pads will help with leak protection and ensure you stay dry and confident all day and night, whilst nipple cream will help with chapped nipples.
We also recommend bringing a tin of infant formula which is suitable for feeding babies from birth.
Toiletries
During labour your lips can become quite dry, pack a hydrating lip balm.
Pack travel-sized natural/organic shampoo, conditioner, face wash, a toothbrush/toothpaste, moisturiser and deodorant. With such close contact with baby, best to select non-fragranced products.
Make sure you're comfortable
Your favourite pillows from home will provide you with additional comfort and support during and after your labour.
Whatever the reason or occasion, research has shown that listening to music during birth can actually help reduce the perception of pain and decrease anxiety by delivering increased levels of the 'happy hormones', endorphins and dopamine. Create a playlist of your favourite tunes and remember to bring a set of speakers or IPad to play.
Invest in a hospital bag
The most important thing – a hospital bag! Invest in a hospital bag that is practical, easy to carry and stylish. We recommend the RAF Weekender (RRP $265). It has a water resistant design and five internal pockets, making it the ultimate hospital bag. With a padded changing mat, insulated bottle holder and removable wet clutch, the RAF can also be used as a nappy changing bag after your little one arrives.
---
You may also like…
Should you have a birth plan?
What is a Doula and do I need one?
Bumper guide to pregnancy and birth