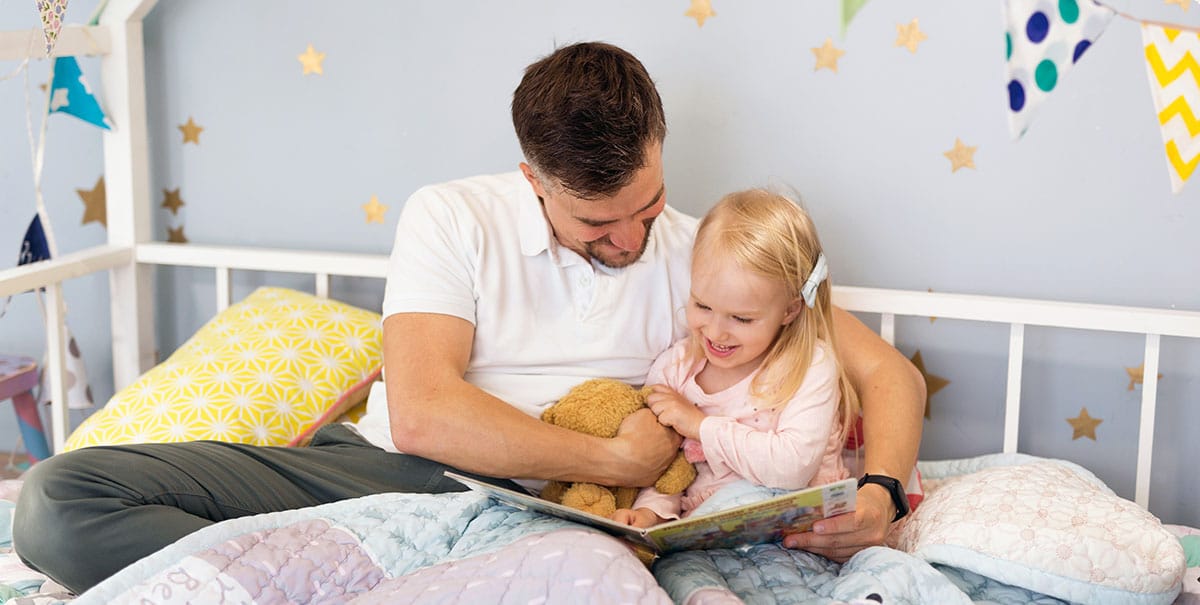 Education Articles
Why reading the same book every day is good for kids
The chances are your little one has an absolute favourite book. That one that you have to read over and over again. But did you know that reading the same book repeatedly has many benefits for little ones? Even better, there's some really easy ways to use that story throughout your everyday activities!
The benefits of repeatedly reading the same book
A study full Williams and Horst article in 'Frontiers in Psychology'. from the School of Psychology at the University of Sussex in the UK found that reading the same storybook repeatedly helps preschool children learn more words. Napping or sleeping after reading also serves to consolidate that learning. And, most importantly, the children in the study enjoyed the shared reading time more when they heard the same book. Over 80% of the children who heard the same story answered that they liked the reading time "a lot", whilst only 33% of the children who read for the same amount of time but read a different story each time, said the same.
Enjoyment of shared reading time for under fives is critical in instilling a love for reading, something that is also related to vocabulary level in later childhood.
How to use that story in everyday activities
Embedding their favourite story in your everyday activities can be a fun and easy way to reinforce these habits, whilst also creating a genuine affection for the story and characters, as their favourite story is brought to life throughout the day.
Read a story to your child, and the next day incorporate elements of that story in your activities. Point out characters similar to the book. If you see a cat or dog on your walk or drive could that be Hairy Maclary orScarface Claw? Which character do they look like? What noise do they make?
At dinner talk about what each character would eat. This not only brings their favourite story to  the dinner table, it also helps with fussy eating: "Did you know Pig the Pug loves vegetables?!" Admittedly, this fact is yet to be proven, but it could be true!
When doing chores around the house would the sheets hanging on the line make a good sail for Mr McGee to go to sea? Who else sails on boats? Pirates or puppies?
Every time you spot a colour point it out and name it. Could this be one of the colours on Elmo the Elephant? What other colours can your little one find and name?
At the park where would the green sheep hide? Can you be a swing sheep or a slide sheep?  Extending a story during the day aids in fostering your child's imagination and helps bring their favourite character to life in their world.  
Make use of the local facilities
The Sunshine Coast has one of the best resources for bringing storybooks to life for little ones, in the Story Seat Project from Sunshine Coast Libraries.
10 parks across the region now have a story seat based on a different popular children's book, where parents/carers and their kids can go read, play, imagine – around the theme of the book. Whilst there, you can make up a story about the characters on the seat… you don't need the whole book just your imagination! Or, if one of the Story Seats has your little one's favourite book, can they tell you the story? 
Most of all, the Story Seats are a fun way to bring reading and storybooks into your everyday activities. You can visit all 10 and find a favourite!
Don't forget your local Sunshine Coast library is open for business with a huge range of new picture books just waiting to be discovered and borrowed!  Storytime and Rhymetime sessions have also returned on a weekly basis.
By Karen Gawen, Young People's Services Supervisor from Sunshine Coast Council
---
YOU MAY ALSO LIKE:
Early literacy games – anytime and anywhere
Why reading out loud to kids is the BEST!

Written by
kidsonthecoast