Organising a kids birthday party is one of my biggest annual stresses. On the one hand you want the kids to have an amazing day and make childhood memories that will last a lifetime. On the other, it's time consuming and, on top of day-to-day life, I don't have the brain space for anything else!
So, on the quest for an awesome indoor kids birthday party we decided to put the Holey Moley/Strike Bowling kids birthday party to the test. Can it keep a bunch of primary-aged boys happy and (more importantly) can it be done with zero stress for Mama?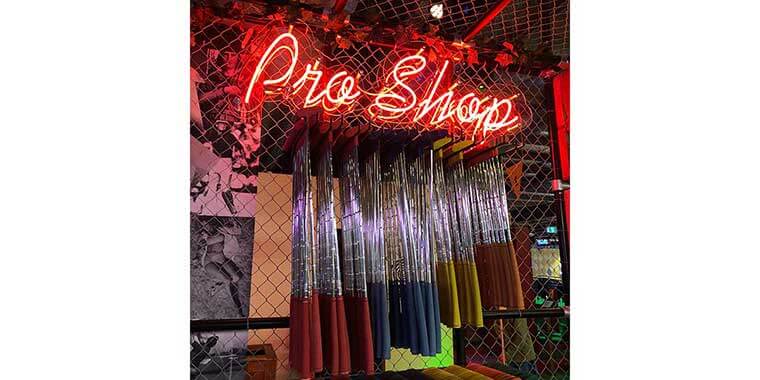 What is Holey Moley?
Holey Moley is an indoor mini golf experience with a twist. Forget windmills and everyday putt-putt. Instead, each hole is a quirky take on something from popular culture. From the Simpsons couch and an Elvis Presley toilet, to golfing on a Back to the Future hoverboard, every hole is super-fun and totally unique.
You can choose from 9 holes or the full 18. It's well worth doing the full 18 holes so you get to see them all!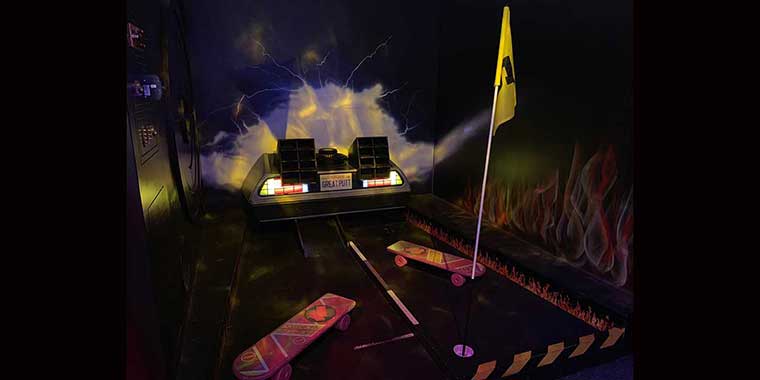 The kids had an absolute blast going around the course together, and it was the perfect activity for a fun birthday party.
What's also great about Holey Moley is that it's part of a bigger complex that includes Strike Bowling, karaoke rooms, escape rooms and more, so you can combine the golf with whatever other activities you fancy for a full party package.
We combined 18 holes of golf with one game of bowling and lunch, which worked out to be the perfect amount of time for a kids' birthday party.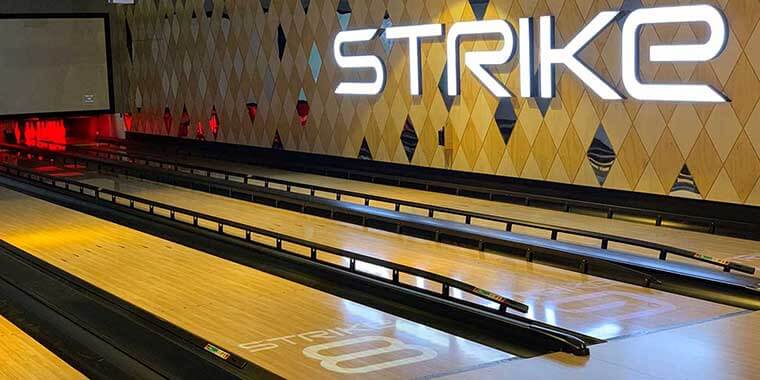 The bowling lanes are nice and modern, with comfy couches and tables. They had the ramps for the littler ones and there were always staff on hand if you needed anything. So, aside from the birthday party, it's a great spot to go on a rainy day to play and eat.
The best bit? Definitely the party host. Included in the party experience you get someone to run the activities for you… and she was a-m-a-z-i-n-g. Even a bunch of over-excited boys didn't faze her; she kept them all busy and happy. Whenever there was a brief lull in golf whilst slower players caught up, she had rock-paper-scissors challenges, conga lines, balloon games and more, to make sure that everyone was ALWAYS having fun.
This also meant that I didn't need to do a thing. Rather than running around the entire time worrying about entertainment and food, I was able to take photographs, enjoy the fun with the kids… it was such a lovely (and very refreshing!) experience.
But another favourite was definitely the food. All too often when you book a birthday party it comes with pretty ordinary food. Chips, nuggets, or some other uninspiring frozen 'party' food. As Holey Moley and Strike also has a bar and restaurant on site, the food is really, (I mean REALLY!) good. Forget bland kids party food. Think yummy pizzas, burgers, loaded hot dogs and more. There are also plenty of options, including dairy free, gluten free and vegetarian. They do have a party room to use if you prefer to have a private sit-down whilst the kids eat, but we found the pizzas were perfect to have on the table whilst the kids were bowling. And they were seriously YUM!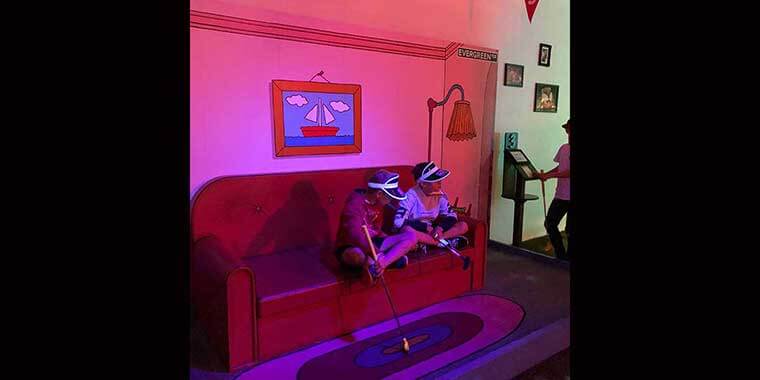 The whole-y Moley
From beginning to end, the birthday party was super-easy to put on. Booking couldn't have been easier – they have a really friendly customer service system to organise and book everything in for you. They also check in with you a week before the event, to make sure if there are any last-minute changes, such as dietary requirements.
Being inside the Big Top, it's super-easy to find and get parked. And being held in the midst of a wet weekend, it was great to not have to step foot outdoors with a car load of kids.
It's always exciting when a new kid-friendly attraction opens on the Sunshine Coast, but Holey Moley has certainly sprung to the top of our list as a firm favourite. Their birthday parties get a BIG thumbs up, and appealing to boys and girls of all ages, it's something we'll do again. But as well as the birthday parties, we will certainly go back next time it's raining (or too hot!) as a place to burn off some energy, have some fun together and enjoy a good feed that the whole family will love.
Definitely a family-friendly win for the Sunshine Coast!
---
Related Reads:
New kid-friendly cafe on the Sunshine Coast
Guide to Sunshine Coast beaches for families
---