A water park, ice skating rink, kids club, cafe, retail shops, deluxe family rooms and an adults-only pool and bar opening this Christmas, all situated within one resort and just a few short minute's walk from some of the Gold Coast's best beaches.
What could this place possibly be?
Paradise Resort on the Gold Coast has just undergone major renovations as part of its 2021 post-COVID glow-up. And here at Kids on the Coast HQ, we just can't get enough of it!
The project has included a captivating upgrade of the resort's main lobby, complete with a jungle gym, sleek marble walls and stylish decor. Before you even unpack, you'll find yourself relaxing as you sink into the lobby lounges, soaking up the view of the tropical aquarium behind the front desk.
Once you've checked in, it's off to your room in the brand-new deluxe accommodation wing 'Dusty's Digs', a tribute to the iconic Aussie adventurer and one of four resort mascots, Dusty. From there, the choices are endless. Rock climbing or laser tag? Perhaps some snacks from one of four new dining venues? Or if you are staying later in the year you can utilise the kids club and sneak off to the adults-only pool bar that is currently under construction and due to be open this Christmas. No matter your mood, personal style or family size, one thing is for sure, the whole family is going to love the new-look Paradise Resort!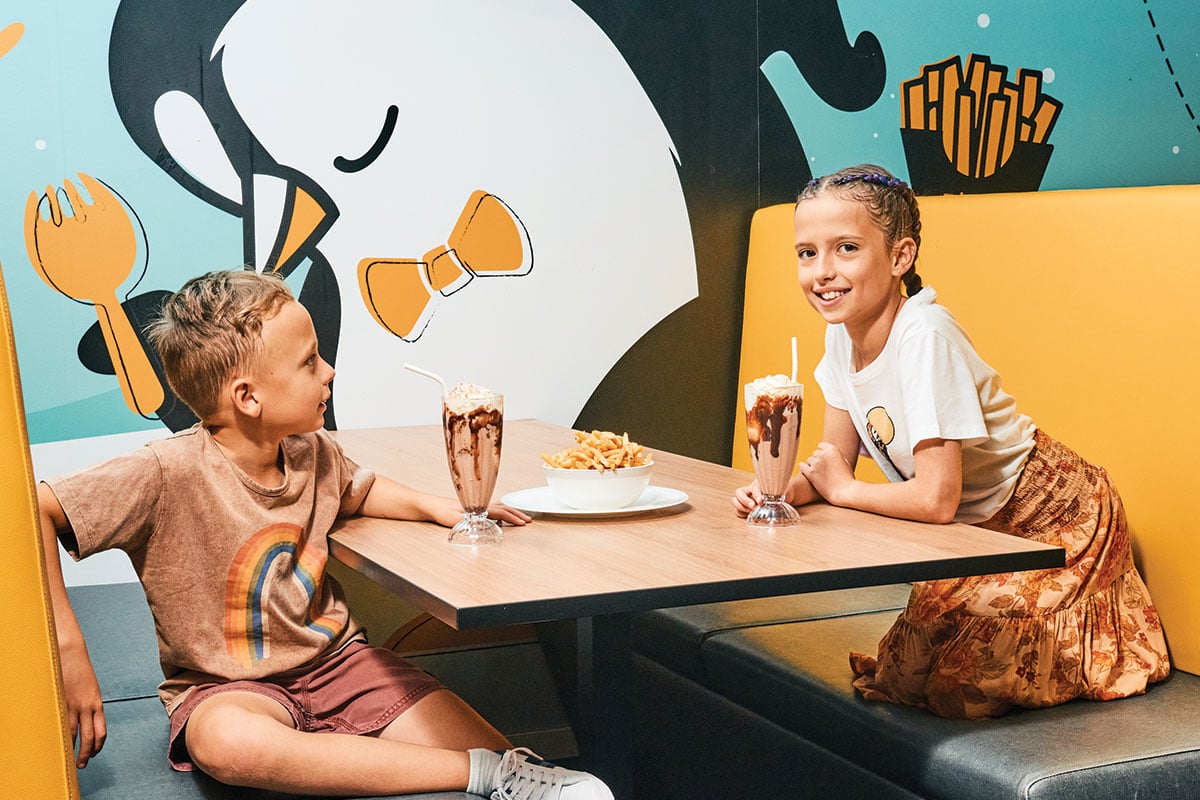 However, while this multi-award-winning family resort may be basking in the glitz and glamour of a 10 million dollar renovation, behind the scenes there's a whole different story of what could have been. At the start of 2020, the future for Paradise Resort looked bleak. Amidst a global pandemic and an infrastructure boom, it was set for demolition to make way for a new apartment tower, just another to blend into the skyline.
After having been an integral part of the Gold Coast tourism scene for nearly 40 years, and having hosted generations of Australians throughout its time, hotel owner Dr Jerry Schwartz knew this couldn't possibly be the end. So, Jerry and the team at the Schwartz family group put their heads and their pockets together to come up with Plan B—a great big do-over.
This refurbishment is revolutionising the meaning of a one-stop-shop holiday destination. Together, Jerry and the resort's dedicated general manager Mr David Brook, pride themselves on the experience they offer. A place they believe is not somewhere simply to just stay, but a place to visit and experience together as a family. With endless kids club adventures, two giant water parks, a lagoon pool, a large heated spa and a daily entertainment program, you'll be lucky if you even see the kids! Making the escape to the newly established adults-only poolside bar and cafe all the more appealing, because once it opens, all you'll need to do is sit back, relax and replenish.
There's never been a better time to take a staycation right here in Southeast Queensland, as Queensland tourism is revamping its $28 billion dollar industry. With world-renowned theme parks, glorious beaches, a stunning hinterland and some of the state's best national parks, Mr Brook believes that locals don't get enough time to explore their own backyard—a backyard that other Aussies travel thousands of miles for.
"No other state in Australia has weather like this, especially as we come into winter. The Gold Coast itself is renowned for being Australia's favourite playground, so why not take advantage of a wonderful, fun-filled holiday right here at home!" he said.
It's a holiday that Mr Brook says has become a growing family tradition.
"Families keep coming back year after year because they know we value them," he said. "There is no one size fits all, and every family loves us for a different reason. Whether it's because of the quality time spent with the kids riding our waterslides, or the precious time enjoyed alone while the kids are amused at teens club. Sometimes it's our unforgettable live shows or just the fact that they can holiday somewhere that has something for everyone. We know that Paradise Resort is, and will be, at the centre of many family memories for years to come. And we don't think this will ever change, these memories will just keep getting better!"
So enough about the amazing facilities, what about the rooms? We hear you. Sometimes you book yourself a holiday at these amazing 'family' resorts but the rooms are too small, not kid friendly and don't even have a TV! (We know sometimes you just need that late night veg out when the kids are finally asleep.)
As part of the $10 million dollar refurbishment, all of the family resort rooms are getting upgraded through phases, with all rooms due to be finished by the end of 2023. However, you can make the most of these luxurious and newly renovated rooms right now. The new Dusty's Deluxe wing exudes family comfort and style. The generously sized rooms have two plush queen size beds, an ensuite bathroom with a shower and double vanity, kitchenette with a microwave, toaster, crockery and cutlery (for when you're craving that easy home-cooked meal), and thoughtful little extras such as USB charging points, a 55 inch Smart TV and complimentary Wi-Fi throughout. They have also been fitted with an environmentally-friendly ducted air-conditioning system and a new telephone system that provides free guest calls locally and nationally.
With all these exciting changes, we couldn't help but ask Jerry, what is his favourite part of the project?
"That's like saying you have a favourite child, we couldn't choose just one," he chuckles. "However, we have received rave reviews about the new rooms, many guests rating them 5 stars! Many comment on how mesmerised they are by the new aquarium featured behind our arrival desk. Families, both young and old, are in love with our new signature restaurant 'Penguins', which has added family fun back into our dining experience."
Paradise Resort is proving one thing that we're sure you can all relate to—even in your forties, you can still be fun! The resort is gearing up for its birthday bash celebrating the big 40 later this year in November. Jerry said, this milestone is even sweeter given the resort's predicament just a short 18 months ago. So, they plan to celebrate big! Be sure to keep your eyes peeled, and your November schedule cleared, as some exciting plans are in the works.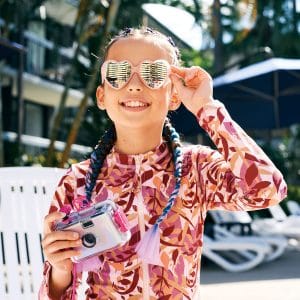 Deals for families
Take advantage of Paradise Resort's three-night Family Staycation package from just $499* per family. This includes:
3 nights' accommodation for a family of up to four
Daily continental breakfast for the entire family
$50 Resort Credit when you stay 3 nights or $100 Resort Credit when you stay 5 nights
One Kids Club session for every child
Unlimited use of the water park
A range of daily activities and entertainment plus much more for the entire family to enjoy
Full flexibility to change dates
Option to pay-off holiday, with interest-free periodic payments
Valid for travel on selected dates until 21 Dec 2021
*Rates are from $499, subject to availability. Conditions apply.
---
Related Reads
11 fun playgrounds on the Gold Coast
Cosy Gold Coast winter weekend escapes 
Gold Coast bike rides for families
---