With easy access to the city and the bay, as well as great parks, great shopping and great schools, it's no surprise North Lakes is a popular suburb for families. Now, families in the North Lakes area can add a first-class aquatic centre and swim club to the impressive list of amenities in this thriving suburb. The Lakes College Aquatic Precinct opens in September.
Director of Aquatics and Head Coach at The Lakes College, Mackenzie Speechley, says the precinct is being constructed in two stages. Stage One is now complete.
"Stage One includes an outdoor eight-lane and 25-metre heated pool with ramp access," Mr Speechley says. "Also, an amenities area for both separate male and female change rooms, showers and bathrooms. We also have a fantastic PWD [person with disability] facility on-site, offices, a kiosk and some storage rooms."
The first stage has been designed to "get the precinct off the ground and the swim squads going". A brand-new aquatic precinct also means a fabulous new swim club for the North Lakes community.
"Our new squad program is the priority, so we've excitingly already launched our TLC Swim Club. We had an information evening [in July] and were amazed by how many people turned up," Mr Speechley says.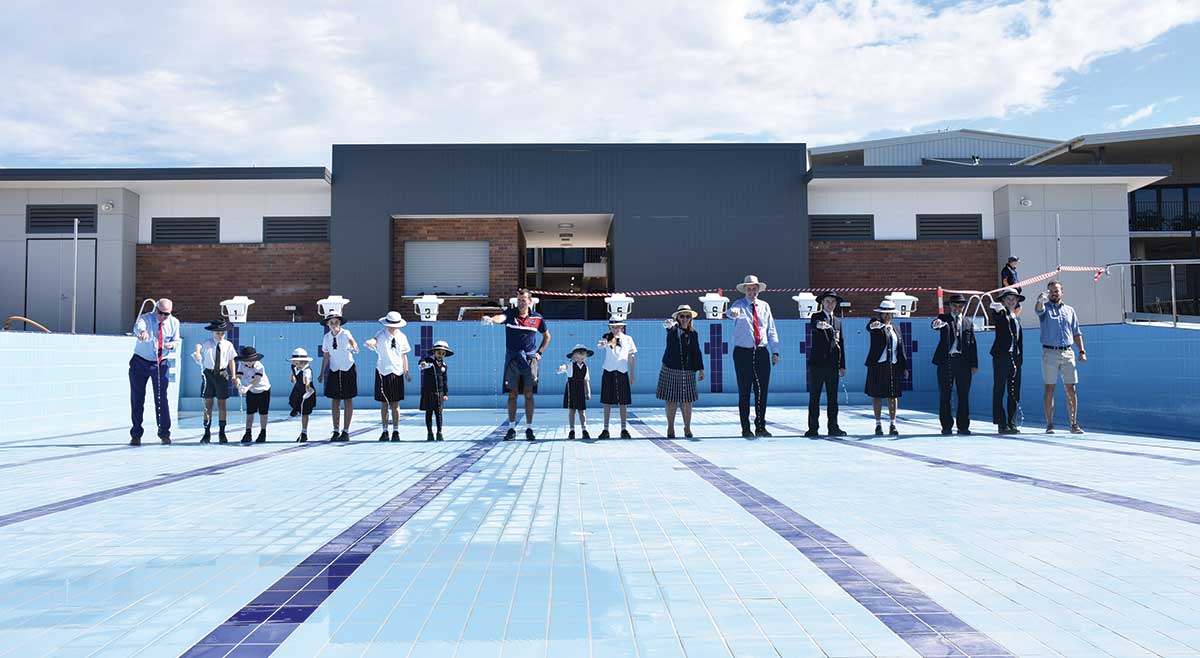 The Lakes College Prep students with their Year 6 buddies and the College Captains contributing the first 10 litres of the 500,000 litres needed to fill the pool! Source: Supplied
The new North Lakes swim club is open to everyone
The Lakes College (TLC) Swim Club will be open to anybody — whether a TLC student or a member of the local community.
"The Swim Club is all-encompassing in regards to whether you want to do open water swimming, pool swimming, sprinting, long distance. The club is for everybody," Mr Speechley says.
"It's a welcoming place, regardless of whether it's your first time or you've been to club nights and clubs before. Anyone is welcome."
From a parent standpoint the club is looking at getting as many volunteers and support staff as possible.
"We have also launched our Friends of Swimming group," he says.
"This volunteer-based group will lead the fundraising and the support team for our families and our kids and our club. We're really excited that our Friends of Swimming parent team is coming together!"
Creating a sense of belonging
Part of the philosophy and the concept that TLC brings to the club is that all families and members using and training at the precinct will join the club as well.
"What we believe at TLC is that all members feel a sense of belonging," Mr Speechley says. "A club that believes every member matters that becoming the best swimmer is just as important as becoming the best person they can be. Anybody that wants to come along for training will also become a member of the club."
This approach means that everybody is a member of the training program and the squad program.
"Everyone is then available for relay teams, for carnivals. Everyone that is coming for training will also then be attending meets and club nights. We have a real sense of mateship and team belief," Mr Speechley says.
The opening has already received fantastic feedback from the local community.
"From a North Lakes standpoint we've received really exciting feedback regarding when the pool is going to be open. And from a College standpoint there's been amazing interest from all the families about the ability for their child to swim at the school they attend."
Plus, there's more to come!
Of course, Stage Two is still to come, too!
"We are thrilled to announce that Stage Two of the Aquatic Precinct has been approved," Mackenzie Speechley says.
He says it includes a shaded elevated grandstand adjacent to the outdoor pool and an indoor, heated, and a learn-to-swim facility on the other side of the existing pool with spacious amenities. Once this stage is complete, the precinct will cater for everyone.
"Whether your child is three months old wanting baby lessons, or 16 years old and wanting to go to nationals, or maybe they just want to be part of a club, everyone is catered for," Mr Speechley says.
"We're really excited to be able to offer a diverse range of facilities and amenities and options for our members. Swimming pools and beaches are a large part of the Queensland lifestyle. Ensuring our young people can swim competently and safely is a must for all families."
The Lakes College Swim Club is currently offering early bird discounted foundation memberships. Visit TLC Aquatic Centre website for more details.