Finding it hard to create yummy, healthy, EASY family meals? Yep us too! With a delish apple coleslaw, this kid-friendly chicken burger recipe is the perfect solution to dinnertime dramas.
With plenty of options to add or remove for fussy eaters, that's dinnertime sorted!
Chicken Burger Recipe
Makes 4 chicken burgers
INGREDIENTS
2 skinless chicken breasts
4 small brioche buns
salt and pepper
soft lettuce leaves and sliced
tomato, to serve
GLAZE
1 tsp soft light brown sugar
1 tsp soy sauce
1/2 tsp grated fresh root ginger
2 tbsp tomato ketchup
APPLE COLESLAW
100g/3.oz red cabbage,
shredded
2 spring onions, sliced
1 medium carrot, peeled and grated
1/2 apple, peeled and grated
2 tbsp mayonnaise
squeeze of lemon juice
BUILDING THE CHICKEN BURGERS
Preheat the oven to 180°C/350°F/Gas 4 and line a baking tray with baking parchment.
Put the chicken breasts on the baking sheet and season lightly with salt and pepper. Combine the glaze ingredients and spread the glaze over the top of the breasts.
Bake them in the oven for 18–20 minutes, or until cooked through. Remove from the oven and leave to cool slightly on the tray, then pull apart the breasts using forks and shred the meat.
Mix all of the coleslaw ingredients together in a bowl and season lightly with salt and pepper.
Slice a brioche bun in half. Put a lettuce leaf on the bottom half with a slice of tomato, then some coleslaw, followed by some pulled chicken.
Cover with the other half of the bun, fill the remaining brioche buns …. and voila! Chicken burgers!
---
Recipe extract from Real Food Kids Will Love, by Annabel Karmel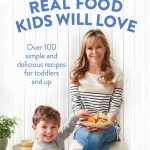 What's your favourite family meal?
---
Looking for more family meals to solve dinnertime? Try:
Pork and Apple Sausage Rolls
Kid-friendly Sliders with Homemade Tomato Dipping Sauce
Homemade Chicken Nuggets
---