There's no better time than a holiday to create incredible memories with your family. What if you could step away from the typical family holiday with your kids and shake fins with a dolphin?
There are very few locations where you're able to get up close and personal with these incredibly playful creatures. However, we've found six places in south-east Queensland where you can interact with these incredible intelligent animals.
1. Barnacles Dolphin Centre at Tin Can Bay
Barnacles Dolphin Centre, located at Tin Can Bay north of Brisbane, is a little piece of paradise known for its dolphin population. With ample sunshine and a clear blue water, this is the perfect scene for visitors to interact and hand-feed Australian Humpback dolphins. Feeding sessions run in the early hours of the morning. To have the best chance of catching a glimpse or feeding these intelligent creatures, we recommend spending the night and making a weekend of it!
2. Tangalooma Island Resort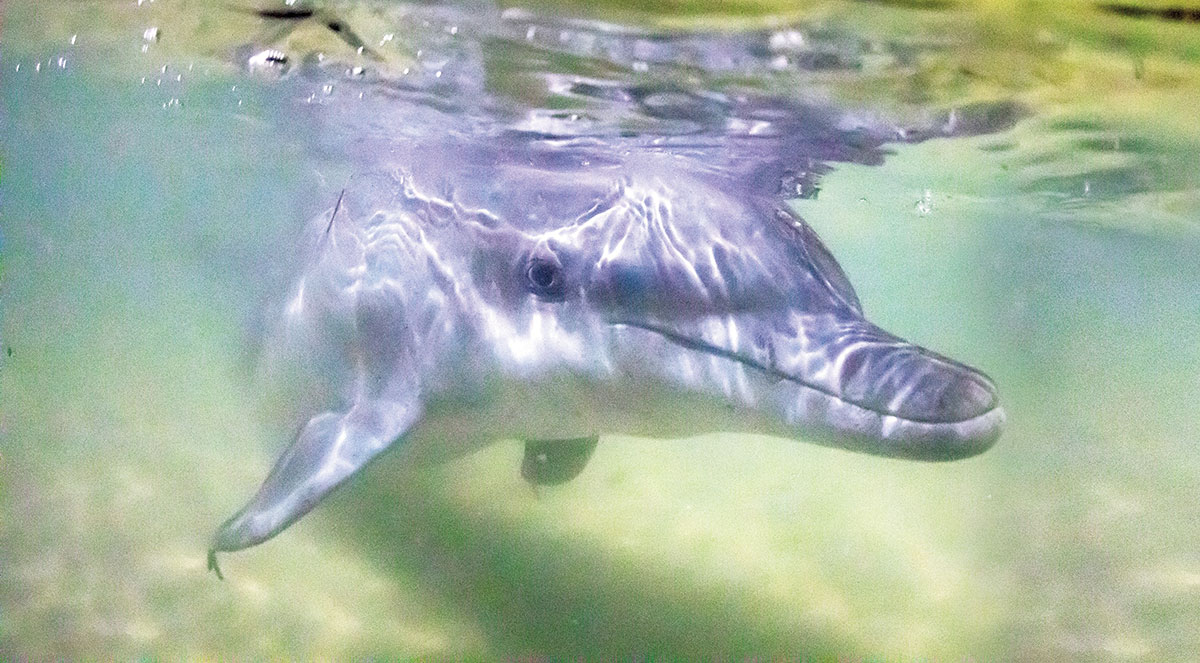 Moreton Bay is home to hundreds of wild bottlenose dolphins. Tangalooma Island Resort on Moreton Island offers a once in a lifetime opportunity to hand-feed and watch these magnificent creatures. Each evening as the sun begins to set, large families of these playful dolphins make their way to the shores of the resort.
Since 1992, resort guests have had the opportunity to hand-feed the dolphins as part of the Tangalooma wild dolphin feeding program.
Tangalooma's team of dedicated Eco Rangers take you through an educational experience covering dolphins' natural behaviours and playfulness. You may even be lucky enough to be brought a gift from one of the resident dolphins. This is usually of the eel or octopus variety! Prepare to get wet and have fun!
3. Gold Coast Broadwater
Join Australian Kayaking Adventures on one of its Broadwater Dolphin Kayaking and Snorkelling tours. You'll paddle the beautiful Gold Coast waterways, spot an abundance of local wildlife including dolphins, turtles and stingrays, and even snorkel with sub-tropical fish.
This activity is appropriate for children aged six years and older. You don't require previous kayaking experience. It's a great way to see dolphins in their natural environment.
4. Sea World
Sea World has a range of dolphin encounters for families, couples and children. One of the most popular is the Meet the Dolphin program, where you can join the dolphin trainers and meet these beautiful mammals.
A unique experience specifically designed for Little Ones is Sea World's Child Dolphin Aqua Adventure program. It's suitable for children aged five to 13 years (and a minimum height of 110cm). With this water-based adventure, kids receive an educational and informative talk before being shown a variety of dolphin behaviours.
For families, try the Dolphin Family Adventure. You can interact with a dolphin and trainer together as a family. It's fun and educational.
5. Great Sandy Marine Park at Noosa
Take a guided sea kayak tour adventure within the Great Sandy Marine Park. You'll see bottlenose dolphins as well as humpback whales, turtles, rays, sea birds, soldier crabs and more. The dolphin viewing kayak tours are run by Epic Ocean Adventures. You'll travel in the tropical waters of Honeymoon Bay and Double Island Point. The bottlenose dolphin pods enjoy the Marine Park and feed on large schools of fish. Seeing them thriving in their own habitat is a rewarding experience.
You don't require any experience for this tour, which starts at Noosa. It is also appropriate for children aged six years and older.
6. Noosa National Marine Park
If sea kayaking is not your thing, Noosa Thriller has a Wild Dolphin Safari. It's frolicking good fun for the whole family. The dolphin's reside in Noosa's National Marine Park and off Sunshine Beach. You can seem them surfing and somersaulting all-year-round!
---
You might also like…
Family-friendly weekends at Tangalooma Island Resort
Sleep in luxury among the animals at Crocodile Hunter Lodge