Established in 2008 and loved by locals and visitors alike, The Village Markets aka TVM is a boutique market and community for creative entrepreneurs. With an emphasis on highlighting local emerging designers and creatives and supporting small business, The Village Markets hosts over 100 carefully selected stalls with fashion, art, homewares, as well as mouth-watering food trucks and local live music.
Held on the first and third Sunday of every month at Burleigh Heads State School, TVM is a must visit on the beautiful Gold Coast.
We sat down with co-founders Marissa Bowden and Sarah Schoeller to talk family, work and an exciting new event being launched in Brisbane.
How did the idea for The Village Markets come about?
Sarah: After being made redundant, Marissa and I brainstormed the idea of a community event that celebrated local talent. We had some time off between jobs and our original idea manifested into TVM. Marissa and I both worked together in marketing and events, so our professional backgrounds and personal passions lead us to creating the event as it is today.
Marissa: We really wanted a unique, creative event on the Gold Coast and a meeting place for likeminded people like ourselves, to hang out on a Sunday morning, while also supporting emerging creatives starting out on their business journey.
How many children do you have?
Sarah: Lola (4) and Posie (2)
Marissa: Stevie (7) and Pepper (5)
How would your kids describe you?
Sarah: Lola would say, 'Mummy smells nice, helps me and loves me' and Posie would say 'Love Po'.
Marissa: Haha! depends which day you ask them! Today, Stevie said 'Mum's awesome!' and Pepper said 'I love you'!
What's your favourite thing about being a mum?
Sarah: The love… so much love.
Marissa: The constant learning and deep deep love – oops that's two.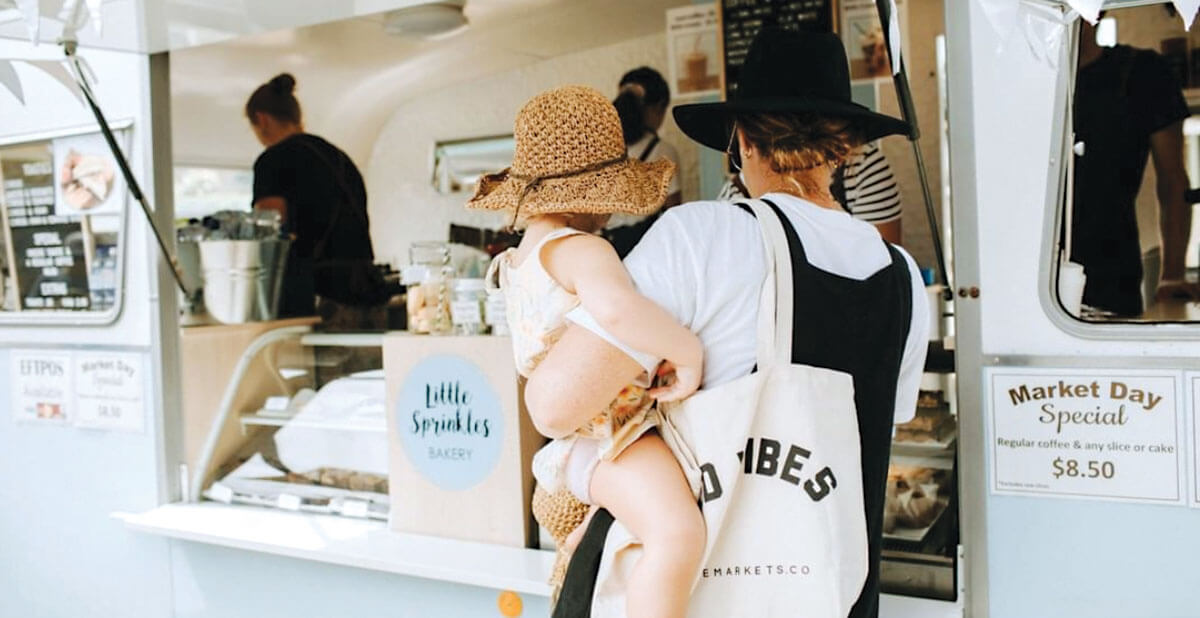 How do you celebrate Mother's Day?
Sarah: We get my rather large family together for a BBQ breakfast by the beach. The kids run wild and we enjoy bacon and eggs with the whole family. It's such a nice time to get the whole family together and spoil our Mammas.
Marissa: Well first things first, it's beautiful homemade gifts and cards from my little girls – the absolute best! Followed by coffee in bed. Then we usually have a casual lunch or BBQ with my family including my mum and sister. Very simple, the way we like it.
What advice do you have for mums wanting to get back into the work force?
Sarah: Do what is right for you and your family, whether that's working full time or pursuing your own thing. For me, working keeps me sane, so it's as much about contributing to my family as my personal happiness.
Marissa: Do what makes you happy! Follow your heart.
What do you love about the Gold Coast?
Sarah: The beautiful coast, lifestyle, friends and family.
Marissa: The lifestyle for sure. The ability to create a work/play balance you cannot find anywhere else.
What is your favourite kid-friendly place to eat?
Sarah: We love Back Bone in Tugun, The Bread Social in Tweed, Wazen at West Burleigh or Justin Lane pizzas at the beach.
Marissa: The Salt Mill for morning bowls, fish and chips at our local beach in Palm Beach is pretty hard to beat, or Zipang in Currumbin for Japanese.
What is your favourite place on the Gold Coast to spend a day with the family?
Sarah: We frequent Tallebudgera and Currumbin creeks a lot, or on other days we're regularly at David Fleay Wildlife Park and hanging at home playing in the yard.
Marissa: A perfect Saturday for us is spent at home in Palm Beach. Starting with a trip to our local farmers' market to get or organic produce for the week, a morning surf and swims, catch up with friends and make some yummy food at home listening to our fave music, then a late afternoon bike ride! Easy and slow – the best!
You've launched an event in Brisbane, tell us about that!
Yes! We launched our first Brisbane event late last year prior to Christmas. Held down Logan Road, Stones Corner, the event brings TVM Good Vibes to Brisbane with 90+ boutique stalls, live music, street eats and our famous Rack Sales. The next event is 30th June 2019.
For more Gold Coast stories, try The start-up that believes every kid deserves to wear a crown and Currumbin Wildlife Sanctuary – Wild Island Adventure Splash Zone.