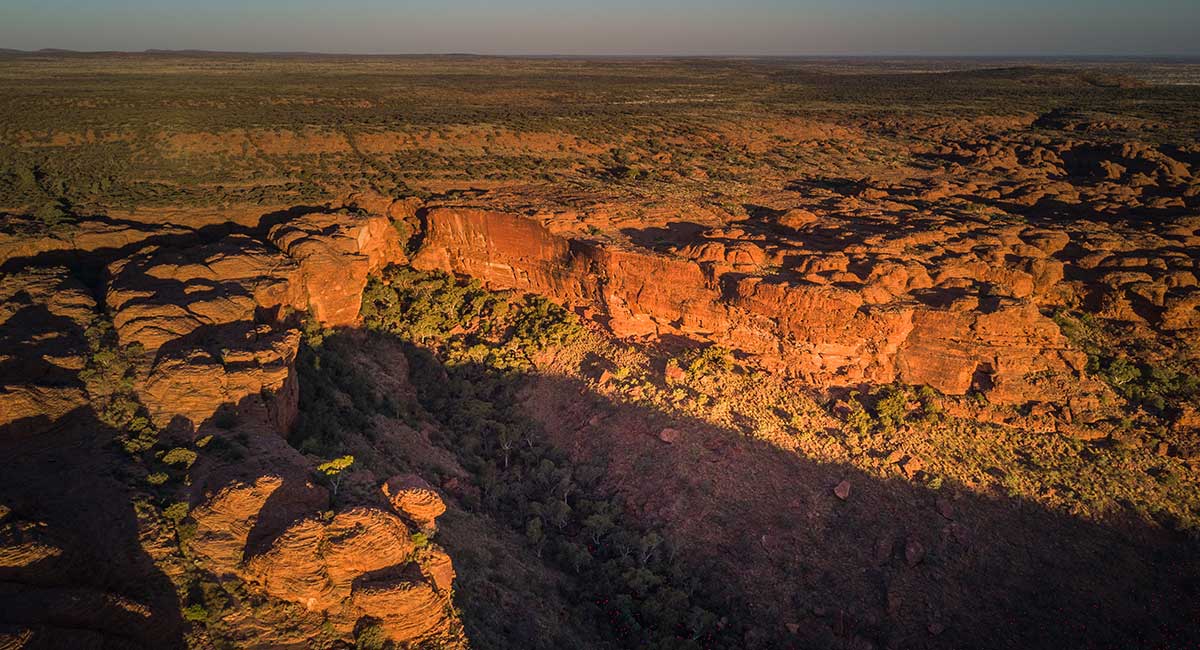 Food & Travel
How to do the Northern Territory with kids
Want your kids to feel and touch and see their history in full colour? Why not consider a trip to the Northern Territory with the kids?
Do Darwin with kids
From the moment you arrive, Darwin unfolds as a vibrant destination renowned for its tropical climate and colourful characters, with something new for the kids to discover around every turn. The place is abuzz with open-air markets, art galleries, and many festivals each with something fun to entertain the whole family. Darwin residents enjoy an outdoor lifestyle and so will you – with weather no hotter or humid than popular Asian destinations such as Bali and Singapore, and consistently around 32 degrees at the most all year round. The wave pool and lagoon at the Darwin Waterfront Precinct always promises a fun and easy way to cool off with the kids.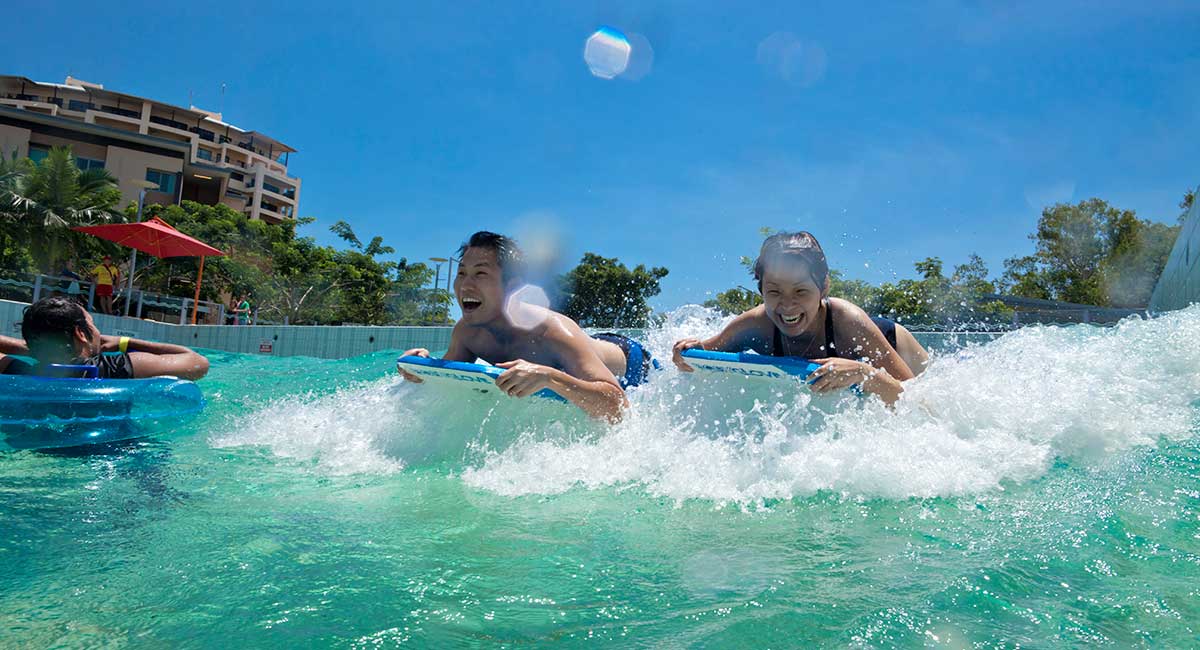 Credit: Tourism NT/Peter Eve
Crocodiles are always a big favourite for kids of all ages! Start with a trip to Crocosaurus Cove right in the centre of Darwin, hold a friendly snake, watch barramundi feeding, and "fish" for juvenile crocodiles with a rod and their favourite meaty snack. Watch kids' faces as the crocodiles snap at their dinner, and older siblings might be brave enough to be lowered underwater with a 5m croc in the 'Cage of Death' experience.
For animal encounters, explore Territory Wildlife Park which shows more of the NT's local animals and birds, only an hour drive from Darwin towards Berry Springs. Make the Flight Deck show and the whipray feeding at Ooloo Sandbar a priority, along with hearing about the unique bird species in the Walk-through Aviary. Crocodylus Park is another popular attraction dedicated to the research and conservation of crocodiles, and home to native Australian wildlife, big cats, primates, birds and reptiles.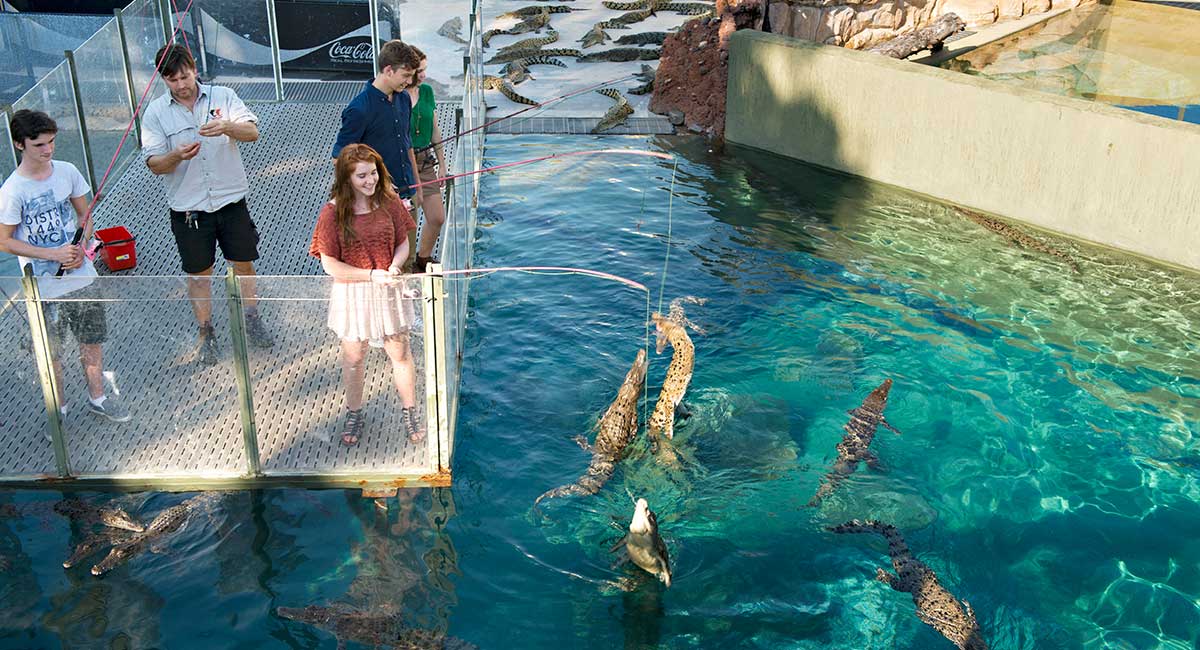 Credit: Tourism NT/Shaana McNaught
Take a leisurely walk to Doctor's Gully from Mitchell St in the CBD, where little ones will squeal with delight as hundreds of fish wriggle around their ankles at Aquascene – the place to hand-feed fish species like Diamond Scaled Mullet and Catfish. Check tide times before you visit.
Along with outstanding animal experiences, Darwin boasts a variety of educational experiences with strong historical significance. The contemporary Museum and Art Gallery of the Northern Territory is a great place to start– hear the legend of 'Sweetheart' the crocodile, view the Cyclone Tracy exhibit, and break for a coffee overlooking the turquoise water of Fannie Bay. Take the Darwin Explorer bus out to East Point, past wallabies grazing in bushland, for a visit to the Defence of Darwin Experience – an interactive insight into the military history of Darwin.
Teach the family about the Top End from an Indigenous perspective with a Batji Walking Tour – kids will be fascinated by the bush tucker talk, and take away a new respect for Aboriginal culture. Try an afternoon of blue water fishing with one of many charters available into the Darwin harbour, or end the afternoon with a sunset cruise. A visit to the markets in Darwin is a delight for little tastebuds, discover the Mindil Beach Sunset markets for Asian-inspired tastes, tropical mango smoothies, crocodile skewers, buffalo burgers, and chocolate banana crepes. After the markets, enjoy the balmy evening among the palms at the Deck Chair Cinema.
To extend a short visit to the Northern Territory with the kids, venture to nearby Litchfield National Park. Only 1.5 hours from Darwin, with many waterfalls and rock pools to play in, along with superb camping spots, hiking and unusual magnetic termite mounds to delight curious minds.
Do Kakadu
Take a few days to explore World Heritage Listed Kakadu National Park, easily accessible from Darwin and it's Australia's largest national park. On the way, join the Spectacular Jumping Croc Cruise at Adelaide River and watch some big reptiles in the wild. See resident crocs jumping for their regular feed, and stop into Window on the Wetlands afterwards to learn about the eco-system of the floodplains.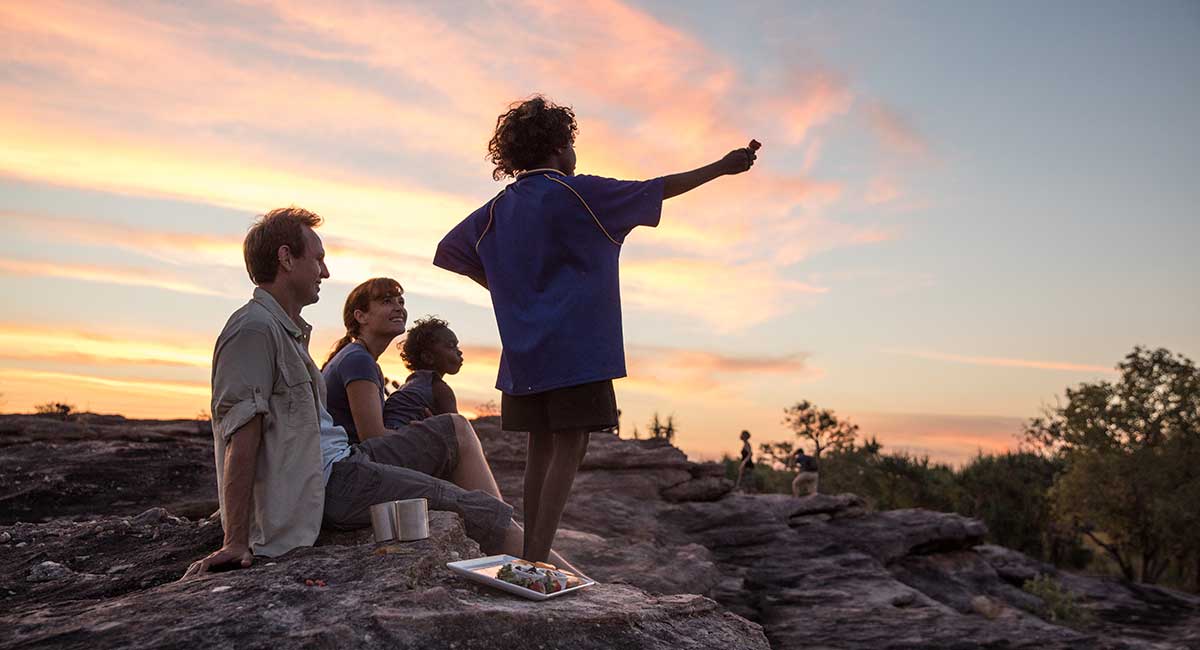 Credit: Tourism NT/James Fisher
Getting into the park, your first stop is the Bowali Visitor Centre to discover the significance of the park and plan your stay. Follow the scenic Nature's Way drive route, and head out to magnificent waterfalls like Twin and Jim Jim Falls, marvel at the ancient rock art at Nourlangie or Naguluwur and visit Ubirr escarpment at sunset. Join a cruise at Yellow Water, along waterways choked with pink and white waterlilies, spotting tiny Blue Kingfishers and crocodiles lurking in the muddy shallows.
Accommodation in Kakadu ranges from campsites to a very comfortable crocodile-shaped hotel – quite a novelty stay for little people!
Katherine, Northern Territory, with kids
Head south to Katherine, the gateway to Nitmiluk National Park. Explore the staggering network of gorges, carved through ancient sandstone by the Katherine River. Take a scenic flight, board a cruise or canoe down the gorge to enjoy its immense rocky cliffs and spot birds, crocodiles and other native flora and fauna. In the township of Katherine, the whole family will enjoy the spring-fed crystal clear pool of the Katherine Hot Springs, free to enjoy on the banks of Katherine River.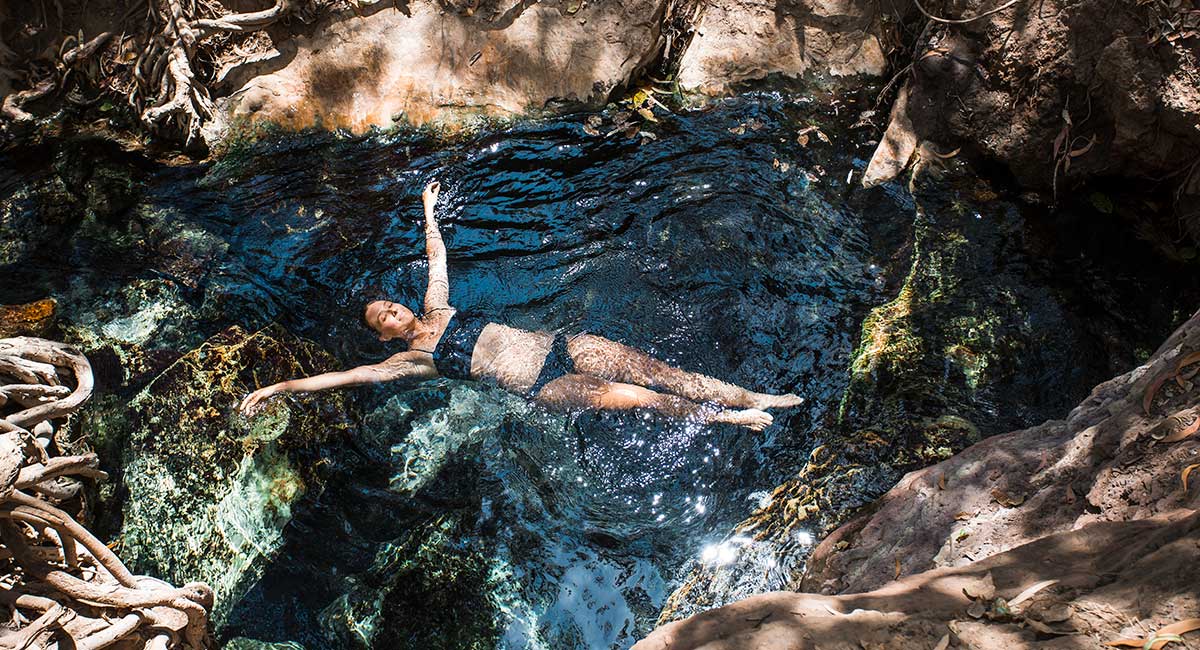 Credit: Tourism Australia/Nicholas Kavo
For a unique dining experience with entertainment built-in, book in for Marksie's Stockman's Camp Tucker night. Set in the grounds of the Katherine Outback Museum, all will enjoy a rustic dinner under the stars with bush games and stories around the campfire. Extend your stay with a trip out to Leliyn/Edith Falls, Butterfly Gorge Nature Park and Cutta Cutta Caves, all short drives out of the Katherine township.
Continuing south of Katherine will take you along Stuart Highway following the Explorer's Way drive route – a memorable drive which runs from Darwin to Alice Springs, stopping at the best of the NT along the way.
Alice Springs and surrounds
No trip to the Northern Territory with the kids is complete without venturing to the spiritual heart of Australia – Alice Springs. With rivers and ranges millions of years old and an ancient Aboriginal culture rich in art and stories, Alice Springs is your basecamp for adventure. Follow the Red Centre Way drive route, a loop taking in West MacDonnell Ranges, Watarrka National Park/Kings Canyon, and Uluru – Kata Tjuta National Park to view the diverse region in all its glory.
With adventures for all ages, try cycling around town, camel rides, hot air ballooning, and hiking along the famous Larapinta Trail. Learn about rare desert plants and meet some furry and scaly friends at Alice Springs Desert Park, or take part in one of the Park's school holiday programs – Aboriginal spear throwing, traditional dancing or astronomy. Discover the world's largest classroom at the School of the Air Visitor Centre, and explore inside a replica Pilatus PC12 airplane at the Royal Flying Doctor Service Museum. You'll be surprised by how much there is to do.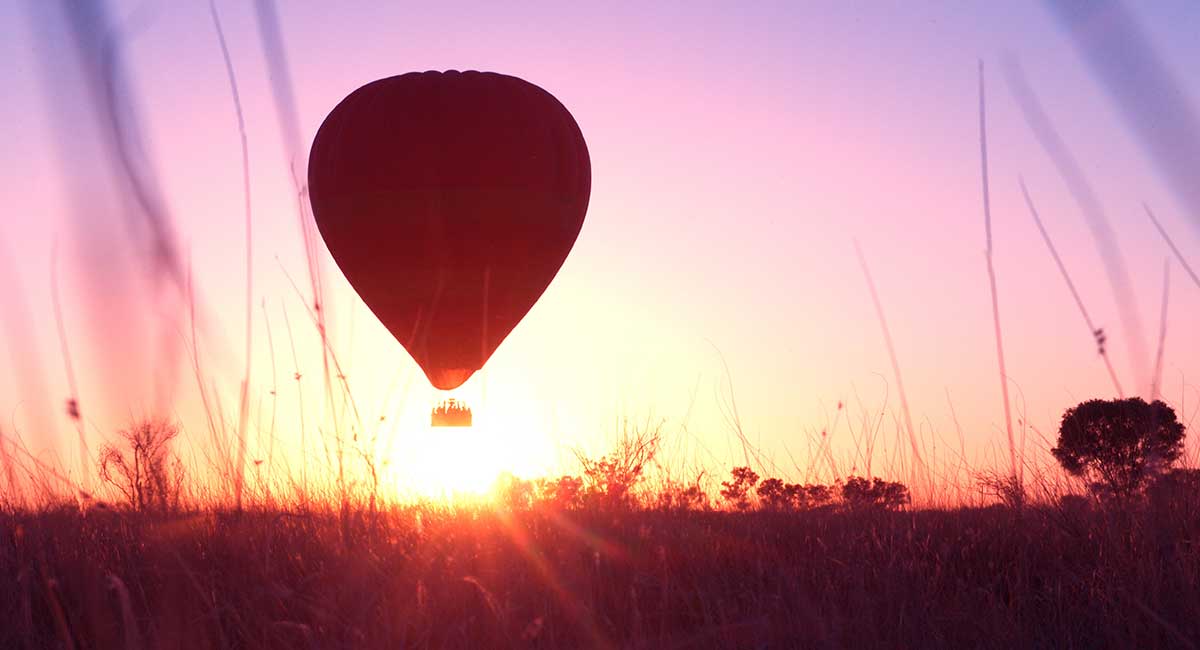 Credit: Tourism NT/Hannah Millerick
How do I get to the NT?
FLY: The Top End is closer than you think. Darwin is within four hours' flying time of most Australian capital cities (including Brisbane), with direct flights daily to Darwin International Airport, Alice Springs and Uluru, and linking flights into Arnhem Land and Tiwi Islands.
DRIVE: The NT is perfect for a road trip. The Stuart Highway or Explorer's Way runs between Adelaide and Darwin showcasing the best of Australia's outback landscapes. Take the road less travelled and explore The Savannah Way which runs east-west, linking the Top End to Tropical North Queensland and Western Australia.
RAIL: For something a little different, the Ghan is 3000+ kilometres through the centre of Australia. Follow the same route as early Explorers, Afghani Camel Traders and Gold Miners, and transfers from Darwin rail terminal are available.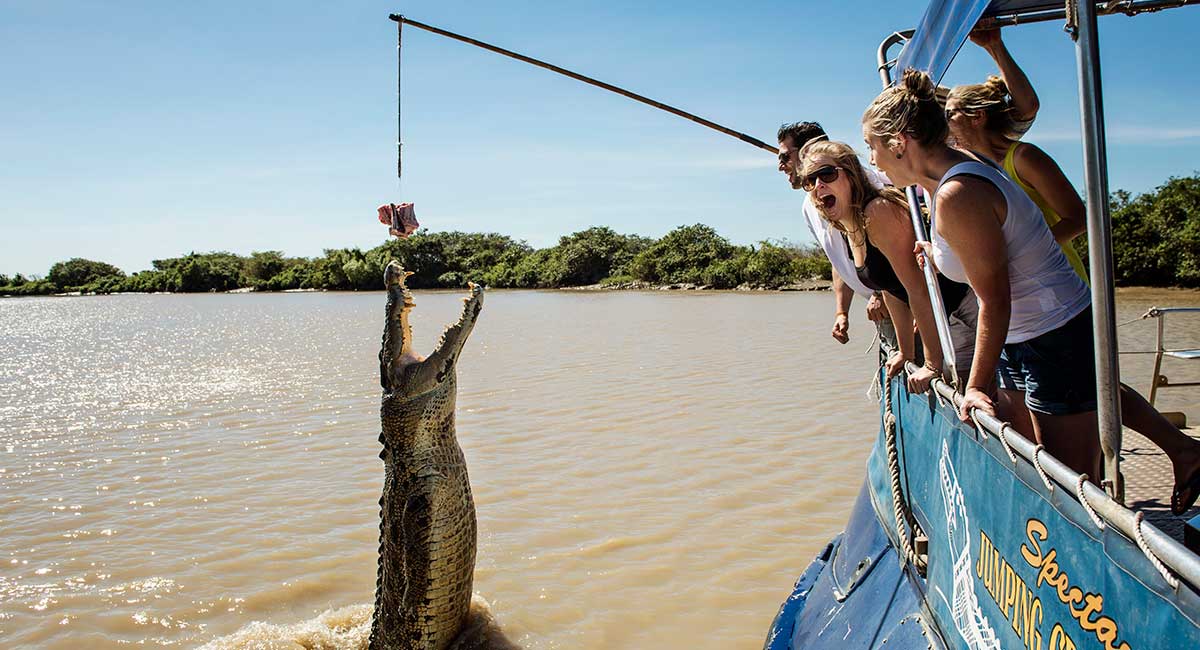 Credit: Tourism NT/Shaana McNaught
ACTIVITIES TO DO IN THE NORTHERN TERRITORY WITH THE KIDS
Do Crocs: Hold a juvenile crocodile at Crocosaurus Cove, or make a croc jump with your fishing rod!
Do Markets: Experience sunset dinner at the Mindil Beach Markets to the sounds of the didgeridoo
Do Movies: Relax at the open-air Deckchair Cinema in among the palms
Do Splash: Cool off at the wave pool at the Darwin Waterfront Precinct or under the waterfalls at nearby Litchfield Swimming Holes
Do Nature: Explore World-heritage listed Kakadu National Park
Do Wild: Take a jumping crocodile cruise at Adelaide River
Do Culture: Learn about spear making, bush tucker or traditional art on an Aboriginal Cultural Tour
Do Adventure: Hike, swim, cruise or canoe Katherine Gorge at Nitmiluk National Park
Do Animal Encounters: Get up close and personal with local wildlife at one of many animal experiences
Do History: Brush up on history at the Darwin Museum and Art Gallery or the Darwin Military Museum
Where's your NT dream family destination?
---
You may also like…
Family-friendly weekends at Tangalooma Island Resort
Turtley awesome family holiday in Queensland at Mon Repos
7 BIG things to see in North West Queensland
Written by
Angela Sutherland
After spending many years hustling stories on busy editorial desks around the world, Angela is now mum of two little ones and owner/editor at Kids on the Coast / Kids in the City. She is an atrocious cook and loves cutting shapes to 90s dance music.