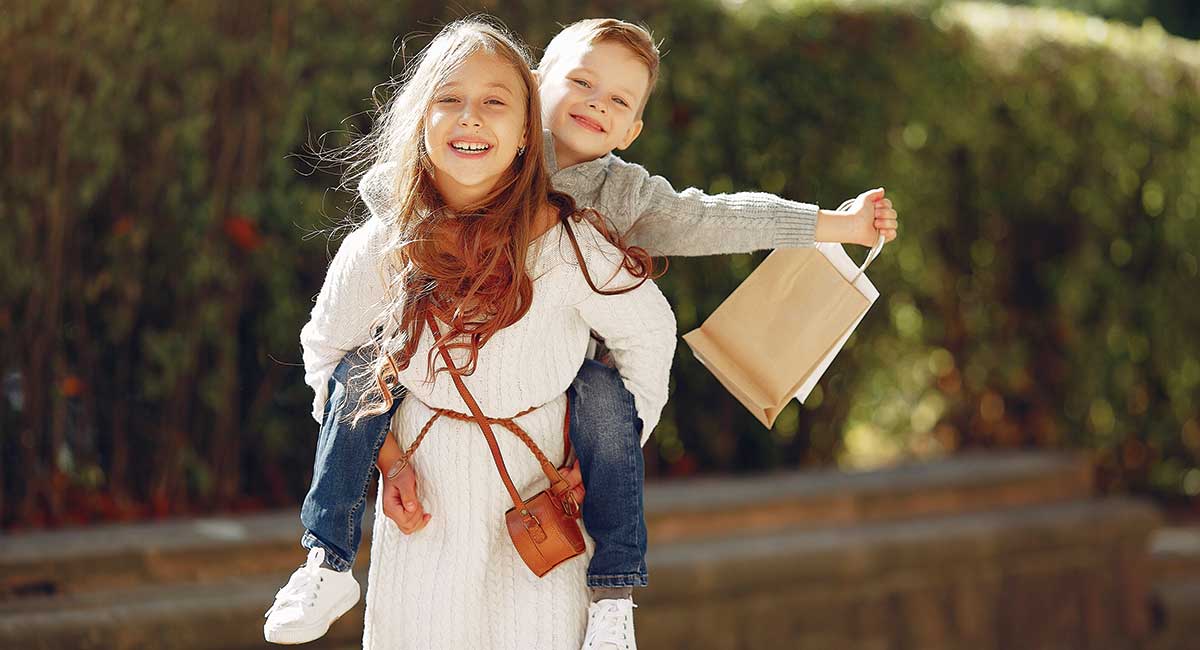 Local Life
Shopping with kids - made easy!
Now that your kids have arrived, shopping trips are a completely different experience. Gone are the days of browsing the mall with all the time in the world, now your biggest concern is negotiating the pram through the toy and lolly aisles with the deftness of a ninja.
Understanding the challenges of shopping with kids, many shopping centres have been working hard to offer parents a more pleasant shopping experience, including parent and pram parking and thoughtfully designed parent rooms. While these initiatives are certainly a welcome change,, one Sunshine Coast shopping centre has chosen to go above and beyond when it comes to family-friendly additions. Armed with a huge shopping list and nerves of steel, 
we took the kiddos along to Kawana Shoppingworld for a whole day (yup, a WHOLE day), to really put the busy shopping centre to the test.
Shopping with kids
Shopping is the primary reason why you are there, and Kawana Shoppingworld has every store you could want. There's all the usual majors such as Big W, Coles, Best & Less, Cotton On, but you'll also find stores such as Tree of Life, Platypus, Bed Bath N' Table, Dusk and Collette by Collette Hayman. Being all on one level and under one air-conditioned roof, it's super easy to get around with the pram, and there are plenty of seating areas dotted around for pitstops.
Play
Play spaces are an essential part of any shopping centre (how else will we stop for a cuppa?!). Kawana Shoppingworld has three play areas to choose from: one outside the entrance to Aldi, another next to Good Bean in the South Mall and one conveniently located in the Food Court.
For the tweens and teens, the newly opened Planet Arcade is a great spot to keep the kiddos busy. It operates on a card system (no coins needed), which is much more manageable for kids.
The new Event Cinemas has also been designed with families in mind, offering 'Bring your Baby' sessions (now including Gold Class sessions), bigger seats and even daybeds to chillax with the bambinos. Event Cinemas Kawana also has specials, such as the Weekend Family Flicks on selected Saturdays and Sundays where you can see great family films for just $6. Like a little luxury? Kawana Shoppingworld 
is home to the only Gold Class cinema on the Sunshine Coast.
Food
A day at the shops demands a lot of snacks for little tummies (and grumbly mummies). The Food Court at Kawana Shoppingworld caters well for the hungry family. As well as the usual outlets popular with the kids, there are plenty of other tasty options including Guzman 
Y Gomez, Grill'd and Sushi Chain.
If you want to dine in, there is a great selection of family friendly cafes and restaurants to choose from. The ribs at Lone Star Rib House are uh-mazing, and Peak Thai is sure to keep even the fussiest eaters coming back for more. For a yummy brekkie or lunch with plenty of kid-friendly options, you can't go past The Groove Train. P'Nut Street Noodles and FoFo Italian are also both great family friendly options.
Parking
On busy days, parking at Kawana Shoppingworld used to fill up pretty fast. But since the new Entertainment Precinct opened up with its huge new multi-storey carpark, there is usually plenty of parking available. A big plus at Kawana is that it's FREE parking, all day, every day. So, you will never feel pressured to beat the three-hour parking window. Yup, you can stay for the whole day!
Everyday essentials
No shopping adventure is complete without a nappy change or toilet-training dash, so decent parents rooms are critical. The Kawana Shoppingworld Parents Rooms definitely deliver – with features such as a microwave, lounges, change tables and parent/child toilets. You can find them near the Food Court and near the ALDI travelator.
The little extras
The extras are where we find that Kawana Shoppingworld surpasses the usual shopping centre offerings. Kawana Shoppingworld's complimentary nanny service is there to help while you shop, have 
your hair done or simply enjoy a cup of coffee. Enjoy some 'me' time and let the professional child minders do the rest, entertaining your kids in a fun and safe environment. A roaming service is also available (the Shopping Nanny accompanies you while you shop, to lend a helping hand).
The free Shopping Nanny service is available Monday to Thursday, 9am to 2pm (excluding public holidays). You can find it located outside of ALDI. Book online at www.kawanashoppingworld.com.au.
To further support local families and help parents shopping with kids, Kawana Shoppingworld introduced their Mums & Co club in 2018. Mums & Co is a local community for mums, dads, grandparents, carers and anyone that looks after little people. As a Mums & Co member, you will find out about exclusive events, receive special offers and automatically go in the draw to win prizes. Head to www.kawanashoppingworld.com.au/mums-co, where you will find everything you need to know about what's available for parents in centre.
MORE INFO
Where: Kawana Shoppingworld, 
119 Point Cartwright Dr, Buddina
Centre trading hours: Monday, Tuesday, 
Wednesday, Friday: 9am – 5.30pm | Thursday: 9am – 9pm 
| Saturday: 9am – 5pm | Sunday: 9am – 4pm
Dining: 7:30am – late every day
www.kawanashoppingworld.com.au
---
RELATED:
Free school holiday activities on the Sunshine Coast
5 mountains to climb with kids on the Sunshine Coast
9 ways to reconnect your family with nature on the Sunshine Coast
Written by
kidsonthecoast