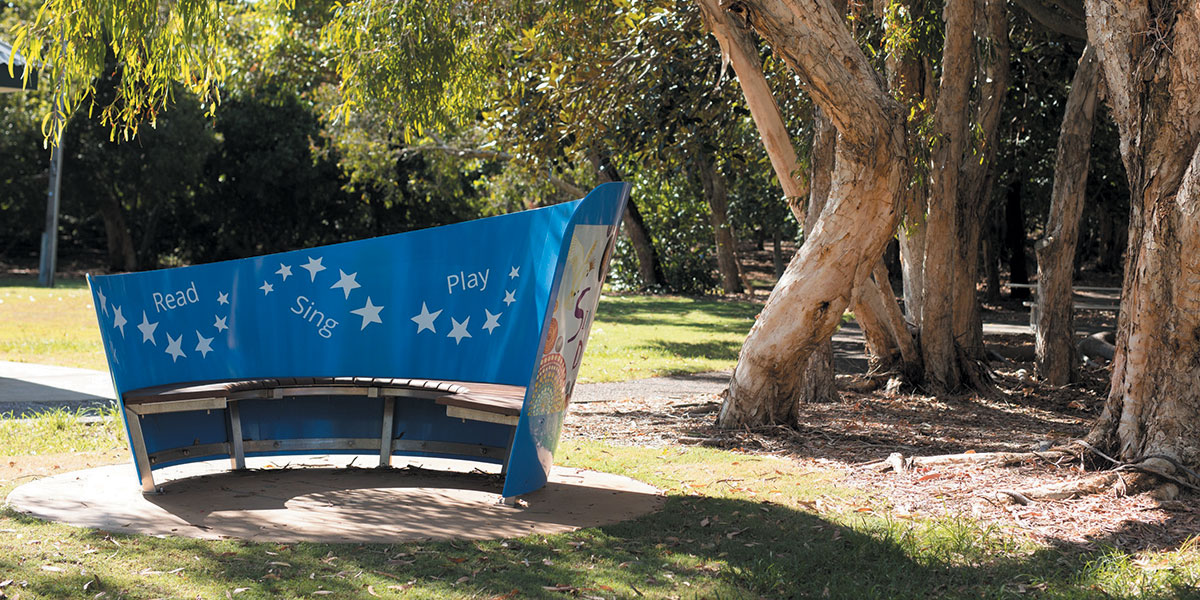 Activities
Story seats bring the magic of storytelling to Sunshine Coast parks
Local families have even more reason to visit Power Memorial Park at Mudjimba with the launch of Sunshine Coast Council's First 5 Forever story seats. The seat features features artwork from the popular children's book Mad Magpie.
Published in 2016 by Magabala Books Aboriginal Corporation, Mad Magpie tells the story of Guluu, an angry magpie who is teased by a gang of butcher birds.
The book is written by Gregg Dreise, who is a descendant of the Kamilaroi tribe, from South-West Queensland and North-West New South Wales and now a teacher on the Sunshine Coast. His books have appeared on the Premiers Reading challenge and have also won the Speech Pathology Australia Award.
Division 8 Councillor Jason O'Pray said the Story seats were a great part of the First 5 Forever early childhood literacy program.
"Families with children under five are invited to head to Power Memorial Park to explore the magic of storytelling at the purpose-built story seat," Cr O'Pray said.
"The story seat is a colourful, engaging and positive way of encouraging parents and caregivers to play a proactive role in the development of their child's early literacy skill from 0-5 years."
Community Portfolio Councillor Jenny McKay said Sunshine Coast Libraries had been granted $1 million over four years by the Queensland Government to implement the First 5 Forever program.
"The aim of this universal family literacy program was to support strong language and literacy environments for young children from 0–5 years and their families," Cr McKay said.
"We have already implemented a number of activities under this program and we are now installing colourful story seats in parks across the region which will be a visible way of promoting literacy inviting families to engage in storytelling, active play, singing and reading.
"The seats, designed by council's Parks and Gardens area, reinforce the message, 'the first five years last a lifetime'."
Story seats will be rolled out progressively across the region in the following parks:
Pioneer Park, Landsborough
Nelson Park, Alexandra Headland
Power Memorial Park, Mudjimba
Muller Park, Bli Bli
Russell Family Park, Montville
Kenilworth town park, Kenilworth
Maroochy Lions Park, Maroochydore
Shelly Beach Park, Shelly Beach
Grahame Stewart Park, Currimundi
Brightwater Community Lake Park, Brightwater
Families are encouraged to grab map and head off on an adventure to find all 10 story seats. On your adventures, take a picture with the seats and share on social media using the hashtag #Storyseat.
First 5 Forever is a universal family literacy program aimed at supporting stronger language and literacy environments for young children from 0 to five years and their families. The program is funded by the Queensland State Government and is being delivered by 320 public libraries across Queensland.
Visit council's library website for more details and join the #Storyseat conversation by following Sunshine Coast Libraries Facebook page.
---
You may also like…
Sunshine Coast Libraries celebrates the First Nations 
Join Sunshine Coast Libraries to receive the new kids-only library card!
Finding literacy in the great outdoors
Written by
kidsonthecoast