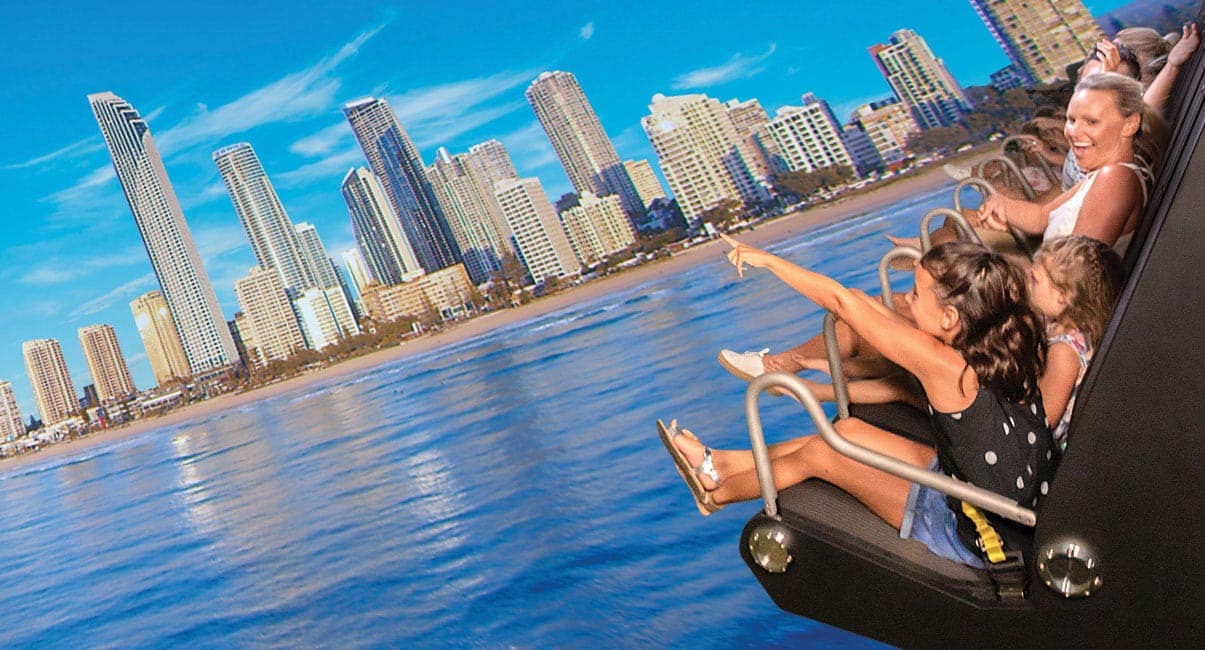 Places to Go
Take flight on the new family ride at Dreamworld
Like most families, we have all levels of theme park junkies in our tribe:
'Woohoo, I'll do anything'.
'Maybe, but no upside-downs'.
'No way, not on your nellie, even the tea cups make me spew… I'll hold the hats'.
Plus one that is still too short to ride most things
Therefore, despite having an abundance of world-class theme parks on our doorstep, this combination makes it almost impossible to find something for everyone. So, we were super excited to get the chance to test out the latest family ride at Dreamworld recently.
The first of it's kind in the Southern Hemisphere, Sky Voyager is an extrasensory flying experience that features state-of-the-art technology combining motion-programmed seating and special effects such as wind, sound, light, mist and scents, while suspended in front of a giant dome screen.
Sounds fancy, but what does that mean?
Sitting bucked safely side-by-side in a large gondola, this is then lifted (only slightly) from the floor and suspended in front of a huge curved screen. As the movie plays, the gondola tilts and rocks to make you feel like you are flying through the scenes on screen. The ride also has a bunch of really fun extra-sensory effects to add to the experience. Soar over the surf and be sprayed with mist, parachute from a plane and have the wind blow through your hair.
The movie takes you through 12 famous regions of Australia. From the beaches of the Gold Coast to Sydney's awe-inspiring fireworks, you can experience our beautiful country like never before.
The ride is exciting, but not at all scary, and everyone really enjoyed it – from our adrenaline seekers to the scaredy cats and little ones.
What we loved most about Sky Voyager at Dreamworld
As you all sit together, it is a fun shared experience. You can soar through the clouds pointing out all the landmarks as you fly. If at any point the little ones get scared, you are right next to them to help. Also, as it is just watching a movie, if they do get a little worried (which did happen right at the start for our littlest flyer), you just have to close your eyes for a second and it's all fine (the gondola doesn't actually move too much at all!).
It's the first time we've been to a theme park and the whole family wanted to go straight back on the same ride again… in fact we did it three times in a row! Even with so much to see and do at Dreamworld it was definitely everyone's favourite ride at the park.
Any negatives?
It's a popular ride, so the queues can get pretty long, however they have a big movie screen next to the queue to keep the little ones entertained. And, if you have a Ride Express pass, you can use that to jump to the front of the queue. Or, as locals, go in the off-season and ride as much as you like!
Who can ride
It's for ages 4+, with a minimum height 100cm.
---
RELATED:
5 best swim spots for kids on the Gold Coast
Dreamworld for families – a local's guide
A family friendly hotel in the heart of the Gold Coast