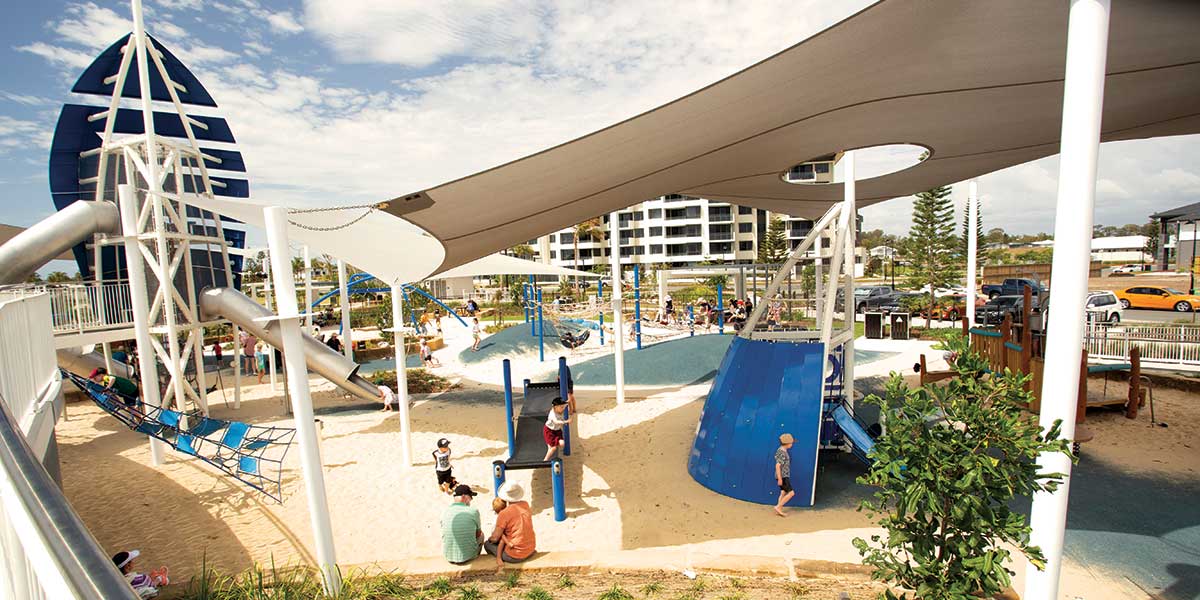 Places to Go
The best playgrounds in Newport
Rapidly becoming one of Brisbane's favourite family suburbs, you can find some of the city's most unique and best playgrounds in Newport – Stockland's growing suburb.
Stockland is renowned for its innovative parks and playgrounds, creative design and state-of the-art equipment, and the new Spinnaker Park at Newport is certainly no exception.
Spinnaker Park, Newport
"The playground has been designed around a nautical theme and will encourage children's imaginations to run wild with a play ship, a coconut rope swing, climbing nets, slides as well as sand and water play activities," said David Laner, Queensland General Manager for Residential Communities at Stockland.
A playground for all abilities
Designed in collaboration with children's charity, The Touched By Olivia Foundation, the playground is a showcase of accessibility, ensuring children of all ages and abilities can play together.
"The playground's 18 pieces of equipment include a landmark three-storey high sail tower, incorporating a wheelchair-accessible viewing platform with spectacular views over the lake and Bay," Mr Laner said. "We are proud to be setting a benchmark for inclusive, imaginative outdoor play in southeast Queensland."
The park spans 8851 square metres and provides public access to Newport's lake, with a launch area for non-motorised water craft such as kayaks and paddleboards.
Ben Urban, Managing Director of Urban Play, who constructed the playground, said the design drew on the park's coastal location.
"We wanted to design a playground that celebrates the beach lifestyle that Australian families know and love,'' Mr Urban said.
"An intergenerational design approach was taken to design a play environment, which caters to all ages with equipment offering a wide variety of play activities that develop and challenge children's physical, social and cognitive development.''
The park also incorporates a central plaza, showcasing public art pieces as well as interactive water features that are illuminated at night to create a spectacular display.
"We are excited to be opening up the lake for everyone to enjoy and we are looking forward to Spinnaker Park becoming a recreational hub for the region, reflecting Stockland's commitment to creating healthy, active communities," said David.
Lock Park, Newport
If that's not enough space to play, Lock Park has also opened recently in Newport, adjacent to the Newport Lock at Jabiru Canal. With a huge grassed area and picnic shelter, this waterfront park is a great spot for ball games, picnics and family gatherings.
"Our newest park complements the recently opened Spinnaker Park and playground," said David. "Lock Park has been designed to allow visitors to take in views of the Bay, the canals and our centrepiece lake, and is an ideal vantage point for families to enjoy a picnic and throw a ball around while watching the boats come and go.''
Coffee lovers are also well catered for, with Newport's Café Playground. A nautical themed playground, the waterfront park is adjacent to Newport's popular Izba Espresso cafe as well as the Newport Sales and Information Office.
"Mums and Dads can relax while enjoying coffee served from a repurposed 40-foot shipping container while children play in the fully fenced playground," said David.
Central Park
And for those that love to pedal, Central Park located on Brindabella Street features a central paved area surrounded by multiple shaded areas with room for kids to ride their bikes and scooters. Here you'll also find the latest in children's play equipment including elevated rope walks and ladders, slides and swings. There are also two custom-designed shelters, barbecues, toilets, and the space and facilities for families to enjoy parties and gatherings.
Located on the Redcliffe Peninsula and 38 kilometres from Brisbane's CBD, Newport is one of several suburbs in Brisbane's thriving northern corridor, which is becoming popular with families. And with waterfront parks, kilometres of cycle paths, beach access and improved public transport, it's easy to see why an increasing number of families are ditching inner-city living for this family friendly option.
"It is thrilling to see our vision for Newport rapidly coming to life," said David. "Families are well catered for with a range of schools, shops, dining and entertainment options in close proximity, as well as a future town centre and marina part of the community and within walking distance of all homes."
As the region grows, there are plenty more family friendly facilities in store for Newport.
"The community will feature a retail and waterside dining precinct, leafy foreshore parks, kilometres of cycling and walking paths, and easy access to schools, shops, health facilities, public transport and beaches."
A new access road will also directly connect Newport with the neighbouring Moreton Bay Regional Council Nathan Road Sport and Recreation Precinct, which is currently under construction.
"These new sports facilities will add to the wealth of opportunities encouraging Newport residents to lead an active and healthy lifestyle,'' Mr Laner said.
More than 13,550 square metres of parkland has been delivered at Newport so far. The flat topography of Newport makes it a perfect site for families to take advantage of a planned 19 kilometres of pedestrian paths and eight kilometres of cycle ways.
Newport also hosts regular free family fun events such as its popular outdoor movie nights, children's entertainment and seasonal celebrations at Christmas and Easter, as well as free outdoor fitness classes through the Live Life Get Active program.
To find out more about Newport, visit the Sales and Information Centre on the corner of Griffith Road and Boardman Road, Newport, call the team on 1300 619 605 or go to stockland.com.au/newport.
What's there:
Play ship
Coconut rope swing
Climbing nets
Sand and water play
Three-storey high tower
All abilities play facilities
Water fountains (outside the gated area)
Toddler sail tower with climbing activities and slide
Toilets and baby change facilities
Fully fenced and gated
Soft fall floor
Wheelchair access ramp and viewing platform
For more on the region's parks and playgrounds, try New playground for Beerwah and A round up of Stockland Aura's playgrounds. 
Written by
kidsonthecoast