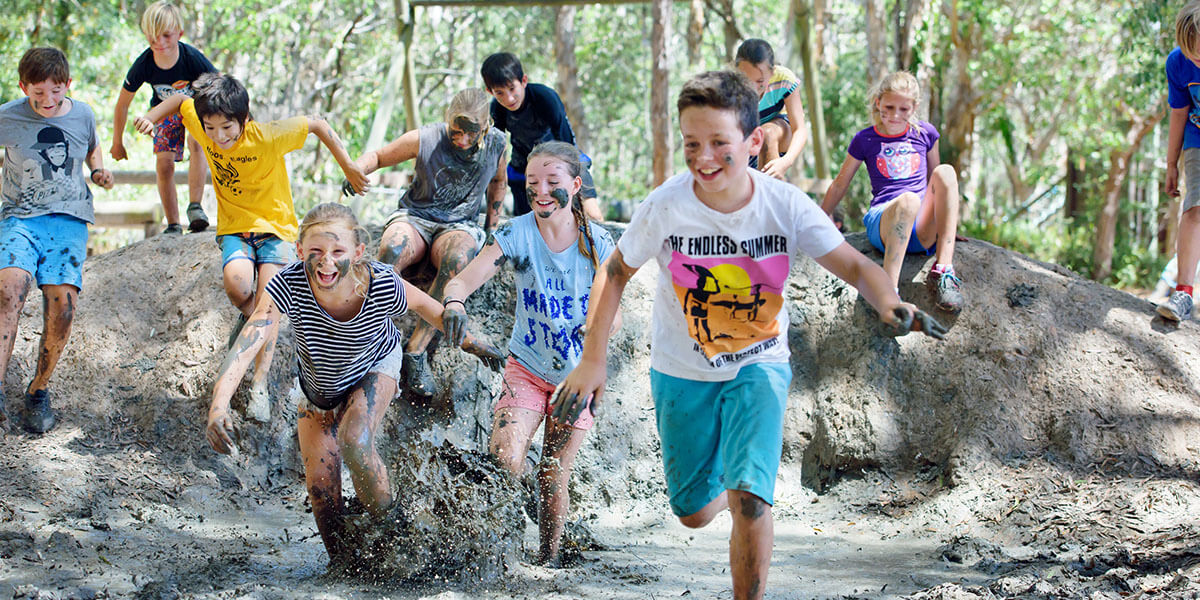 Places to Go
Looking for an AMAZING school holiday program on the Sunshine Coast?
Hands up who dreads school holidays?
Though the kids need the downtime from the grind of school, for working parents school holidays bring a whole new level to the daily juggle – trying to continue with work commitments whilst ensuring the kids are engaged and active and not hanging around on screens for hours.
And though there are many school holiday activities out there, finding one that will take various-aged kids for the whole day is a challenge.
To save my sanity, we put Apex Camps Sunshine Coast through their paces for a few days these school holidays, and it was one of the best experiences we've found.
About Apex Camps Sunshine Coast
Located in Twin Waters, just a 10-minute drive from Maroochydore or 20 minutes from Noosa, Apex Camps Sunshine Coast runs an exciting school holiday drop-off program every school holidays, for kids aged 5 to 17 years.
All activities are run in small groups of no more than 20 kids, supervised by qualified, accredited and experienced instructors who ensure that your child's safety is a priority.
The aim of the program is to provide personal growth, team building and learning qualities whilst ensuring kids are outdoors and interacting with friends.
You can choose to attend just one activity for two hours, or stay for a full day of activities from 8am to 3pm. They also offer a late collection service until 4pm.
Booking into the Apex school holiday program
Getting the kids booked into the Apex School Holiday program couldn't be easier. Jump onto the website and you can choose your days from a simple booking system. There are three activities sessions each day – each activity running for approximately two hours.
You can customise each day for each child by selecting one of two activities in each session, which is perfect when you have two kids of different ages who like completely different things. The active and adventurous one can try his hand at canoeing, high ropes courses, and the mud pit. Whilst the less sporty one can play beach games, slip and slide on the aqua park and test out teamwork skills with the radio challenge.
If you require a late pick up, just tick the box on the form when you book. Apex can also provide morning tea and lunch, or kids can pack their own. Again, just tick the box if you would like this option. Their pre-planned menus are specially designed to ensure nutritious, delicious and generously sized meals, using seasonal and locally sourced, fresh produce. They also cater for all special dietary needs at no extra cost – just let them know in advance.
Note – Apex is a nut-free camp.
The activities available
There are so many activities to choose from that the kids couldn't decide! The choices rotate throughout the week so you are sure to find a day with activities they love.
Activities on offer include:
Fishing
Canoeing
Archery
Mud Pit Challenge
Radio Rogaine
Inflatable Water Park (for ages 6 and up)
Beach Games
Abseiling
Pool Games
High Ropes & Twin Flying Foxes (for ages 10 and up and over 140cm tall)
Minute to Win It
Mid Ropes & Flying Fox
Catapults
Stand-Up Paddle Boarding
Fencing
Rock Climbing
Low Ropes & Team Builders
Raft Building
Bush Skills
The verdict
The kids had THE best time! Even the shy one who arrived on the first day unsure of what to expect, came bouncing out at the end of the day super-keen to go back.
The huge range of activities means that siblings can all go to the same program, choosing things they like at a level that suits them. And they are all activities that you know are great for their development as well as for team building and socialising.
All the activities are also incredibly well thought out. The ropes courses come in multiple levels, so there is something to challenge everyone. Whilst the games for the littler kids are super-fun and accomodating for all levels. I just wish that I was a kid again so I could go too!
This is what the kids had to say:
Miss 6: "My favourite was the beach games and pool games. They were so much fun, I can't wait to go back!"
Master 10: "My favourite was the abseiling. I've never done it before and thought I'd be really scared! I was a bit, but it was amazing to have a go and make it to the end. I was so proud of myself and I can't wait to do it again!"
And as a parent?
The longer open time is a big tick, giving you a full seven or eight hours knowing the kids are having the time of their lives. Providing lunch is a win-win too – there's no lunchboxes to worry about, and you know the kids have had a good meal each day. But my favourite is probably the huge range of great activities, meaning all the kids can go to one program where they can all have fun and all be catered for. Not a screen in sight, just genuine outdoor fun!
We'll definitely be back next school holidays!