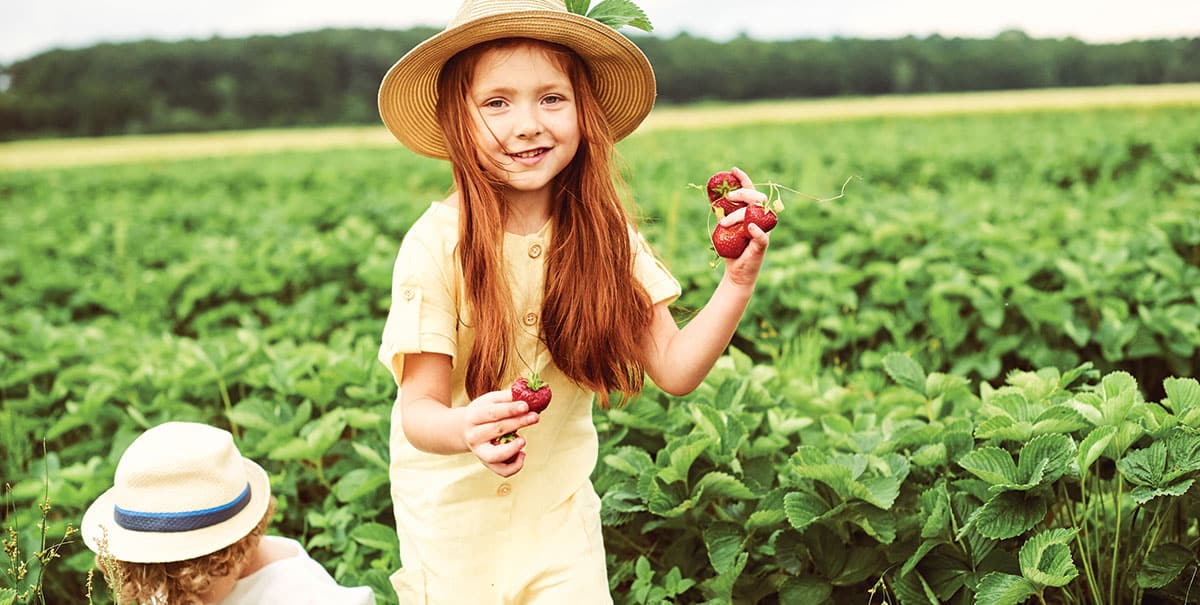 Outdoor
Why we should all go strawberry picking this weekend
Looking for something healthy, affordable, outdoors, and fun to do with the kids? Strawberry picking is one of our FAVOURITE family friendly activities in the region. Here's why…
You get the final decision on quality
Ever wondered how old the strawberries at the supermarket are? By the time they are picked, packed and transported it can be two to six days before they hit the shelves. Picking your own strawberries means that you choose which berries you get and you know they are all 100% fresh (as you've just picked them!).
Strawberries are packed with nutrients
As well as being a rich source of Vitamin C (in fact, they have slightly more than a standard orange), strawberries are also packed with antioxidants, plant compounds, manganese, folate (Vitamin B9) and potassium. Healthy and delicious!
A lesson on paddock to plate
Picking your own strawberries is a simple yet fun and hands-on way to teach the kids about where our food comes from.
There's heaps of family fun
As well as PYO strawberries, Strawberry Fields has a bunch of family-friendly activities that makes it a great day out with the kids. There is a children's playground and a large open grassed area for the kids to enjoy. Strawberry Fields also has a fab cafe with a yummy range of strawberry treats including ice cream, scones with strawberries and cream, and tarts. There is often live music on the weekend too (check their social pages for dates and details). And if that's not enough, head over the Strawberry Fields shop, where you'll find jams, relishes, soaps and more.
It's outdoor and screen free
After a long COVID-19 lockdown, there's no better way to dust off those cobwebs than putting down the iPad, getting outdoors in the sunshine and fresh air, and doing something fun together.
Shop local
It's been a tough year for everyone, and doing something as simple as picking your own strawberries from a local farmer can be a wonderful way to shop local, live local, and support our local community.
Best of all, it's free! Just pay for your strawberries!
How to pick the perfect strawberry
The redder the sweeter, so go for ones with the most colour. Size makes no difference to taste.
Love strawberry smoothies? Freeze a stack of strawberries before the end of the season and have farm-fresh strawberry smoothies all-year round.
Where: Strawberry Fields, 133 Laxton Road, Palmview, Sunshine Coast QLD 4553
Phone: (07) 5494 5146
Facebook: @StrawberryfieldsAustralia
Instagram: @strawberryfieldspyo
Written by
kidsonthecoast