Jumping jingle bells, Christmas is just around the corner! (Whaaaaaat?!)
Finding the mental bandwidth to think about Christmas gifts for the family amidst the daily chaos of parenting can be a real struggle. But don't fret – we've done the hard work for you and carefully curated a selection of our favourite Christmas gifts for 2023.
Whether you have a new baby on the way or a teenager almost ready to embark on their own journey – our 2023 Christmas Gift Guide has the best Christmas gifts for kids of all ages.
SKIP TO AGE:
---

---
Christmas gifts for babies and toddlers
Trixie Wooden Animal Truck
With five animal friends on board, the Trixie Animal Truck is ready for the wildest animal adventures! Pull the truck and all the animals along using the string attached to the front. The openings on the side of the truck challenge children to puzzle and enhance their fine motor skills. Slide the top of the truck open to take all animals out. The truck and all the animals are made of 100% FSC-certified wood. All paints on this product are water-based, safe for children and non-toxic.
www.moobaba.com.au // $62.95
Personalised Bluey lunchbox range
Now you can get your favourite b.box lunchboxes and Tritan drink bottles fully branded as your favourite blue heeler Bluey!
B.box has designed a lunchbox that offers parents and kids more flexibility. The lunchbox features a large compartment that fits a whole sandwich. Plus, sitting underneath the tray is an included gel cooler pack to keep food fresher and cooler for longer. Or, remove the sandwich tray and the compartment now easily fits pasta and salads.
Match with a b.box Tritan drink bottle for the perfect back-to-school set for your little one. You can even personalise them – simply add your child's name at checkout!
Get 10% off all Coastal Kidswear products with code: KOTC10
coastalkidswear.com.au // From $17.95
Reusable Swim Nappy
Ditch the disposables, as this premium swim nappy is the only one you will need! Cottontail Swim Nappies have a new contoured shape for our little ones' complete freedom of movement in and around the water. The comfy leg elastic keeps leaks and accidents well contained, and a wider waistband provides comfort. Choose from 15 super-cute styles.
cottontailservice.com.au // $20
Sinchies Reusable Food Pouches
Grab some stocking fillers and tick off back to school at the same with Sinchies. Your one-stop-shop for your lunchbox back-to-school needs. Sinchies are the original, award-winning reusable food pouches and ziplock bags. Their products are designed to save families money, reduce waste, and encourage healthy eating whilst feeding on the run. Think homemade goodness with store-bought convenience.
www.sinchies.com.au // From $5
Padded Terrazzo Play Mat
Looking for a piece of kid's decor that gets noticed for all the right reasons? Look no further than this luxe padded foam play mat. Designed to mimic modern flooring, it features a terrazzo print on one side and a subtle weave pattern that looks just like a rug on the other.
Measuring 140cm wide, it provides a cushioned, comfy spot for your child to play while ensuring your space still feels like your own. Constructed from the highest quality, non-toxic PU with a thick foam core, the padded play mats safe for kids and free from common nasties. It is also shock-absorbing and sound-reducing thanks to their thick layer of cushioning.
It is fully reversible, easy to wipe clean, and big enough for the whole family to enjoy and safe and certified for newborns.
themuseedition.com // $179.99
Build-a-Slice Pizza Cart
The Build-a-Slice Pizza Cart has everything children need to run a small pretend pizza business, including six toppings, a pizza cutter, a plate, a cheese shaker and more. When they ring the bell, they will hear a customer's order and explore colours, shapes and food names. Customers may ask for a slice of pizza with crunchy onion, cheese triangles or red pepperoni. They can mix and match toppings to create their own pizza too – then put it in the oven, set the temperature and the oven will say words in Italian, cooking phrases and play music while they wait. But they better not let the pizza cook for too long, or it'll burn! Together, you can add music to the dining experience by spinning the pizza turntable for learning songs and melodies.
In all good toy stores from November // RRP $99.95
Calm & Breezy Marble Run Sound Tree
This beautiful wooden tree has delicately coloured leaves in muted pastel tones. Simply place a marble on the top leaf and release and listen to create beautiful sounds as it cascades down the leaves, getting deeper and deeper tonally as it falls down larger and larger leaves. It is calming and mesmerising for children to watch the balls roll down and listen to the pleasant sound. This sound tree is not only a delight to listen to, but it also helps to develop hand-eye coordination and fine motor skills. Made from timber, finished to the highest quality and painted in child-safe, non-toxic paint.
yourcapabilitystore.com.au// $85.00
---

---
Christmas gifts for primary kids
The Reading Tower
Help your early reader develop reading fluency with The Reading Tower. Includes instructions to play four fun games using decodable words on wooden Jenga blocks. Choose from eight different word lists to suit your child's reading ability.
thereadingvillage.com.au // RRP $34.95 plus postage
Sunshine Coast Council's Sammy & Sunny book series
Sunshine Coast Council's Sammy & Sunny book series is the perfect gift this Christmas! The two books are designed to teach the youngest members of our community how to be responsible for their pets. These heart-warming stories of adventure, emotion and perseverance will be enjoyed by all animal-loving children.
Pick up a copy for $14.95 each at Council's customer contact centre located in Caloundra, Nambour and Maroochydore or at Caloundra Regional Gallery. Book proceeds are reinvested in the Council's animal education and welfare programs. Learn more at sunshinecoast.qld.gov.au and search 'Sammy's series'.
sunshinecoast.qld.gov.au // $14.95
Smash Jump & Roll
Yes! It's time for something Smashing! Awakening the architect and demolition expert in every child, this resource from Explore Nook provides so many learning opportunities for children to design and engage in thinking skills that will develop their insight into engineering creativity!
This amazing resource is so open-ended, so a child can truly use their imagination to explore and play. If you're serious about children learning through play, then this is one natural learning resource that you must have in your block corner or child's play room!
explorenook.com.au/product/smash-jump-and-roll  // $169.95
---

---
Christmas gifts for tweens and teens
BOUNCE Digital Voucher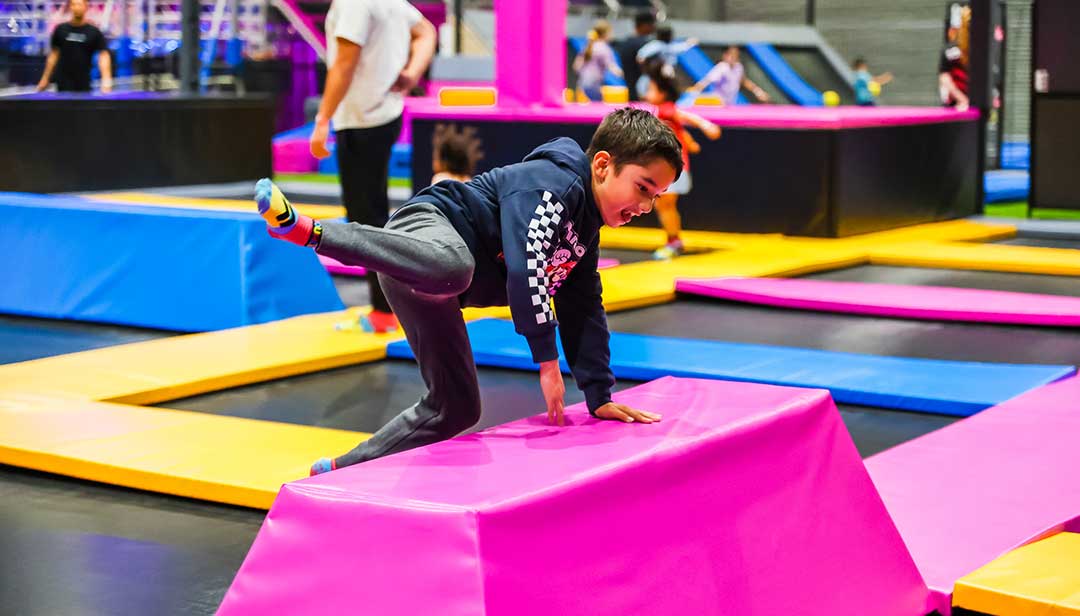 Give the Gift of Flight this Christmas with a BOUNCE digital voucher! It's the ultimate adventure gift that is guaranteed to be loved.
Gift of Flight is for the free spirits, fun seekers, back flippers, wall climbers, wall runners, big-bag jumpers, and aspiring freestylers. With 1, 3 or 5-session digital voucher options, Gift of Flight is packed with adventure, entertainment and memory-making moments. Give the Gift of Flight and send it straight to your inbox for the easiest present of 2023.
Flik Flak Gameland Watch
Flik Flak is the world's favourite children's watch and has been keeping kids on track since 1987. This latest range is perfect for your little gamer, with six game-inspired Swiss-made watches that double as tactical tools and practical gifts.
Whether the wearer is counting down to the next session or looking for avatar design impulses, this new collection is on it. Virtual worlds fuse with real life in super-accurate timekeepers that stay grounded thanks to high durability, as well as bio-based plastic elements and recycled PET textile straps.
RRP $90
A gift voucher for Next Level High Ropes Adventure Park allows kids to start their own high-flying adventure! Battle your way through 7 challenging circuits across 4 levels with over 145 aerial challenges including 16 ziplines stretching up to 130m long! The higher you climb, the more challenging it becomes.
Located in Maroochydore on the Sunshine Coast, Next Level is an aerial adventure like no other!
For climbers 6-75+ yrs old.
Open 9 am – 5 pm, 7 days a week, during School Holidays Closed on Christmas Day.
Riggy Pro Home Performance Centre
For any aspiring athlete, the Riggy Pro Home Performance Centre (HPC) is a unique home training system designed for physically developing youth athletes to prepare their bodies for elite sporting careers. It includes the Riggy Pro HPC setup but also expertly designed programs for young athletes to follow.
There are three program tiers catering to athletes of varying ages and stages of development: Monkeys (7 – 10 yrs), Silver (11 – 13 yrs), and Gold (14+).
riggytraining.com // $2,990
Christmas gifts for the whole family
Solar Buddies
Taking the hassle out of everyday sunscreen application, Solar Buddies are award-winning, child-friendly, refillable sunscreen applicators.
The unique rollerball and sponge combination means that the sunscreen is dispensed and then evenly applied across the skin without you ever having to touch the sunscreen. No more messy, greasy hands or wrestling wriggly children. A fab stocking filler for the whole family! Designed by mums for kids and NEVER get sunscreen on your hands ever again!! #Mumwin
Use code COASTKIDS15 for a cheeky discount on their website!
solarbuddiesaustralia.com.au // $25
Local shopping this Christmas at The Original Eumundi Markets
This Christmas, make your gift-giving truly special by shopping local and supporting the small businesses that form the heart and soul of our community. The Original Eumundi Markets offer a treasure trove of handcrafted, locally sourced gifts that radiate the warmth of our region. From beautifully hand-painted artworks to unique, artisanal jewellery and delectable gourmet treats, each purchase tells a story and carries the essence of our local talent.
By choosing to shop local, you're not just finding that perfect, one-of-a-kind gift; you're also nurturing dreams, boosting small businesses, and strengthening the bonds of our community. So, this holiday season, join us in celebrating the spirit of giving by choosing the path of local, meaningful, and heartfelt gift-giving at The Original Eumundi Markets. Your support can make all the difference, and it's a gift in itself that keeps on giving.
Super Mario Bros. Wonder
The new Super Mario Bros. Wonder multiplayer games, available now for Nintendo Switch, is sure to be at the top of the Christmas list for kids and adults alike.
Prince Florian has invited Mario and his friends to the Flower Kingdom, but a familiar foe drops in uninvited. Bowser and his minions crash the party and steal a Wonder Flower, which merges Bowser with Prince Florian's castle, transforming him into a floating fortress. As the power of the Wonder Flower quickly spreads across the kingdom, all kinds of weird and wonderful things start to happen.
With 12 different characters to choose from, players can take on the role of Mario, Luigi, Peach, Daisy, Blue or Yellow Toad, and even Toadette. They all play in exactly the same way. In addition, players can choose different coloured Yoshis and Nabbit, who won't take damage, so they're a smart choice if players are looking for a more easy-going experience.
RRP: $69
Herd Mentality
Easy to learn and quick to play, Herd Mentality is a hilarious family game with mass appeal. The aim of the game is simple: think like the herd and write down the same answers as your friends. If your answer is part of the majority, you'll win cows. Yeehaw! If everyone else writes an answer that is matched by at least one other person, but yours is the odd one out, then you land the angry Pink Cow, and your herd of cows is worthless until you can offload it onto someone else. The first player to collect eight cows wins.
Suitable for 4-20 players
RRP: $25
SEA LIFE Annual Pass
Treat the family to the fun of SEA LIFE Sunshine Coast for a whole year, with an annual pass! This budget-savvy gift gives you 12 months access to the Sunshine Coast's number one attraction. And with special activities on each school holidays, its a great way to keep kids engaged, learning and having fun the whole year round.
sealifesunshinecoast.com.au // From $59 per child, $89 per adult
5 Wooden Puzzles in One Tricky Box
This set of quality hardwood puzzles from Finska includes the legendary puzzles: Snake Cube, Star Puzzle, Soma Cube and Diamond Cube. If you can't beat the puzzles no matter what you try, the solution is on the underside of the card packaging. Great gift for holidays, particularly for kids who need a break from screen time. No batteries or annoying cords are required.
https://www.biome.com.au // $42.95