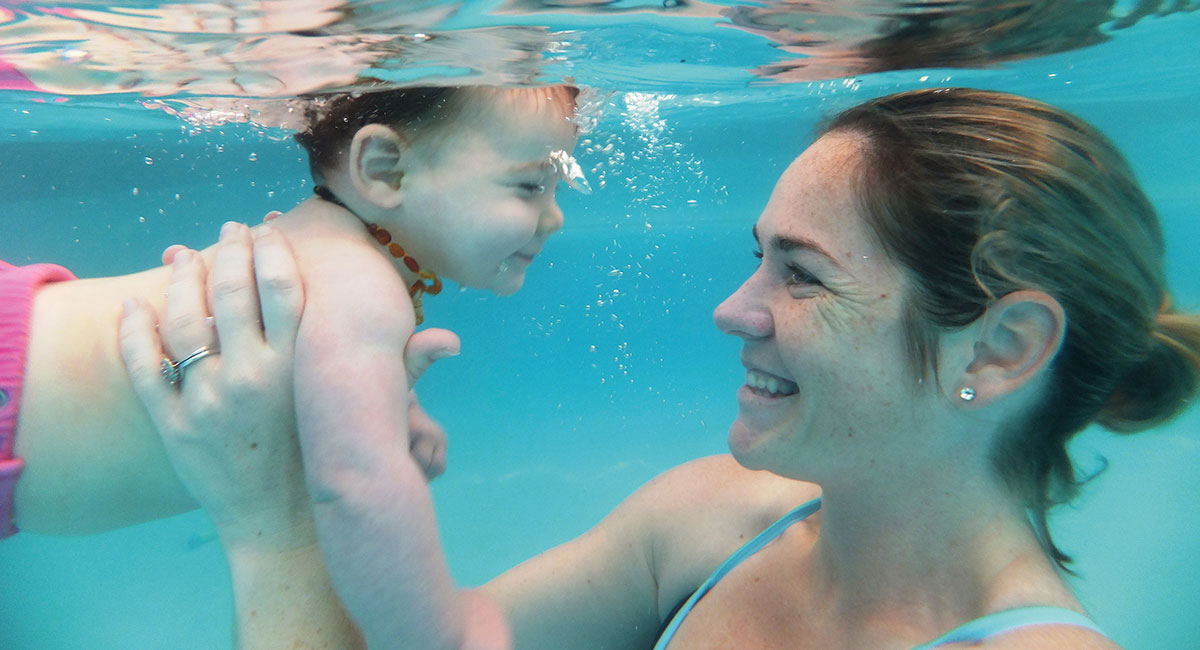 Activities
Ask the Expert: Your learn to swim questions answered
We sit down with Judy Watts, leading expert in swim safety and aquatic education, to get answers on your most common swim questions.
When should my baby start swim lessons?
The earlier you can start lessons the better. The water provides so many benefits for both bub and the parent.
How do I choose a swim school?
The best advice I have is go and have a look and ask lots of questions. Don't choose based solely on price as programs/inclusions vary.
Here are some important questions to ask, and why:
How many children do you have in a class?
Classes with a smaller teacher-to-student ratio generally work the best. This is especially important with younger children—both from a supervision perspective but also so they are not waiting an extended period of time for their turn (children tend to misbehave when given too much time alone).
How many classes do you have operating at the same time?
Ultimately, to maximise your child's learning potential you want to minimise distractions as much as possible. Smaller schools or schools with a couple of classes is optimal.
How long does the class go for?
This can range from 15 minutes to 45 minutes. It is important regarding price, as some will be cheaper but will only be a 20-minute lesson.
What ages are in the class?
You really want to get as close to your child's age as possible. Being in a class with other children that are the same age developmentally will provide a better learning environment.
What temperature is the water?
The warmer the better, with newborn babies I would be aiming for around 34 degrees. For older babies/children you would be aiming for around 32 degrees.
What is your make-up policy?
This is very important especially with COVID. You want a liberal make-up policy where you can make-up missed lessons without limits per term, and without doctor's certificates for minor illness. People are more likely to attend lessons sick if they fear they will be losing money.
Do you offer trials?
Personally, I don't think trial lessons are a good idea. It disrupts the existing students that are already paying/attending in that lesson. It also isn't an accurate representation of the school's ability or capability with your child. Your child might be tired or cranky that day, have a bit of separation anxiety or just be a little anxious about the water. One lesson isn't a gauge of how your child will go or whether they will like lessons.
Do you offer free lessons?
Free lessons are quite common in the 0–6-month age group. These are often referred to as baby water familiarisation or baby splash lessons. Specialised infant development programs will not be free.
What experience do your teachers have?
Experience is important! Most swimming courses for learn to swim can be done over a weekend. Make sure you find someone who has proven experience in aquatic education.
How long does it take for my child to learn to swim?
Teaching a child to swim is not an overnight process and will need consistency over several years. Remember swimming is not an activity that you are doing, it is a life skill. It should take top priority over other activities.
What other activities do you recommend for infant development?
Outdoor unstructured messy play for babies and children can increase and accelerate a child's motor skills, muscle memory and develop skills based on their own stage of development. Music therapy programs, especially those that teach baby sign language and are focused on development, are a fantastic way for children to develop their communication skills.
Judy Watts has dedicated 45 years to the international swimming industry. Judy is respected worldwide for her education on infant development and for her water safety programs. Judy is committed to reducing the occurrence of drowning whilst also using the water from birth to enhance infant development.
---
You may also like…
The unique approach to educating families about pool safety
How swimming helps children stay fit, healthy AND smart!
Written by
Angela Sutherland
After spending many years hustling stories on busy editorial desks around the world, Angela is now mum of two little ones and owner/editor at Kids on the Coast / Kids in the City. She is an atrocious cook and loves cutting shapes to 90s dance music.