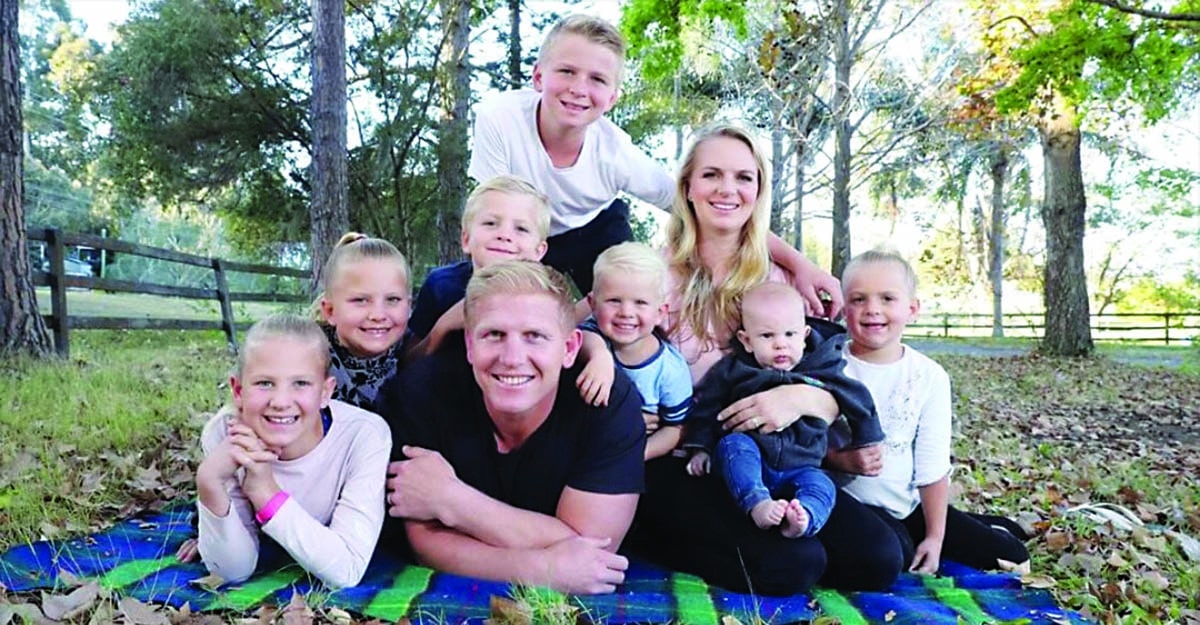 Family Tips
Ben Hannant - on life, parenting and the secret to a happy family
Former Rugby League player, breakfast radio host and all-round superdad to seven (yes SEVEN!) kids. But what is Ben Hannant's secret to a happy family? 
Born and raised on the Gold Coast, Ben Hannant has a long list of accomplishments. A former Rugby League player, a State of Origin and Australian international representative and now the host of Gold Coast 90.9 Sea FM breakfast show, but Ben's greatest accomplishment is being a husband to his amazing wife Emma and father to their seven beautiful children. We sat down with Ben to find out more about his family, life and traditions.
You're one of 11 children, did you always want a big family for yourself too?
I had six brothers and four sisters and although we didn't have a lot of money growing up, we had a lot of love in the house, sibling fights and joking around but a lot of love and laughter. When I was in my teens I was lucky enough to meet the right girl so we got married and decided to have a baby, and that turned into two, then three and now we're sitting at seven kids and I love it!
I feel like my life is full of wealth because of the joy my kids bring and I couldn't imagine my life without them, it's the best thing ever.
What do you love about the Gold Coast?
I grew up on the Gold Coast. We now live out the back of Tallebudgera on a big property with horses, cows, sheep and motorbikes for my son and I love living there.
I am a big kid and I love doing things together as a family, taking my kids to any of the great the great beaches and pushing them on their boards in the waves, that's what brings me joy.
Every Monday we do a family activity. It might be a board game or ten pin bowling, but every week we have to do something as a family.
The Gold Coast has so much to offer, there is always something to do that the whole family can enjoy.
How would your wife and kids describe you?
As someone who is always trying to improve and reach his potential. They will tell you I don't like taking short cuts and I don't want them taking short cuts. They'll tell you I'm always trying to make myself and them better, to grow and to make ourselves the best we can be.
What is your goal as a dad?
To make my kids the best citizens and the best role models who contribute to society. My Dad's job was to make me better than him and my job is to make my kids better than me. My kids will be great husbands and wives and great fathers and mothers. The more time I put into my family, the more growth and happiness that will come. The more growth you have, the longer it takes, the harder it is and the more you'll appreciate it. You never have growth in your comfort zone and you'll never be comfortable in your growth zone.
What is Christmas like in the Hannant house? Do you have any special traditions?
Christmas is all about food! We have a huge breakfast with the works, everything you can think of is on the table!
We have so many kids and grandkids in our family and instead of buying for everyone we play the $10 game every year. You each buy one gift which can't cost over $10. You pick a number out of a hat. Number one goes first and picks a gift from the Santa sack, then number two has a choice of taking number one's gift or taking a gift from the sack. Number three can either take number one or two's gift or pick one from the sack and so on until everyone has had a turn. It's such a fun game and can take hours! There's banter, there's fun and laughter and with some really cheeky gifts in the Santa sack, everyone loves it! Christmas for our family is all about coming together, and enjoying one another's company.
How do you prepare for the start of a new school year?
Apart from buying uniforms and school books, I sit down with every one of my kids, every year just before school starts, I take them out one by one, with my daughters I take them out on a daddy and daughter date and with my sons I have some father and son time. My wife does the same with mother and son dates and our daughters on mother and daughter days. I sit with all of them one by one and find out where they're at, whether they're struggling with anything or need to talk about anything and we are religious so I give them a father's blessing which is pretty cool and it gives them confidence for the school year. It's really about communication with each of them to see where they may need help and giving them the tools to be able to handle what will be happening throughout the year.
You can listen to all the stories, adventures and antics Ben and his family get up to every morning on 90.9 Sea FM's breakfast show with Heather, Dan and Ben from 5am to 9am!
---
You may also like…
Balancing the busyness – parenting support from Parentline
5 parenting quotes for raising an everyday hero
Written by
kidsonthecoast