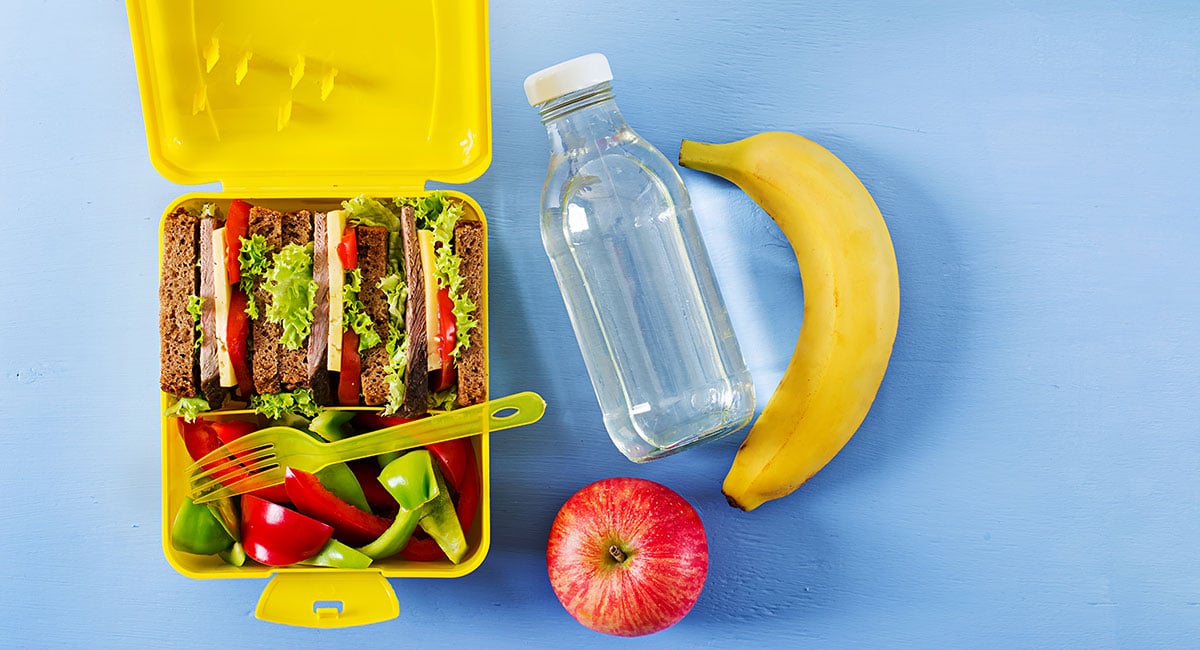 Home & Health
10 painless ways to avoid the lunchbox rut
Making school lunches can make every day feel like groundhog day. Whether you pack the lunchbox at night or in the morning, there never seems to be enough time to create exciting or creative meals and snacks.
It's easy to fall into the 'quick sandwich' trap because it's easy to make and gets no complaints from the kids. The good news is, variety in a lunchbox doesn't have to be complicated and a little thought and planning can go a long way.
If you've run out of ideas for making nutritious, interesting lunches for your little ones, here are some easy tips to add more variety.
10 tips to add variety to your little one's lunchbox:
1. Use leftovers
Cook a little extra for dinner and include leftovers in the lunchbox. Roast meat, roast or steamed vegetables, meatballs, pizza, pasta, quiches, fried rice and fish can be served cold the next day. Alternatively, reheat the dish in the morning and use a hot food container.
2. Rotate protein
Protein is often considered the main part of the meal, and there are many options here. Use sources of protein such as beef, chicken, turkey, ham, fish (tuna, smoked salmon), eggs, tofu, cheese, beans and legumes in rotation to include a wide variety of foods in your child's lunchbox and give you a starting point for lunch ideas.
3. Rotate fruit and veg
A healthy eater is one who eats a wide variety of fruit and vegetables. The possibilities here are endless! Carrot sticks, cherry tomatoes and cucumber slices are great, but there is so much more on offer. Keep trying different fruit and veggies at home until you know your child will eat them in the lunchbox. Don't stop at raw veggies – try roast potatoes, pumpkin or beetroot (great as a snack!) or marinated olives and gherkins.
4. Have a no-sandwich day
Pick a day of the week to be a no-sandwich day. If your child is used to sandwiches, one day a week will make a good transition to new lunches. Try a salad (pasta and rice salads are great if your child isn't yet fond of garden salads), serve leftovers, hard-boiled eggs, a frittata or a nutritious savoury muffin, or a tasting plate (cheese, cold meat, dip, vegetables, etc.)
5. Offer hot and cold
If you haven't already, invest in a small hot-food container to double your lunchbox options! Leftovers served hot are particularly nice in the colder months, and your child will feel spoiled with spaghetti, fried rice, a curry or a hearty casserole at lunchtime!
6. Add something new
Rather than preparing something entirely different, simply add an ingredient or two to old favourites. Add a new vegetable to your sandwiches, try a new cheese, add a new spice to your muffins or add seeds or fruit to your salads.
7. Use your freezer: Cooking in batches (when you have a little time up your sleeve) and freezing foods makes lunches easy on those busy mornings! Freeze muffins, meatballs, cooked chicken, bliss balls, frittatas and quiches, some sandwiches and leftovers, and rotate them over a few weeks. Put them in the lunchbox straight from the freezer, or thaw them overnight in the fridge if you need to heat them up in the morning.
8. Change the combination
We're creatures of habit and we tend to serve the same winning combinations of food. Ham with cheese, turkey with cranberry sauce, eggs with bacon, sausages with mash potatoes, curry with rice… Don't be afraid to mix things up! Try sausages with pasta, ham with eggs, turkey with tzatziki, a rice salad, etc.
9. Plan weekly
Writing a weekly lunchbox menu might seem like more work, but spending 10 minutes to think and plan your meals can get your creative juices flowing. It will help you balance your meals throughout the week and think of different combinations. Keep your meal planners in a folder and recycle them in a few weeks or months.
10. Get inspired
For a constant supply of ideas, follow Facebook pages or websites that share lunchbox photos and recipes. Look through your recipe books every so often, or search for new recipes on the Internet. Ask your friends about what they put in their lunchbox. Don't forget to ask your child too – they may be full of good ideas!
Variety is so important for a healthy diet, and it's also an essential part of learning to like new foods.
By adding more variety to your child's lunchbox, you can help them expand their diet and create healthy eating habits.
Take little steps to change up the lunchbox every day, but remember to keep it simple. With more variety, your child can eat plenty of nutritious foods to fuel their busy day!
For more 'keep it simple' healthy family food tips, try:
Healthy snacks for kids
Yummy Lunchbox Pizza Muffins
The ultimate and super easy banana bread
Written by
kidsonthecoast