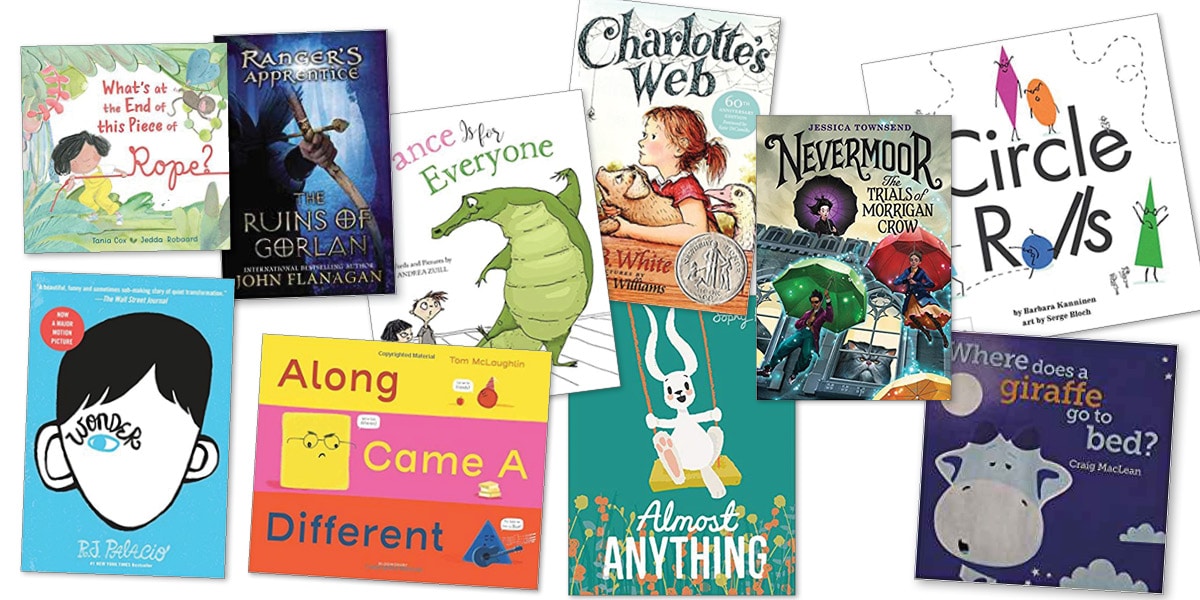 Home & Health
14 great books for kids to curl with up this winter
Brr… winter is definitely HERE! But when the temperatures drop, there's nothing better than curling up with a good book. It's also a great excuse to spend some quality time with your little one, snuggling up together under a blanket and reading a book is a memory you will both treasure for a lifetime.
And reading aloud to your child doesn't have to stop once they can read for themselves! Winter is a perfect time to share stories and discover the fun of reading together. Grab a junior fiction book and read a chapter or two every night. Maybe you can attempt to do what father–daughter Jim and Alice Brozina did, pledging to read together every single night and making it as far as her first day of college!
Here's some great books for kids (and you!) to curl up with this winter.
Picture books for under 6 years
Circle Rolls
by Barbara Kanninen
When Circle rolls into one of Triangle's points and pops, chaos momentarily ensues until Octagon's "Stop!" brings everyone to their senses.
Gorgeous rhyming text introduces us to a collection of shapes and subtly weaves their physical characteristics into traits that both lead to and solve a would-be catastrophe.
Dance Is for Everyone
by Andrea Zuill
An alligator dancing ballet? When the reptile takes her place at the barre, Mrs Iraina and her dancers are very surprised. But since they can't communicate with the alligator, and she is able to follow along, they just decide to name her Tanya and let her stay.
This funny book shows that with a little understanding, anyone can fit in.
What's at the End of This Piece of Rope?
by Tania Cox
A little girl spots a piece of rope. She wants to find out what's at the end of it, but it's too heavy to pull by herself. One by one, the friendly jungle animals offer to help. Working together, they solve the mystery and discover what's really at the end of the rope.
Where Does a Giraffe Go to Bed?
by Craig MacLean
The sequel to What Noise Comes from a Giraffe? this book is perfect for the curious pre-schooler – now we know what kind of noise giraffes make, let's find out where they go to sleep.
Almost Anything
by Sophie Henn
George can't roller-skate, George can't paint, and George most certainly can't dance! But Bear thinks that, with a little help, George can do all these things – and more! An empowering book about the power of self-belief.
Lucie Goose
by Danny Baker
Lucie Goose lives all alone in a house at the edge of the woods. She has never met or spoken to another animal of any sort until… a wolf, bear and lion turn up on her doorstep and go Rraaaarrrrrr! Should she start screaming? Or run away? Lucie Goose isn't very good at being scared. What will she do?
Along Came a Different
by Tom McLaughlin
Reds love being red. Yellows love being yellow. And Blues love being blue. The problem is that they just don't like each other. But one day, along comes a different colour who likes Reds, Yellows and Blues, and suddenly everything starts to change.  A very special picture book that supports the adage that there is more that unites us than divides us.
Dear Dinosaur: T. Rex on Tour
by Chae Strathie
Max and his favourite T.Rex are back with a bang in this gorgeous follow-up to Dear Dinosaur. When Max visits his friend, the mighty T.Rex, at the museum, he's disappointed to learn that T.Rex is no longer there. Instead, he's halfway around the globe on a tour of the world. Max decides to write his missing friend a letter and, once again, his faithful friend writes back – this time from locations across the globe.
Great Junior Fiction for ages 8–12
Harry Potter series
by JK Rowling
The popular series of fantasy novels follows the life of Harry Potter, a young wizard and his friends at Hogwarts School of Witchcraft and Wizardry. A classic set of books for kids.
Nevermoor: the Trials of Morrigan Crow
by Jessica Townsend
A breathtaking, enchanting series by Australian author Jessica Townsend, about a cursed girl who escapes death and finds herself in a magical world – but is then tested beyond her wildest imagination.
Rangers Apprentice series
by John Flanagan
They move silent as a shadow. They climb impossible heights. Their archery skills are unsurpassed. They are Rangers. Read the mega-bestselling series about Will and his friends from Castle Redmont.
Wonder
by R.J. Palacio
August Pullman was born with a facial deformity that, up until now, has prevented him from going to a mainstream school. Starting 5th grade at Beecher Prep, he wants nothing more than to be treated as an ordinary kid, but his new classmates can't get past Auggie's extraordinary face. In a world where bullying among young people is an epidemic, this is a refreshing new narrative full of heart and hope.
The Chronicles of Narnia
by C.S. Lewis
A classic series of seven novels set in the fictional realm of Narnia – a fantasy world of magic, mythical beasts, and talking animals.
The series follows the adventures of children who stumble upon this world through the back of the wardrobe.
Seven Little Australians (The Woolcots series)
by Ethel Turner
Originally published in 1894. Seven Little Australians gives an authentic taste of Australian childhood in the Sydney of the 1890s. Captain Woolcot strains to uphold his standards of decency while his spirited, assertive daughter resists them.
Charlotte's Web
by E.B. White
This classic novel tells the story of a pig named Wilbur and his friendship with a spider named Charlotte. When Wilbur is at risk of being slaughtered by the farmer, Charlotte writes messages about Wilbur in her web in the hope of persuading the farmer to let Wilbur live.
Magisterium series
by Holly Black and Cassandra Clare
A five-book fantasy series that is set in an underground school where mages train apprentices to control the elements.
You'll find all these titles in your local library. Still not sure what books to pick? Pop into your local library to browse their latest collections and find new favourites to read! The library purchases titles from all over the world and has the largest selection of books on the Sunshine Coast. Oh, and it's nice and warm!
---
You may also like…
How to always play for free on the Sunshine Coast
Sensory play and its importance in early learning
Nurturing literacy in the time of COVID
Fun indoor activities for kids (that will help their literacy too!)