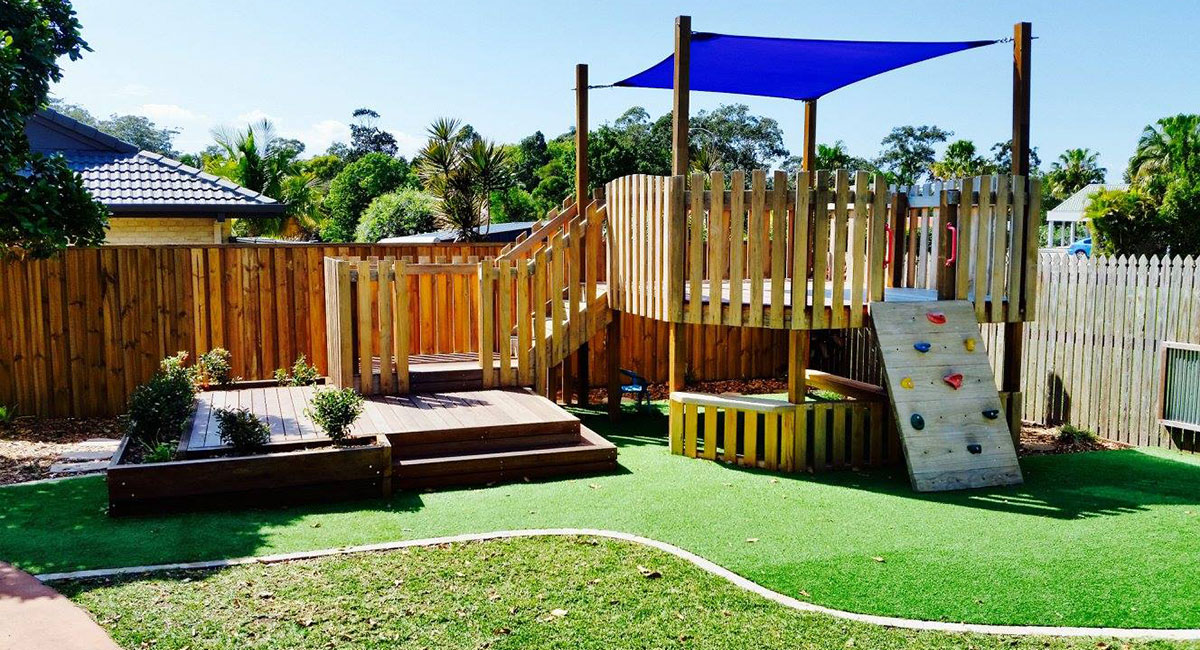 Home & Health
Cubby Love: Reviving the humble backyard cubby
The recent restrictions have led to a revival of the humble backyard cubby. But what goes into creating a modern, eco-friendly nature play space?
Thanks to COVID-19, the backyard play space has had a huge resurgence. In the last few months, many families have introduced cubbies, nature play spaces and climbing equipment to their outdoor living. All in the aim to provide kids with an essential space to explore, imagine and play at home.
"We've found that we had an increase in cubbies and domestic backyards, since COVID-19 hit," says George Davidson from GDL Nature Play Spaces. "Whether it's a tree house on acreage, or a small cubby in the city, families are now more focused on creating a play space at home."
But what is it about the humble backyard cubby that kids love so much?
The wonder of the backyard cubby
"A cubby is their own little place, somewhere different from their bedroom," says George. "They can hide in there, make it into what they really want to, they can let their imagination run wild."
With no electronics and the fact that kids can make a mess without a worry, parents love them too. However, forget the 1990's plastic play house. The cubby of 2020 is sustainable, aesthetically designed and comes with plenty of blended nature play options.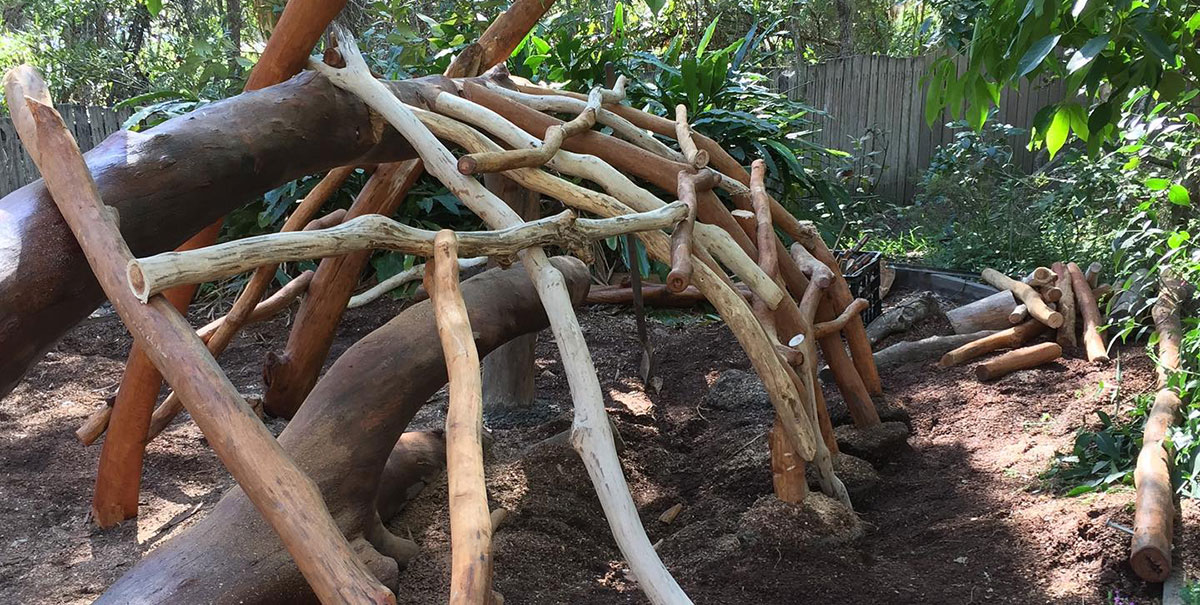 "Our cubbies and play areas are all nature based," explains George. "We use rustic timbers, natural shapes, and materials that are in harmony with the area."
"Coming from a landscaping background we integrate the play area as an entire space, with corners to explore and sensory paths that connect various nooks, so everything flows. We use trees for shade, natural elements for climbing, so the cubby or play space blends seamlessly into the backyard."
"Rather than off the shelf designs, we build to the area, to ensure we create a backyard play space that is aesthetically appealing, that adds value to the property, and will grow and change with the children as they get bigger, so the family gets value for money from the build."
"Sometimes it's not a cubby, it might just be adding in a few balance items, some sensory areas, or setting up a veggie garden. It's the blend of landscaping, nature play and exploration that I think makes a truly successful outdoor play space."
Nature play on a bigger scale
GDL play spaces are popping up all over Southeast Queensland, with many daycares and primary schools utilising the blend of landscaping and nature play to create the perfect outdoor space for kids at school.
"We recently put in a nature play space at Sunshine Beach State School," explains George. "The school had an unused area next to their permaculture garden and their bush kindy, so they wanted something with a natural setting to link in with the existing bush kindy setup."
The redeveloped space included a creek bed to teach kids about conservation, a nature play space and balance feature. As well as being a wonderful space for the bush kindy, the school also utilises it for education purposes, with the Preps and early primary classes using it as part of their outdoor education.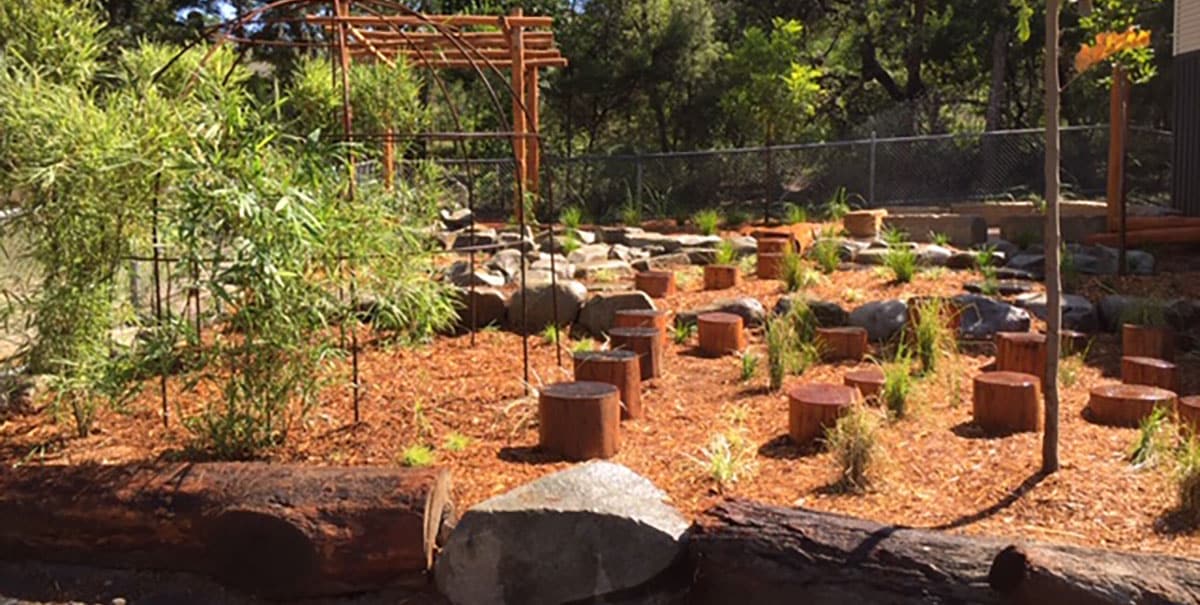 "The space is used for imaginative play, story time, gross motor skills, playgroup. And is also a meeting place for parents to sit and connect," explains Maree Thomson from Sunshine Beach State School. "We specifically wanted a nature play space to connect the children with nature, and flow into our permaculture garden. It's a wonderful space for their wellbeing, creativity and imagination, plus including the indigenous perspective with the yarning circle."
"The kids love the water riverbed and stepping logs. They enjoy weaving in and out of the tree trunks and playing in the tepee. With so many areas that lead to imaginative play, it's wonderful to watch them enjoy it!" says Maree.
"We love that the kids can get wet and use the riverbed to float boats and problem solve when building dams. 
The yarning circle is also a lovely place to read stories."
"It wasn't a big project. But just by coming into a space, changing levels and adding certain features, we can make a huge difference," says George. "Simple things such as how grasses are positioned can create flow in a natural space. So, we feel it's important to focus heavily on the plants. Choosing plants that will really make the space work and that will grow and morph the space over time."
"As our spaces are becoming more popular across the whole of Southeast Queensland, we are also now expanding our services for both commercial and domestic builds where we design the playspace and construct any features – such as balance structures, teepees, cubbies – then deliver everything flat-packed, saving the customer the cost of us coming out to install. As a one-stop shop we can do everything as one project."
---
RELATED:
9 ways to reconnect your family with nature on the Sunshine Coast
Free Bush Kindy on the Sunshine Coast
Finding literacy in the great outdoors