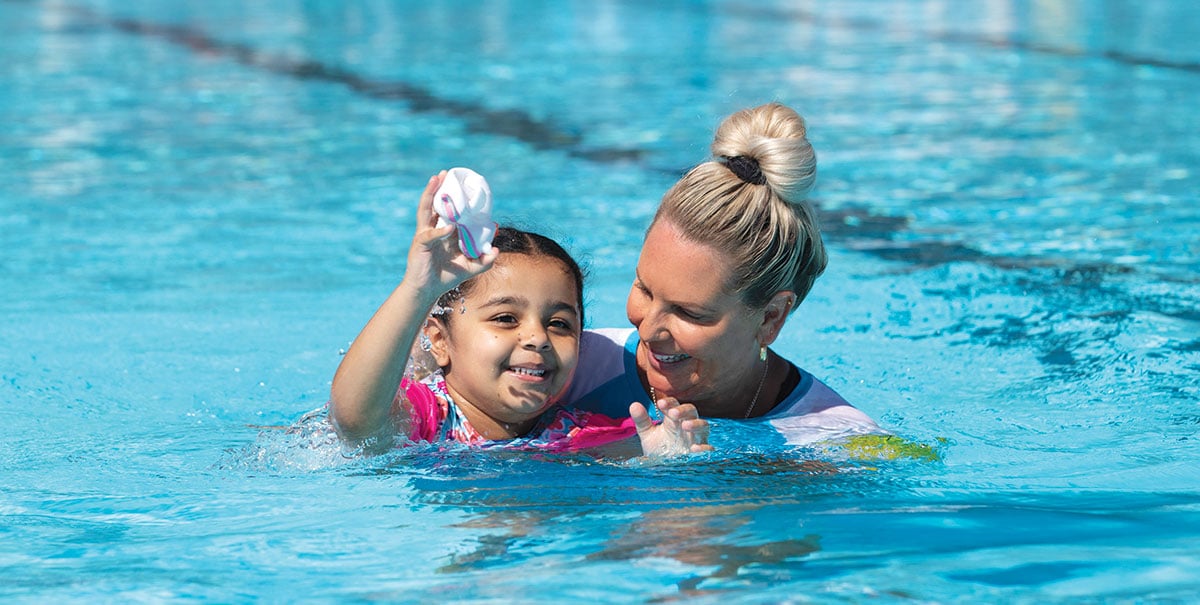 Home & Health
Learn to swim: As vital as ABC
Wondering whether you really need to put your child through swimming lessons to learn to swim? We chat to Cameron Speechley, Rackley Swimming's General Manager, to find out why learning to swim is such a critical part of childhood.
Why are learn to swim lessons so important for Queensland kids?
Young or old, Aussies share a love for the water. Despite this, developing swimming skills is something we all need to work on from a young age.
Swimming is about so much more than laps and solitary sessions. It is about social interaction, swim races, safety skills, leisure, pool parties, and even the odd bomb dive. And, yes, if you want to represent your school, club or country—a few intensive training sessions might be a good idea too!
We believe swimming is a rite of passage for all Australians, and an activity anyone can do—even babies. That is why we offer free Baby Splash lessons to help introduce our youngest family members to the water.
What age should kids start swimming lessons, and what level should they continue to?
The process of learning to swim can start from a baby's very first bath. The bath helps them to become accustomed to the feeling of water.
We believe children should begin swimming lessons from two months old, teaching them water confidence which is the foundation to developing strong water safety skills. All kids learn at different rates and progress often depends on the exposure a child has to various aquatic environments. Swim Australia recommends that children should be able to swim 400 metres continuously before ceasing swimming lessons. While we support Swim Australia's recommendations, we also recommend a child should continue in swimming lessons until they can swim 1km, as this gives them the endurance they need to cope with a rip at the beach. Swimming is more than a pastime, it's one of the few children's activities that can save their life!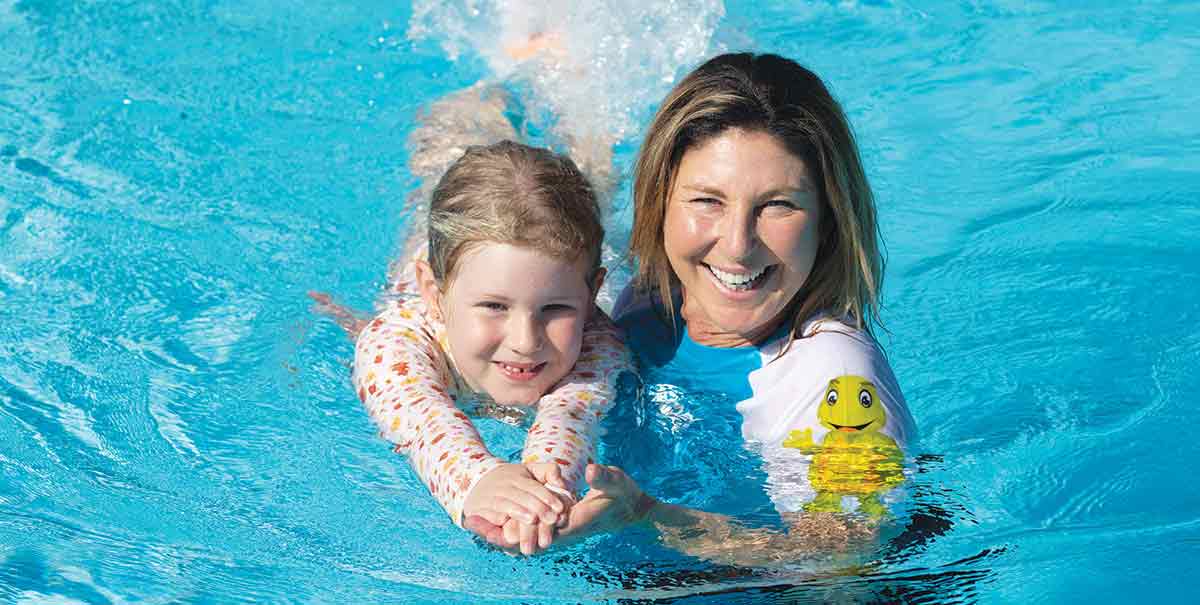 Why should kids continue swim lessons through winter?
Year-round swimming is vital. Continuing lessons across the year helps children build confidence and improve upon their skill level. Children who stop swimming lessons during winter will often experience skill stagnation or 'winter regression' and their skills can take time to recover when they do return to the pool.
Also, swimming lessons are an integral part of the weekly family routine. Children look forward to interacting with their classmates and teachers each week. We have seen many families excited and eager to return to the pool after our recent closures to get their children back to a sense of normalcy and routine.
What are the essential water safety skills that every child should know and by what age?
As well as the mechanics of learning to swim, a large part of our program focuses on educating kids about water safety in and around the water. This includes teaching them to only go swimming with an adult and with their togs on. Parents have an active role to play too, ensuring they continue to teach water safety at home. This is followed up with basic reach and throw rescues and encouraging people to 'Yell and Tell', rather than jumping in the water to help someone.
Water safety in Australia also needs to acknowledge the many aquatic environments we have (such as oceans, pools, creeks and dams). Developing water safety skills and knowing what to do in a dangerous situation in and around water is key to preventing drowning. The older your kids become, the more important this water safety messaging is. As they grow up, they start to head into more dangerous situations, so they need to know how to keep themselves safe.
Rackley Swimming's Water Safety Week highlights vital water safety messages and strategies for swimmers and their families, with a different safety focus for each week throughout the year.
Whilst all our lessons aim to focus on the basics of water safety, our Water Safety Weeks highlight these skills and how they can be applied in real-life scenarios including:
Survival strokes
Treading water
Safe entry and exit from the water
Techniques for clothed swimming survival
Use of devices to assist rescue
Basic swimming skills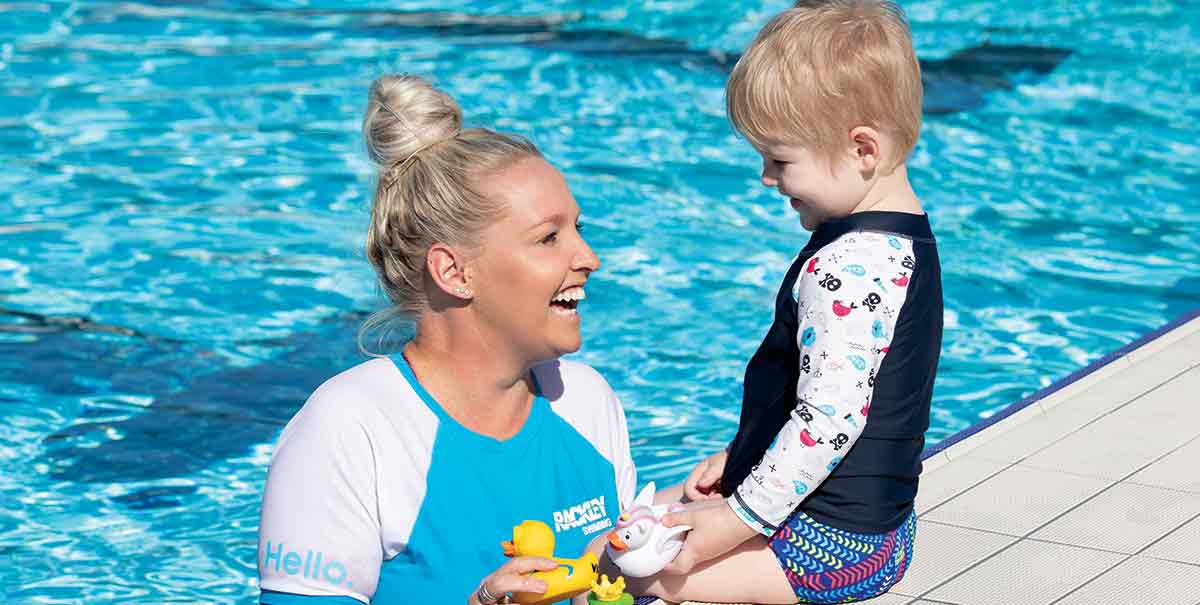 What are your key water safety tips for parents?
For parents, supervision is the most essential part of water safety. If a young child is in the pool, then you must be in the pool with them. Even once children are older, they should still always be actively supervised when in the water. When there is a group of children or pool party, one of the smartest ways to supervise children is to have a designated supervisor whose single role is to ensure the safety and wellbeing of all children in the water.
What makes a swim school great?
The teachers! At Rackley Swimming, our teachers are heavily invested in our 5 Steps to Success teaching principles: Support, Trust, Energy, Patience and Success.
The pool environment is also very important. We offer a warm, nurturing learn to swim experience in family-friendly, all-weather environments. Our 32°C heated and enclosed pools allow the littlest of swimmers to enjoy the benefits of year-round swimming.
WATER SAFETY
Australian Swim Schools Association's (ASSA), SAFER Layers of Protection:
Swimming skills – ongoing lessons increase skills and confidence
Adult supervision – adults should remain within arms' reach of children under five
Fences and gates – ensure all fences and gates are secure and are compliant
Emergency plan – know what to do if an accident should occur
Reduce the risk … for SAFER swimming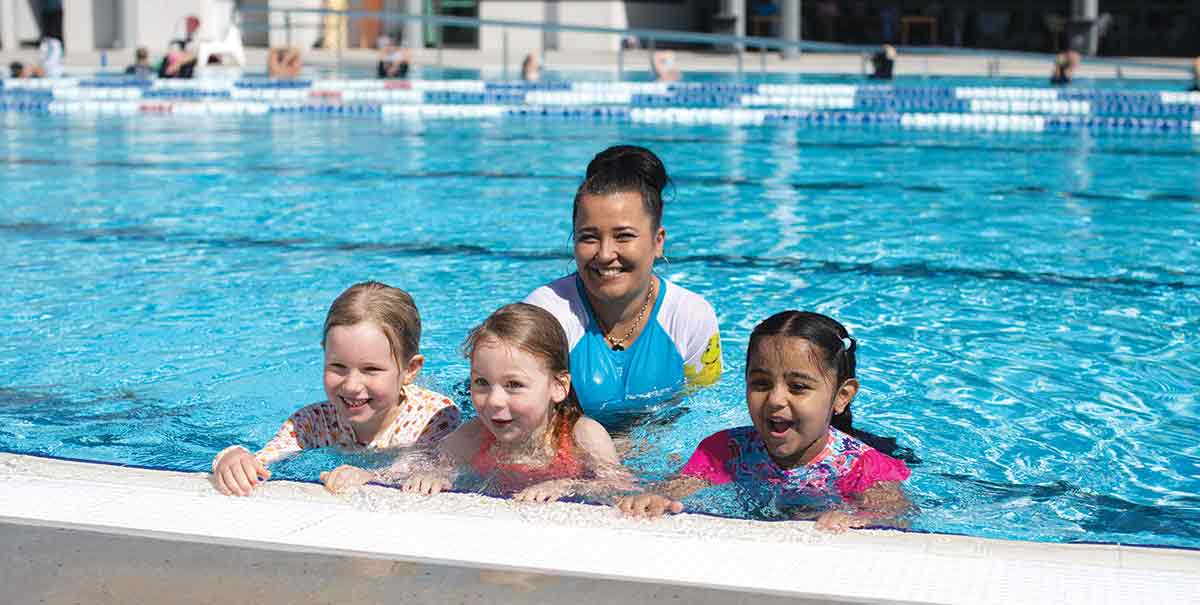 LOCATIONS
Sunshine Coast: Kawana
Brisbane: Acacia Ridge | Centenary | Chermside | Morningside | Deagon | Kingston | Logan West | Mt Gravatt | Parkinson | Redbank Plains | Runcorn| Spring Hill | Westlake
Written by
Angela Sutherland
After spending many years hustling stories on busy editorial desks around the world, Angela is now mum of two little ones and owner/editor at Kids on the Coast / Kids in the City. She is an atrocious cook and loves cutting shapes to 90s dance music.