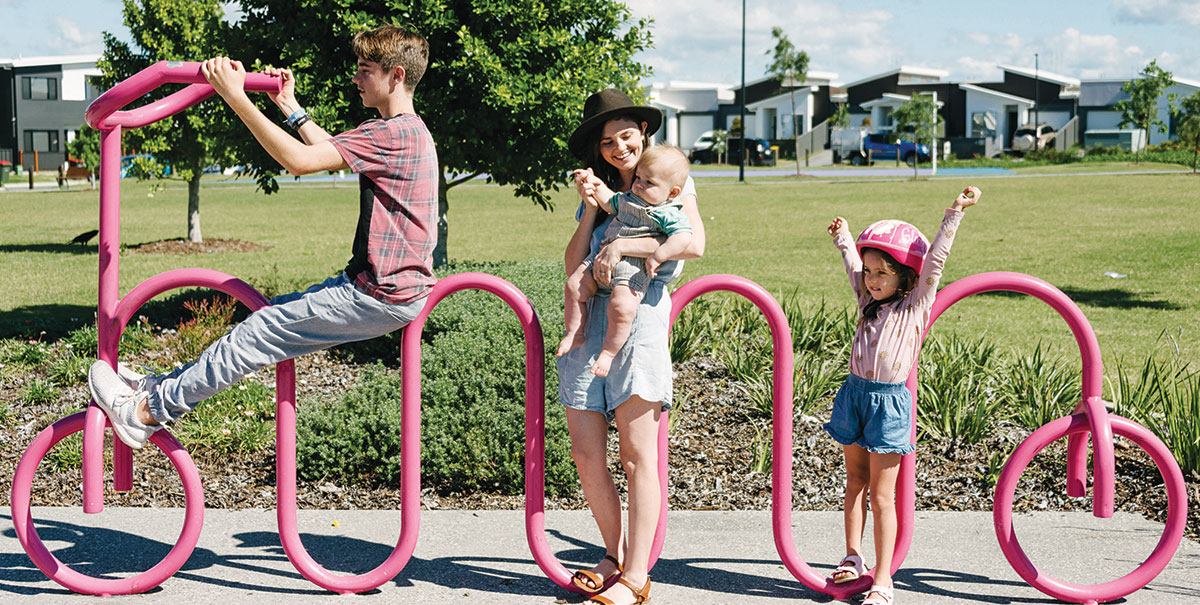 Home & Health
What makes a community family friendly?
Ask any new parents, and top of their list when deciding where to settle is family friendly living. After all, the 18 years (and then some!) that follow a baby's arrival are dominated by the many demands of raising a child.
But what is it that makes a community family friendly? Is it a quality school, great parks, friendly neighbours? And do we inevitably have to sacrifice one of these things when restricted by affordability?
As the Sunshine Coast's fastest growing community, Stockland's Aura development is one city that has been masterplanned with the family in mind. And because of this, families are now flocking to Aura – from the Sunshine Coast and beyond.
Education
One of the most important choices you make as a parent is the school your kids will go to.
"Baringa Primary is very proud to be Queensland's first Science, Technology, Engineering and Mathematics (STEM) School of Excellence," said Principal Noel Baggs. "Our primary school is an innovative and exciting learning environment, providing students with a world-class education."
Aura's first high school, Baringa State Secondary College is due to open for school year 2021 for Years 7 and 8.
It was also recently announced that Aura's second state primary school in the suburb of Nirmba will be opening for school year 2022. As well as the state schools, Stockland and Brisbane Catholic Education (BCE) have announced plans for a new Prep to Year 12 Catholic college to open in Aura in 2023.
Play
A family friendly suburb must have the space and amenities to play.
"We have designed the community to have a park within 400 metres of every home," said Josh Sondergeld, Project Director at Stockland. "We now have 10 parks, each with a range of facilities such as play equipment, barbecues, shaded tables and amenities."
Older kids are also catered for with an impressive skate park, basketball and netball hoops, and plenty of bike tracks and green space.
"The Aura connected cycleway means that our primary school has 30 per cent more kids riding to school than other Queensland primary schools," Mr Sondergeld said. "Once finished, the cycleway will connect across the entire city of Aura, so families can safely ride their bikes everywhere."
Community
The second stage of the Baringa retail centre 
is due to open in early 2021, which will include a family medical centre, dentist and a John Wallace swim school. The current offering includes multiple cafes, including the recently opened Mummy's Cafe. With great coffee 
and a fabulous kids' play area, it's already proving popular for mother's groups and family catch ups.
"There are also regular events happening around the city for new families to develop community connections, such as free fitness classes, seasonal celebrations and regular family friendly events," said Mr Sondergeld.
Local mother of three Amber has really embraced all that this community has to offer. "It's a really great community," she says. "I go to Spirit Pilates, which is right next to the IGA. There are new community walking groups, there are night markets and family movie nights on the grass. We take a blanket and some snacks and wine to share with the other mums! There are food stalls sometimes. The kids love it."
Affordability
"Having a family doesn't mean having to give up the idea of owning your own home", said Mr Sondergeld. "Aura offers a range of affordable living options, we have 3-bed 2-bath house and land packages for under $385,000*. Therefore families can happily settle here in a place they can afford without having to make any compromises on family friendly living."
---
RELATED:
Aura's network of parks grows as Stockland opens tenth community park
A round up of Stockland Aura's playgrounds
---
This is a sponsored post
Written by
kidsonthecoast