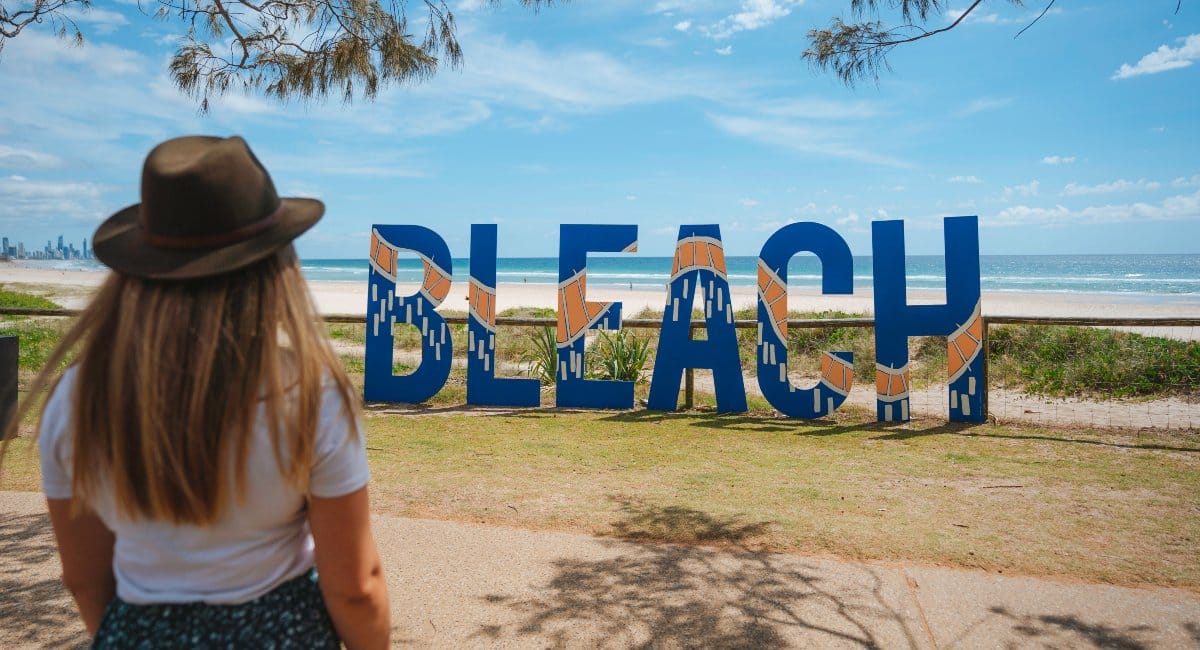 News
Bleach* arts fest returns to the Gold Coast with a massive line-up
Gold Coast's flagship contemporary arts festival is back! After its cancellation in 2021 due to coronavirus, Bleach* will open in August and there's a huge line-up raring to go.
The 2022 arts festival will feature 233 artists, 94 performances and 36 events. That's a lot of reasons to mark your calendars.
Epic program of events
Bleach* kicks off with a 6am First Nations ceremony on the beach. It then fills 11 days with everything from free opera in the Gold Coast Regional Botanic Gardens to open skate sessions with live music and skating stories. There's a full program of family events to choose from!
The Bleach* program is set around four hubs. Head to North Burleigh for events by the sea. It's where the festival opens with First Light — a sunrise ceremony featuring Deline Briscoe, the Yugambeh Aboriginal Dancers and the Yugambeh Youth Choir. North Burleigh will host several events created by and involving First Nations people.
The green grass of Gold Coast's Regional Botanic Gardens is the second hub. You'll enjoy Opera Queensland's Home Grown Opera — a three-night season of newly commissioned work led by award-winning composer John Rotar. Kate Miller-Heidke rounds out the series of concerts with a soiree on Sunday, August 14 titled Child in Reverse.
The historical suburb of Mudgeeraba is the setting for Big hART's Acoustic Life of Sheds, featuring vocalist Christine Johnston, pianist Karl S Williams, percussionist Michael Askill and harpist Loni Fitzpatrick. Audiences travel in a carpooling convoy to watch a series of site-specific performances at four very different rural properties.
Elsewhere, hospitality-rich industrial pocket Miami makes up the fourth hub. It will host a series of events ranging from demi-DEMO — Branch Nebula's first appearance at Bleach* since 2017. The work showcases the daring of champion skaters, BMXers, parkourists and dancers. It also incorporates an audience workshop for those interested in the intricately choreographed street-style performances.
Bleach* for families
In addition to those listed above, this year's Bleach* Festival has a series of free and ticketed family friendly events.
Unsettle by Digi Youth Arts and Karul Projects invites young Aboriginal and Torres Strait Islander people to create a brand-new performance responding to the cultural landscape. A participatory program providing a deeper understanding of First Nations culture and practices includes Rick Roser's Ember, Candace Kruger's Aboriginal Song & Language and Norton Fredericks' Botanical Prints.
Volo: Dreams of Flight launches you into a fantastical, exhilarating, virtual reality experience. Wearing a VR headset, you'll be transported into one of four flying machines. Soar over cliffs, join an aerial ballet performance, shoot into orbit or glide across an extra-terrestrial landscape. This event is inspired by Leonardo da Vinci's fabulous flying contraptions!
Bring an open heart and a plate of food to share with new friends around the table at Bleach*'s community dinner. Potluck is a growing initiative aimed at sparking connection between Australia's newcomers and established community members.
There is also a participatory creative residency combining skate, story and song. Roller Coaster celebrates strong female voices. You can roll up to open skate sessions with live music and share your skating stories at song-writing workshops. Join a stellar line-up of south-east Queensland musicians and special guests.
Kids will especially love We Built This City, an open space with thousands of cardboard boxes they can use to create the city of your dreams. Towering skyscrapers, impossible arches and winding tunnels — anything goes! It empowers kids to express their visions, and with a DJ spinning funky tunes it's a fun-filled experience for the whole family. Best of all, at the end of the season, the city is shaken and stomped to the ground in a moment of glorious destruction.
Bleach* runs from Thursday, August 11 through to Sunday, August 21 at various locations around the Gold Coast. Head to the festival website for more information.
Written by
Calista Bruschi
When she's not moulding Play-Doh or dancing in the living room with her children, Calista Bruschi is an editor and writer. She has oodles of experience working on newspapers, magazines and websites. Calista likes to organise and be organised. She loves being a mum, Italian food, wine, sport and stationery. She hasn't sleep a full night in more than five years and is powered by coffee.