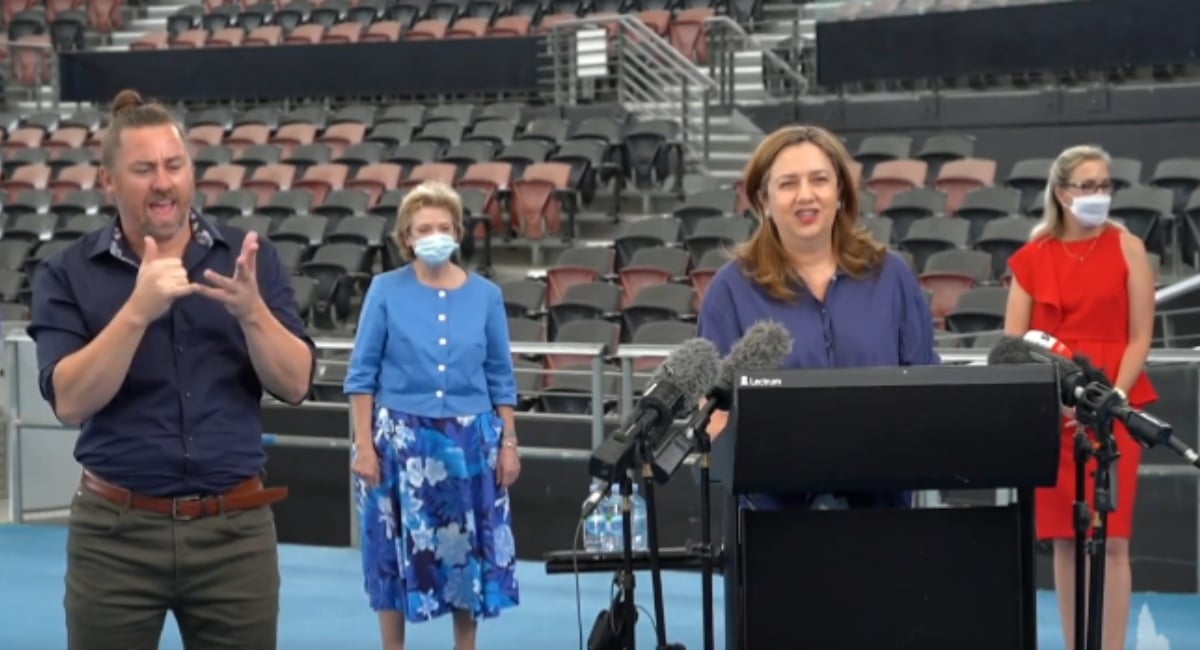 News
Critical details for Queensland kids' return to school revealed
The Queensland Government has revealed the much-anticipated plan to get kids back to school. On Sunday, January 30, Premier Annastacia Palaszczuk announced mandatory masks, the suspension of some activities, and the introduction of a procedure for rapid antigen tests (RATs) for sick students and teachers.
Here's what you need to know in greater detail.
Masks are mandatory in high schools
Queensland premier Annastacia Palaszczuk said masks will be mandatory in Queensland high schools.
She also said masks would be "strongly encouraged" for students in Years 3-6, when classes resume on February 7.
"We'll be making the masks available at schools as well," she said.
Under the guidelines, teachers can remove their masks to teach and students can remove their masks while they remained seated.
Large school gatherings
Queensland Education Minister Grace Grace outlined the back to school plan, encouraging parents to keep abreast of the latest information.
In an effort to limit "unnecessary movement" at school, Grace announced a number of temporary measures for the first four weeks of term.
"We are suspending things like school camps, excursions, large assemblies and large gatherings in schools for the first four weeks — we don't want to have unnecessary movement," Grace said.
She said it was important to limit the number of unnecessary visitors coming onto school sites.
"We want to limit visitors to school sites — with exceptions for parents who care for students experiencing vulnerability — if those parents would like to escort their children into school, they will be allowed to do so."
She said this included students in early childhood development programs, kindergarten, Prep and Year 1.
"From Year 2 upwards, we are asking parents, please acknowledge what the school puts in place about drop-off zones, and limit your presence on school sites."
Rapid antigen testing procedures
The premier said a number of RATs will be provided to school. But they will only be for those teachers and students who develop symptoms at school.
"There is no health advice by the Chief Health Officer or by [the Australian Health Protection Principal Committee] that staff or students need regular testing," Palaszczuk said.
Both the premier and the education minister reinforced that anyone who has symptoms should "absolutely not come into school".
"If there are outbreaks of COVID-19 in our schools, Queensland Health will deploy additional RATs to clinics near those locations to meet the need," Grace said.
Premier Palaszczuk said the resumption of school would be safer due to the delayed start of term. The delay also allowed more students to get vaccinated. She thanked staff and students across Queensland for their "incredible resilience" during these challenging times.
More than 870,000 Queensland students will return to school on February 7. Children of essential workers and vulnerable children were able to return to school on January 24.
COVID-19 Update: The Premier and Education Minister have announced new measures will be implemented across Queensland to help students, teachers and staff return safely to schools on 7 February. #covid19 https://t.co/OkAQQu5GUf

— Annastacia Palaszczuk (@AnnastaciaMP) January 30, 2022
A snapshot of Queensland's Back to School plan
Key features of the Back to School plan announced on Sunday, January 30 include:
Mask wearing for all high school students and staff in line with the existing mandate
Masks available and strongly encouraged for students in Years 3-6
A range of ventilation measures including air purifiers as required.
Temporary measure for the first four weeks of Term 1 include:
RATs available in school for students and staff who develop symptoms while on site
Priority access to RATs for students and staff at Queensland Health clinics
RATs provided to staff entering remote communities
Suspension of school camps, excursions, assemblies, and large gatherings
Visitors limited on school sites, exceptions being parents and carers of students experiencing vulnerability, and all students attending early childhood development programs, kindergarten, Prep or Year 1
Staggered drop off times and special drop off zones.
Written by
Calista Bruschi
When she's not moulding Play-Doh or dancing in the living room with her children, Calista Bruschi is an editor and writer. She has oodles of experience working on newspapers, magazines and websites. Calista likes to organise and be organised. She loves being a mum, Italian food, wine, sport and stationery. She hasn't sleep a full night in more than five years and is powered by coffee.