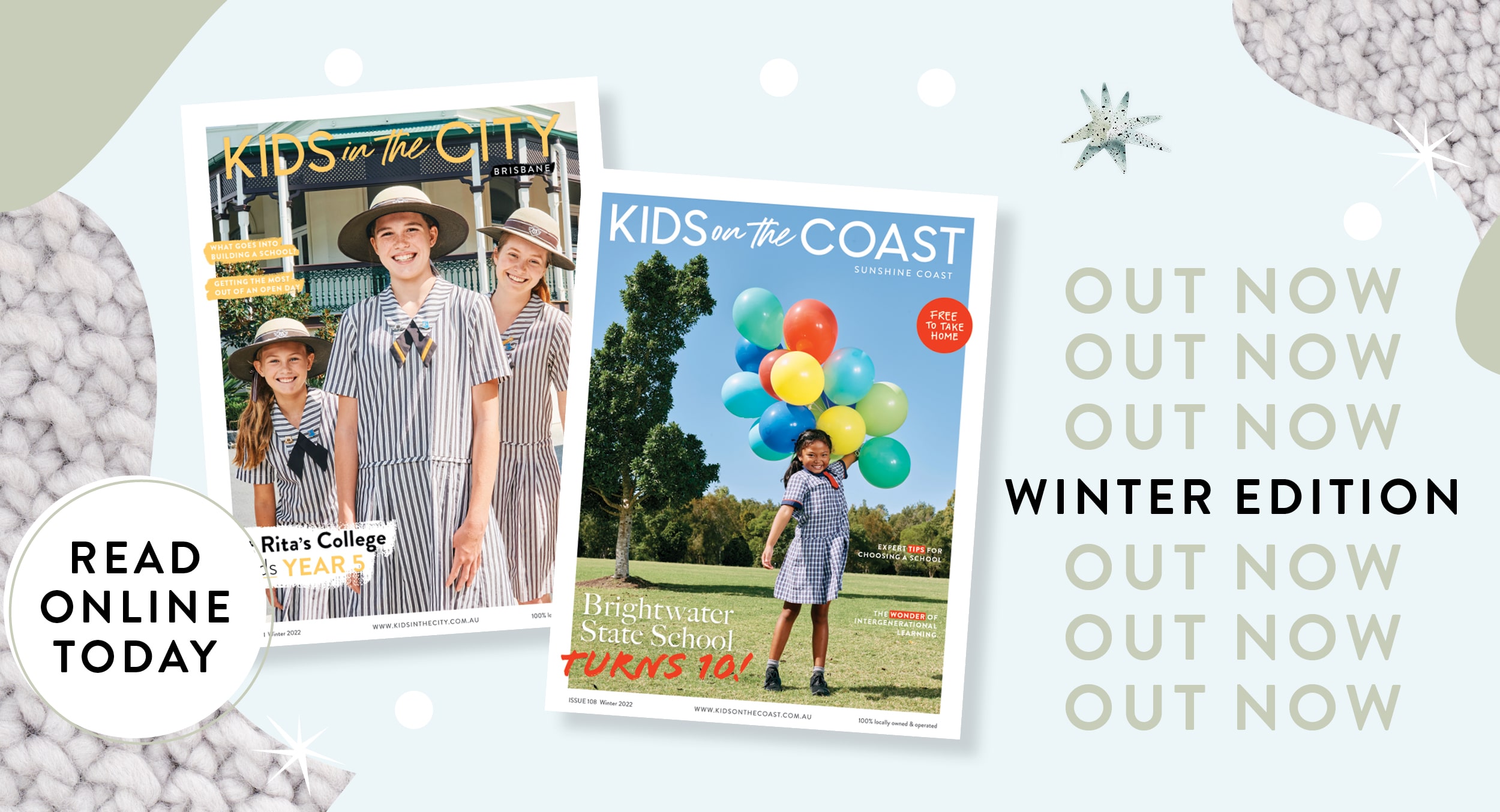 News
Winter Issue 2022: MAGAZINE OUT NOW!
South-east Queensland's favourite free family magazine (that's us!) hits the streets today with a huge Winter Issue.
Available from all your favourite parenting hotspots (swimming pools, libraries, activity centres, kindergartens, day care centres and schools), be sure you grab your copy today!
Don't want to miss out?
Subscribe to the magazine HERE and have every issue delivered to your door!
Do you prefer to do your reading online?
Simply choose your region below to read the Winter Issue digital version ⇓ ⇓ ⇓
---
Kids on the Coast: Sunshine Coast
Choosing the right education pathway for our kids is one of the harder choices we have to make as parents. To help you choose the right school for your tribe, this Winter Issue of Kids on the Coast goes behind the doors of some of our local schools.
We visit Brightwater State School as it celebrates its 10th birthday to find out what makes this progressive school so popular.
We also chat to the staff and students at Immanuel Lutheran College to find out how intergenerational learning is creating beautiful experiences for the whole community.
Over at Sanctuary Early Learning Adventure, we learn more about the centre's reconciliation program teaching kids to care for Country.
We also take a peek behind the doors at the new Montessori Early Learning Centre at Peregian.
---
Kids in the City: Brisbane
Education is at the forefront of the Winter Issue of Kids in the City, too.
We catch up with St Rita's College at Clayfield to find out more about its exciting reintroduction of Year 5 to the school and the difference it's making to the girls.
An important issue for schools is bullying. Studies examining the prevalence of bullying in Australian schools found at least half experienced some form of bullying. Roughly one in six reported being tormented on a weekly basis. With that in mind, we chat to Bethania Lutheran College and get its tips on dealing with bullying at school.
We also tour King's Christian College at Logan, to find out what goes into building an entire school from the ground up.
Our friends at Parentline have some great tips on choosing a school, which we think you'll find useful.
Plus, we have all the latest news, reviews, events and more! Keep your family toasty and happy during this year's winter months.
---
Written by
Angela Sutherland
After spending many years hustling stories on busy editorial desks around the world, Angela is now mum of two little ones and owner/editor at Kids on the Coast / Kids in the City. She is an atrocious cook and loves cutting shapes to 90s dance music.