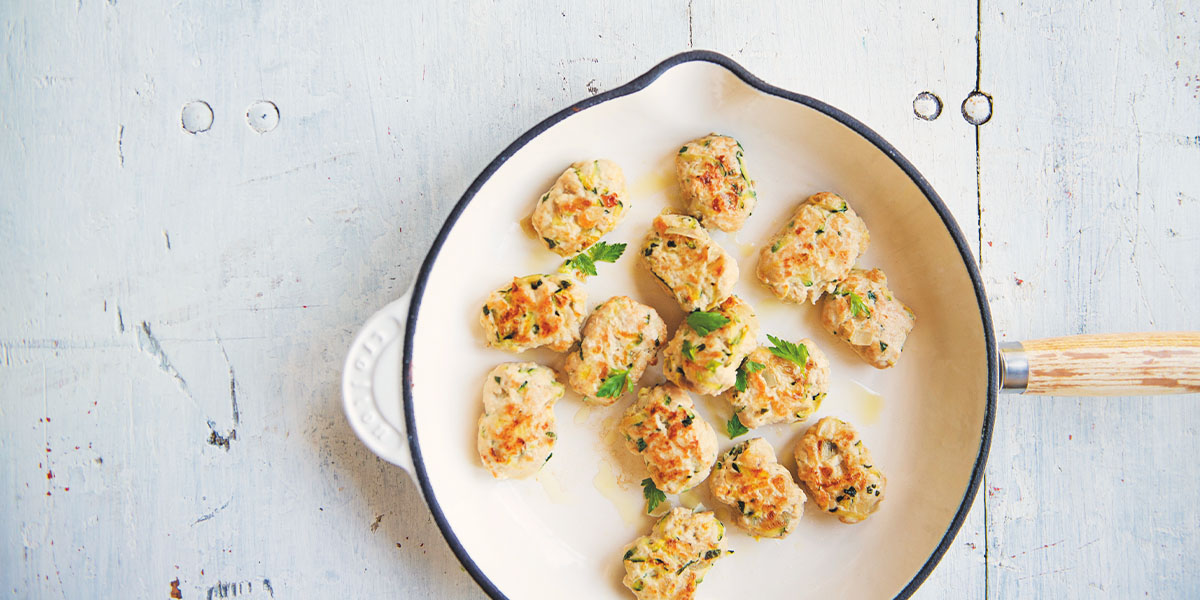 Home & Health
Homemade Chicken Nuggets
Bite-sized and delicious, these homemade chicken nuggets are sure to be a hit with the kids. When you make your own you can choose what goes in them, so they can be healthy too!
You can also use this mixture to make six large burger patties for older children and adults. Pan-fry until cooked through and serve on a roll with avocado, rocket and mayonnaise.
Makes: 25–30
Prep Time: 10 minutes
Cooking Time: 16 minutes
Homemade Chicken Nuggets
Ingredients
500g free-range chicken mince
2 tablespoons milk
1 cup (100 g) packaged wholemeal breadcrumbs
1 small zucchini (courgette), coarsely grated
1 golden shallot, finely diced
1 heaped tablespoon finely chopped flat-leaf parsley
1 tablespoon olive oil or rice bran oil
Method
1. Combine all the ingredients, except the oil, in a large bowl. Use your hands or a wooden spoon to mix until thoroughly combined. You can lightly fry the shallot before adding it to the mixture, if desired.
2. Shape tablespoons of the mixture into nuggets and place on a tray lined with baking paper.
3. Heat the oil in a large heavy-based frying pan over medium heat. Cook the nuggets, in batches to avoid overcrowding the pan, for 4 minutes each side or until light golden and cooked through. Transfer to paper towel to drain.
FUSSY EATING TIP Chicken nuggets are a great vessel for introducing new flavours. Try adding grated carrot, sautéed chopped mushrooms, finely chopped spinach and a variety of herbs, such as thyme and basil.
STORAGE Keep in an airtight container in the fridge for up to 2 days. To freeze, place uncooked or cooked nuggets on a baking tray lined with baking paper and freeze for 3–4 hours, then transfer to a freezer bag and freeze for up to 2 months.
ALLERGIES/INTOLERANCES Gluten/wheat: use gluten- or wheat-free breadcrumbs, or a cup of quinoa flakes or cooked quinoa instead of the breadcrumbs. Dairy: use a dairy-free milk alternative.
Extracted from One Handed Cooks by Allie Gaunt & Jessica Beaton with photography by Sarah Buckle, Viking, RRP$39.99.
One handed Cooks champions teaching children to enjoy a wide variety of foods through a balanced diet. The latest flavoursome collection includes recipes for babies through to school age, from homemade teething rusks and baby led weaning to family meals and snacks.
Need some more kid-friendly dinner ideas? Try this Crazy Noodle Veggies Recipe or Recipe – Butternut Pumpkin Soup
Save
Written by
kidsonthecoast