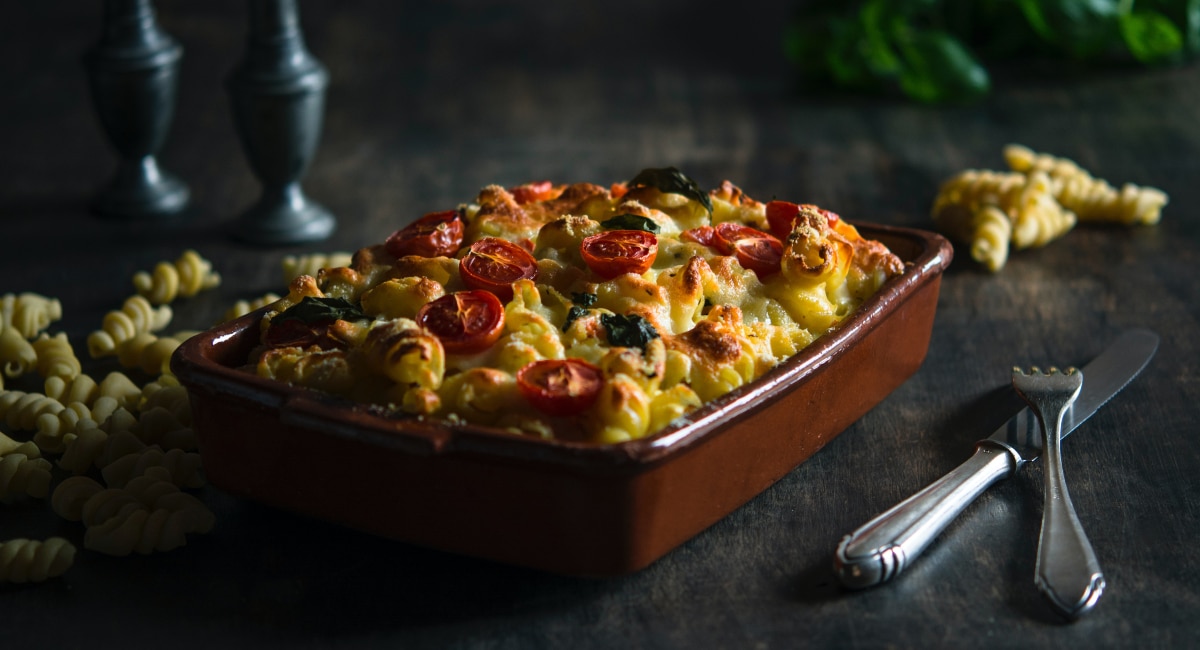 Read
Creamy and cheesy pasta bake with bacon and chicken
There's not much that can top a deliciously cheesy pasta bake. This recipe with bacon and chicken is a real family favourite!
What I like about this dish is that the kids will devour it like they've been out in the wilderness for days on end. They don't seem to notice the sneaky vegetables included. It's one of the few ways I can get my children to eat mushrooms — chop them up fine and toss them in with the capsicum, onions, tomatoes and spinach.
If you happen to strike it lucky and get leftovers, this creamy and cheesy pasta bake with bacon and chicken makes a great lunch, served hot or cold. To stop it from drying out when you reheat it in the microwave, add a tablespoon of water.
Prep 15 minutes
Cooking time 45 minutes
Serves 4-6
Ingredients
400g dried pasta (I used spirals, but rigatoni is good too)
1 tbsp vegetable oil
3 large chicken breasts, cut into bitesize chunks
1 large onion, peeled and chopped
1 red capsicum, deseeded and chopped
1 yellow capsicum, deseeded and chopped
pinch of salt and pepper
2 cloves garlic, peeled and minced
1 tbsp tomato puree
1/2 tsp dried oregano
1/2 tsp dried thyme
800g tinned chopped tomatoes
120ml double (heavy) cream
100g fresh baby spinach
6 rashers cooked bacon, chopped
100g strong cheddar cheese, grated
100g mozzarella, grated
Small bunch parsley, roughly torn
Method
Preheat the oven to 190C. Boil a large pan of water and cook pasta for 1 minute less than recommended on the pack. Drain.
While pasta cooks, heat the oil on a medium heat, in a large frying pan. Add chicken, and cook until just sealed, about 5 minutes.
Add onion and cook for a further 3-4 minutes until the onion is softened.
Add chopped capsicum, salt, pepper, garlic, tomato puree, oregano and thyme. Stir and cook for 2-3 minutes.
Stir in tinned tomatoes and cream, bring to a gentle bubble, then add pasta, spinach and cooked bacon. Stir everything together, then transfer to a large baking dish.
Top with cheddar and mozzarella, and place in the oven for 20-25 minutes, until the cheese is golden brown.
Take out of the oven and top with parsley before serving.
Written by
Calista Bruschi
When she's not moulding Play-Doh or dancing in the living room with her children, Calista Bruschi is an editor and writer. She has oodles of experience working on newspapers, magazines and websites. Calista likes to organise and be organised. She loves being a mum, Italian food, wine, sport and stationery. She hasn't sleep a full night in more than five years and is powered by coffee.