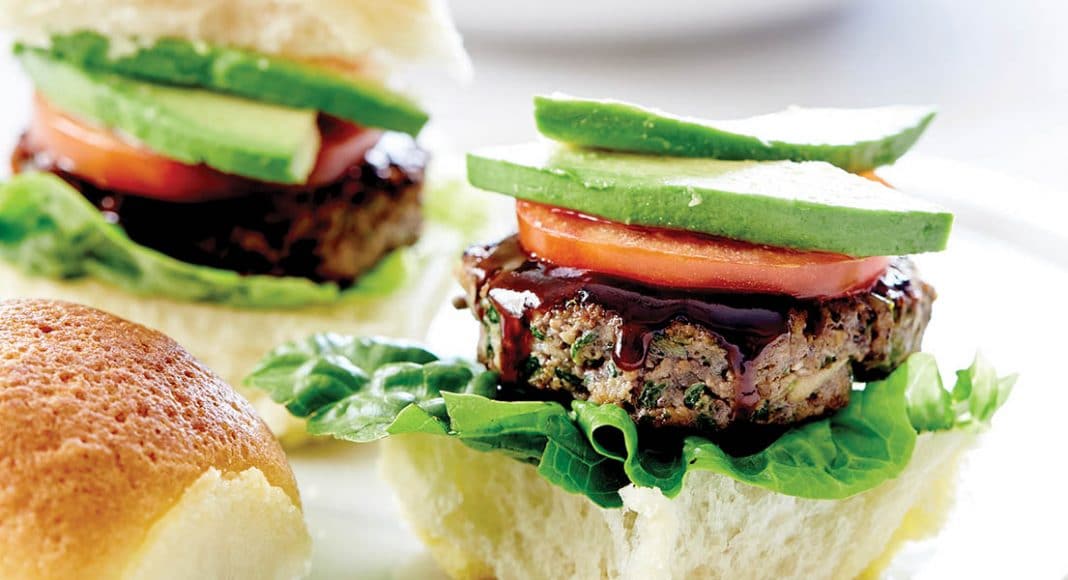 Home & Health
Kid-friendly Sliders with Homemade Tomato Dipping Sauce
Perfect for a quick meal, these kid-friendly sliders taken from Superfoods For Kids by Rena Patten will have you coming back for more!
Kid-friendly Sliders
Ingredients
Makes 12
2 large stalks kale
500 g (16 oz) minced beef
1 small onion, grated
1 clove garlic, finely grated
1 large courgette (zucchini), coarsely grated
1 tablespoon chia seeds
2 tablespoons quinoa flakes
1 tablespoon tomato paste
1⁄2 teaspoon dried oregano salt and pepper
12 small slider (burger) buns
lettuce leaves
tomato slices
avocado slices
Homemade Tomato Dipping Sauce
Ingredients
25 g (8 oz) organic tomato paste concentrate
60 ml (3 fl oz) pure maple syrup
40 ml (11⁄2 fl oz) white wine vinegar
90 ml (3 fl oz) water
2 teaspoons onion powder
1 teaspoon sea salt
1⁄2 teaspoon garlic powder
1⁄2 teaspoon mustard powder
1⁄4 teaspoon ground cloves
Method
1. To make tomato dipping sauce, place all the ingredients into a blender or food processor and process until all the ingredients are combined and smooth. Place into a glass jar with a lid and refrigerate for at least 4 hours before using, overnight even better to allow all the flavors to develop.
2. To make the sliders, thoroughly wash the kale. Remove and discard the tough stalk then chop the leaves very finely.
3. Place into a bowl with the mince, onion, garlic, courgette, chia seeds, quinoa flakes, tomato paste, oregano, salt and pepper.
4. Mix to thoroughly combine then shape into small flat patties or whatever size you prefer.
5. Heat a large non-stick frying pan and coat with a little extra virgin olive oil. Cook the patties on both sides. If you flatten them out (rather than rounded), the patties will cook more evenly throughout. Alternatively you can grill, barbecue or cook the patties on a griddle pan.
6. To assemble the sliders, lightly toast the buns, layer with some lettuce leaves, slices of tomato and avocado, top with the patties and serve with tomato dipping sauce or any other favorite sauce.
NB. Keep the dipping sauce in the refrigerator at all times. Use as an alternative to store-bought ketchup (tomato sauce).
What's your favourite burger combo?
For more kid-friendly dinners. try these Chicken And Zucchini Nuggets or Vegetarian Egg Tacos. 
Written by
kidsonthecoast