Lady Elliot Island is a coral cay located at the southern tip of the World Heritage-listed Great Barrier Reef. Situated within a highly protected 'Green Zone', this pristine island is sanctuary to more than 1,200 species of marine life. It's knowns as the home of the manta ray, but the sparkling waters are filled with an abundance of turtles, an amazing array of spectacular marine life, and unspoilt coral reef.
Getting to Lady Elliot Island
It's true what they say… "Half the adventure is getting there". The flight to and from Lady Elliot is truly spectacular! Flying from Hervey Bay takes around 35 minutes and it was a real treat to circumnavigate the island a couple of times before landing on the grass runway.
On arrival, we attended the mandatory orientation of the island. This informative session includes the dos and don'ts regarding the abundant wildlife; activities; mealtimes; and a safety briefing on snorkelling, which includes an assessment of skills. This ensures the resort is aware of any limitations. We also enjoy a beautiful welcome drink.
Wildlife on Lady Elliot Island
The first thing we notice on the island (other than its beauty of course!) are the thousands of birds and their chicks. We are visiting during the summer breeding season (September – April). We're warned that it can get a little noisy at times, and our room comes supplied with earplugs! But it didn't bother us and watching the birds nest in various places is a lot of fun.
It's not just the birds nesting at Lady Elliot Island. Turtle nesting season is in full swing!
It's important to attend the education session on how you can best observe the turtles nesting. After the session we walk from the eco resort and are amazed to find our first turtle making its way up the beach to lay eggs. The mother dug two nests before settling on a third, and after two hours we finally see her lay her eggs!
The following morning, we went out again to find yet another turtle had just laid her eggs and was covering them up again.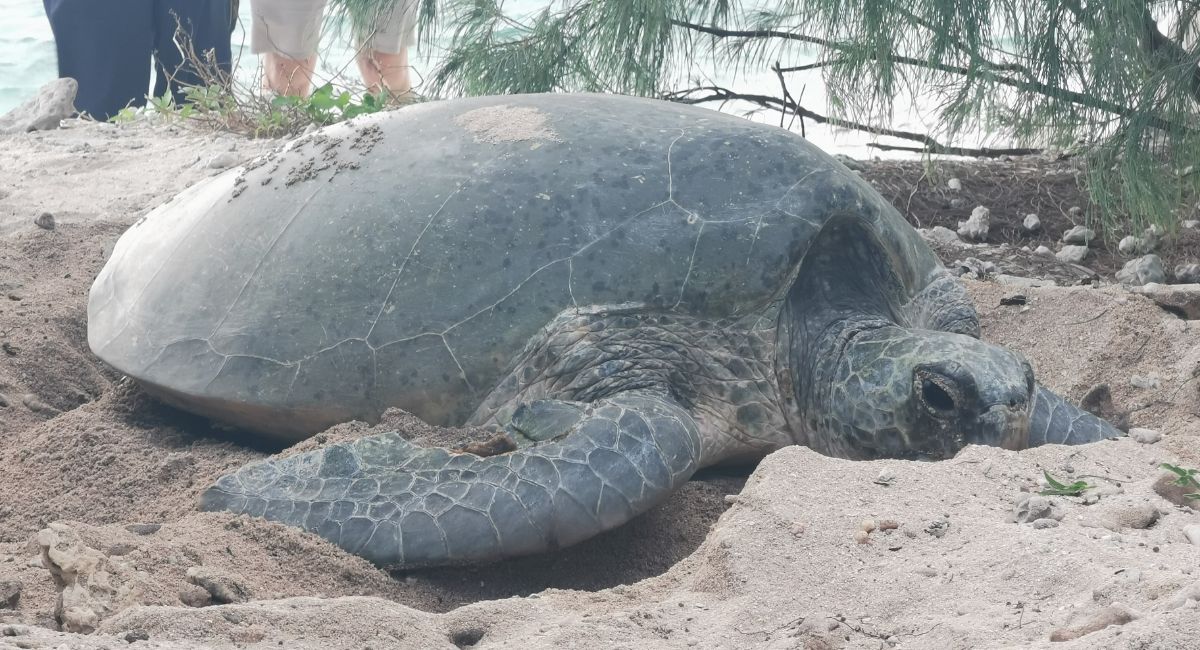 Snorkelling and scuba diving
The snorkelling on Lady Elliot Island is outstanding and the coral is very healthy. We see plenty of fish life. Each day a weather and conditions report is posted at the eco resort and the staff are always on-hand to advise the best places to go that day. Due to the wind, the best snorkelling is literally in front of our unit in the lagoon. The lagoon can only be snorkelled during high tide, otherwise it is too shallow, so there are some limitations – but it was well worth it.
A huge highlight was snorkelling alongside several turtles at various times. They were so friendly and seemed to enjoy swimming along with us.
Lady Elliot Island has plenty of scuba diving options. It has various dive courses and scheduled dives to one of their 20 amazing dive sites around the island. The resort's experienced dive staff personally escort all dives. There are a minimum of two dives per day and optional night dives, subject to numbers and weather. It caters for all experience levels.
We booked our 17-year-old on the Discover Scuba Dive Course, which is a beginners course that includes theory, one pool session and an ocean dive – under the guidance of a fully qualified PADI instructor. She loved the experience! The staff are patient and explain things in a manner that is easily understood is encouraging. As a result of such a positive interaction, our teen plans on becoming a fully qualified PADI Diver in the future.
When is the best time to visit?
Each season has something different going on! Visiting in December gave us the opportunity to see both turtle and bird nesting. Manta season is said to be all-year-round, so summer is a fantastic time to visit. However, turtle hatching from January to April is also magical … Maybe next time!
Family-friendly activities
In addition to snorkelling, diving, exploring, and birdwatching, Lady Elliot Island has a variety of activities available including a playground, table tennis, volleyball and a saltwater pool
The Activities Office is located next to the entry of the Reef Education Centre and provides a range of items for guests use. You can enjoy board and card games, reference books, entertainment DVDs, documentaries, binoculars, torches, a small range of children's toys, and arts and crafts.
The kids Reef Rangers activity operates each afternoon during Queensland and New South Wales public school holidays. This is an education activity for children between the ages of five and 12 years. It involves a two-hour session with a guide conducting indoor and outdoor education activities. These activities focus on the conservation of the beautiful Great Barrier Reef.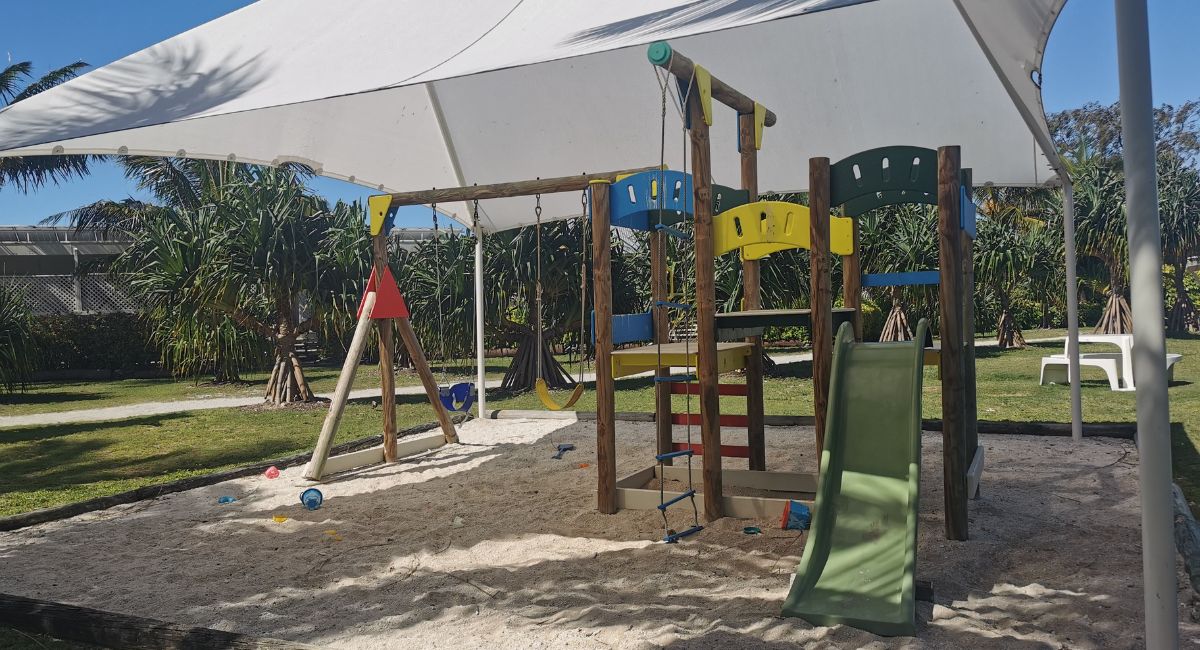 Accommodation
Lady Elliot Island has a range of accommodation options for families. All accommodation at the eco resort is designed to minimise impact on the island, fitting with the resort's impeccable sustainability policy.
Overnight rate includes:
Full buffet dinner and breakfast
Use of snorkel equipment (mask, snorkel and fins) and a snorkel lesson if required
Glass bottom boat/guided snorkel tour (one per person per stay)
Guided tours and activities
Our family of four (two adults and two teenagers aged 17 and 13) comfortably rested in a Reef Unit . The Reef Units are located approximately 10 metres from the coral cay lagoon. You can choose from either a queen bed or a combination of a queen and bunk-style beds. They have their own private bathroom and a balcony to make the most of the island surrounds.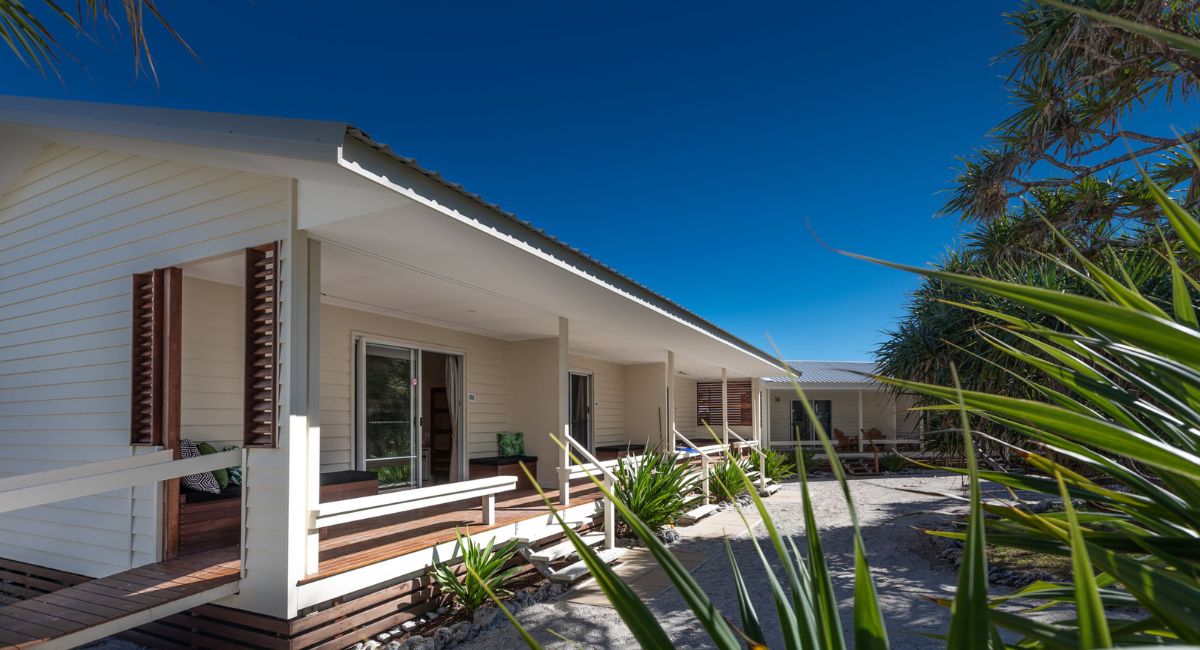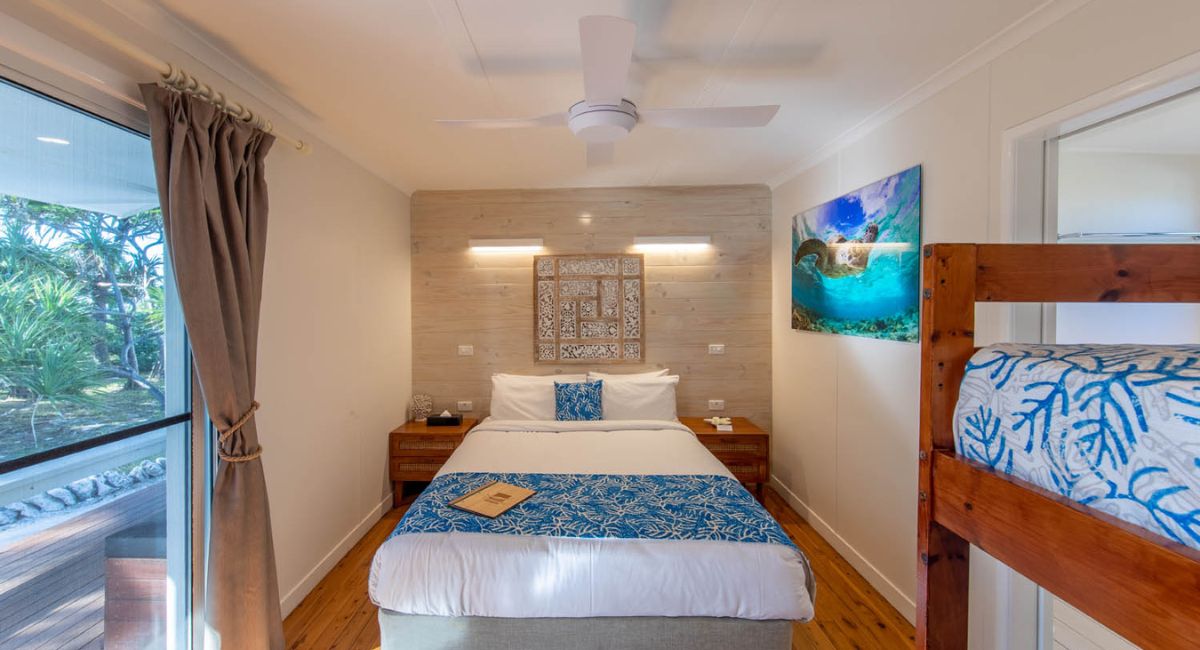 Other Accommodation options include:
Two-bedroom Beachfront Units (Sleeps four). With absolute beach frontage, these spacious units feature a separate air-conditioned lounge room and private bathroom.
Glamping Tents (Sleeps two adults). Only metres from the Lagoon, these tents are set amongst the native coral cay vegetation. The Glamping Tents accommodate up to two adults (queen bed) and are ideal for couples. They feature an en suite and private balcony.
Garden Units (Sleeps two to four). Situated within 20 to 30 metres walk from the Lagoon, the Garden Units are ideal for couples or families. Choose either a queen bed or a combination of a queen and bunk-style beds.
Eco Cabins(Sleeps four). Situated within 20 to 30 meters walk from the Lagoon, the newly upgraded Eco Cabins have solid walls, louvres for maximum air flow, a large front glass sliding door and shared bathroom facilities.
Foodies delight at the resort
Did we mention the amazing food? We enjoy a full buffet breakfast and dinner each day of our stay. The food is outstanding. There is plenty of variety – hot, cold and desserts. Free tea and coffee making facilities are also available throughout the day with barista coffee also available to purchase.
For lunch the options are to either purchase off the café menu (prices range from $14 – $30 with a $15 kids' menu) or you can purchase a Full ($26) or Cold Buffet ($15) option. *Prices correct at date of writing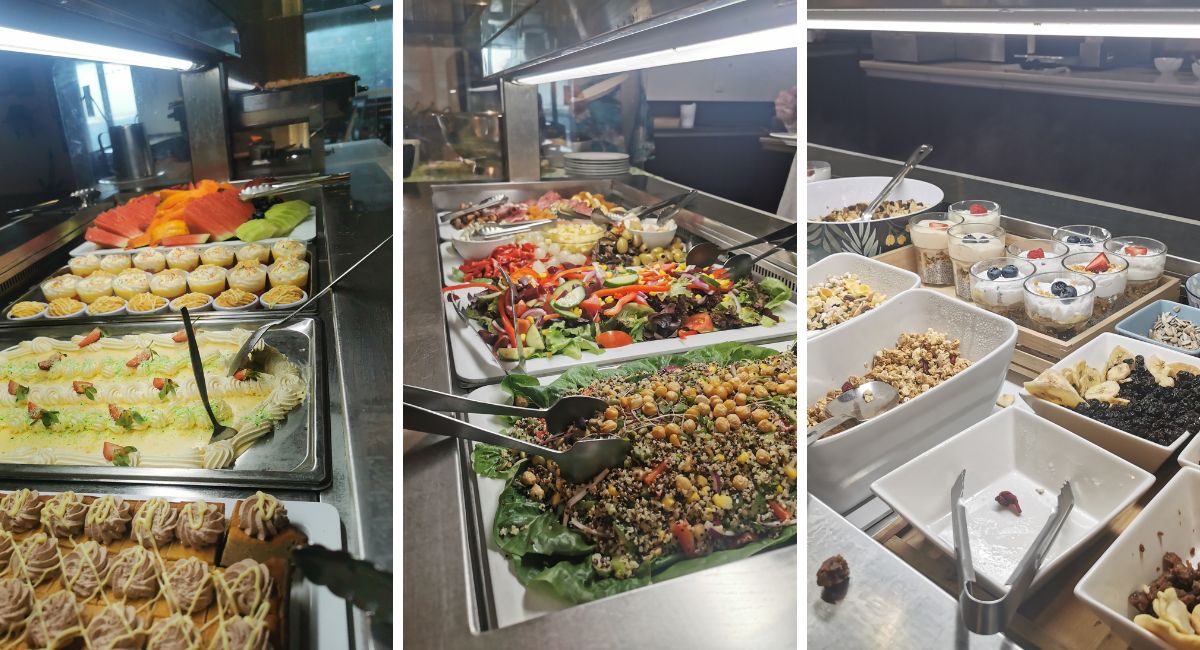 Take a day trip to the island
We recommend a minimum of two nights on Lady Elliot Island to truly experience the uniqueness of the island paradise. However, a day trip is also ideal to 'dip your toe' into exploring one of the Seven Wonders of the Natural World. You'll experience sights from the air, land and water!
Lady Elliot Island has always been on our travel bucket list, so it's heartening that it did not disappoint. There is no mobile phone network coverage (limited Wi-Fi available to purchase at Reception), which means we truly embrace the natural beauty. It made our time on the island that much more special because we could  reconnect and re-energise. We cannot wait to visit again.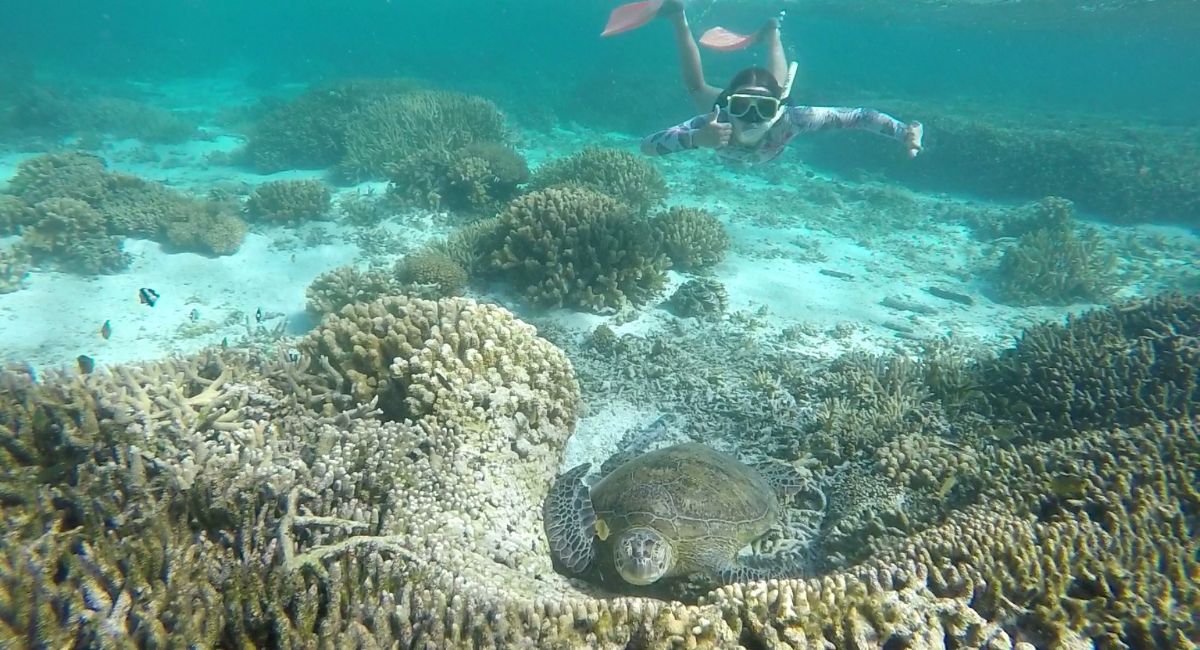 For more information, visit Lady Elliot Island's website.