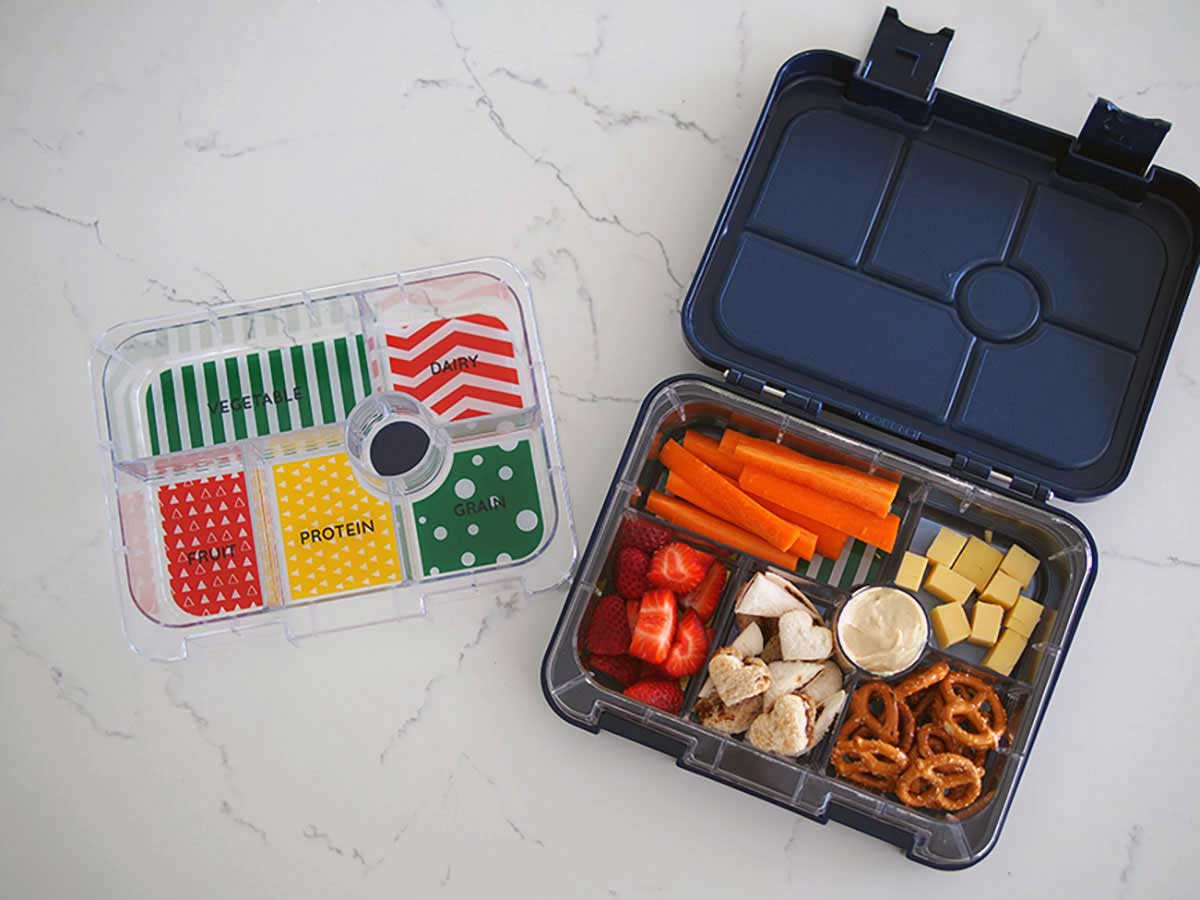 Food
Looking for the perfect Bento Box?
Since most schools and kindergartens have transitioned to packaging-free lunches, the Bento Box has undeniably become the lunchbox favourite for busy parents. But, as we have all discovered, not all Bento Boxes are created equal. We've all fallen victim to 'that' lunchbox that has allowed different food groups to mix together (😱!). And we've all lost at least one lunchbox because we didn't have time to label them properly.
To help in your search for the best lunchbox for kids, we put the Bento Boxes from Stuck On You to the test – to find out if they can survive a month of school in the hands of a five-year-old, an eight-year-old, and one very frazzled mama.
What's in the box
Stuck On You Bento Boxes come in two sizes. The mini Bento Box, which is perfectly sized for toddlers and preschoolers, and the large Bento Box which is great for primary-aged kids. 
Each has a removable tray and a removable silicone seal, to make cleaning a breeze. Each part of the Bento Box can be washed in the dishwasher (top rack only). They can also be washed by hand. Each can be personalised from a huuuuuuuuge range of colours and designs. And the large Bento Box also has an optional sandwich tray, for those kids that prefer a sandwich. 
From using them as goalposts to abandoning them in the eating area, primary-aged kids are uber tough on their lunchboxes. To survive these years, a lunchbox needs to be durable, easy for little hands to use, and preferably fitted with a tracking device. 
The Stuck On You Bento Box withstood the daily battering without a problem. And the silicon seal meant that the food stayed sealed tightly in each compartment. No mixing of foods – even when shaken! And the bold personalisation meant that lunchboxes made it home – every single day.
Age 5: "It is really easy to open and the separate sections makes sure my strawberries don't touch my cheese." "I really like the dinosaur on the front, it was fun to choose the picture myself."
Age 8: "I like having my name on the front. I did have the same lunchbox as other kids at school, and we always got mixed up. Now I always know which is mine straight away. And I like all the different sections, so lunch always looks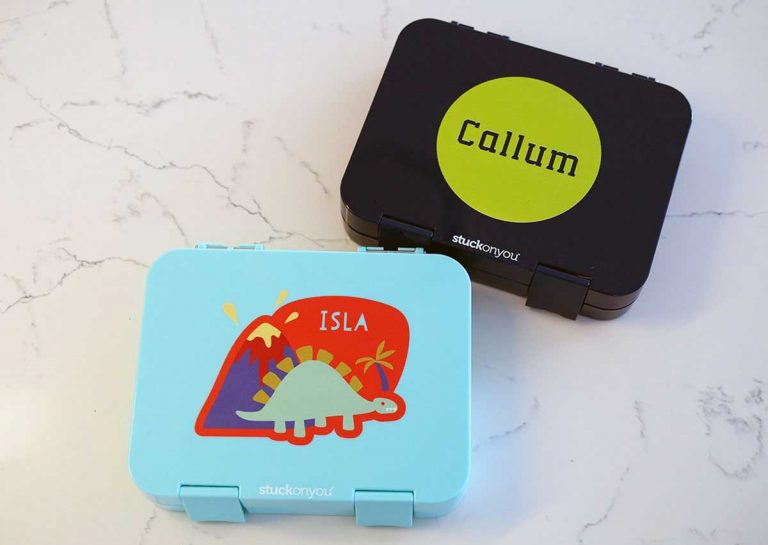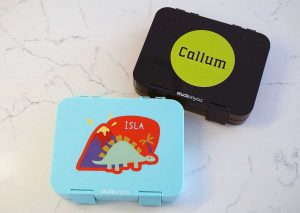 yum when you open it."
Mum's verdict
Hands down the best lunchbox we've used. Thanks to the silicone seal, it's the only one that actually keeps all the food separate. In our household, it's vital that no foods mix in the box! Even the hummus didn't leak. 
I also found the different sections and labels prompted me to make more interesting lunchboxes. It really helped to know I was packing all the right food groups, when I was too busy to think about it properly.
My favourite thing was how easy it was to wash. You just pull the Bento Box apart and pop the bits in the dishwasher. 
I found it really useful to have an extra tray. So one could be in the dishwasher whilst the other was in the lunchbox. It would be great if you could get an extra silicone seal too – for us really disorganised mums!
The designs are super-cute too. And being personalised, there's no way anyone else at kindy can have the same lunchbox. So it never goes missing! Stuck On You has so many different and fun designs to choose from that it means there's a truly unique Bento to suit every child's personality!
Our kids don't have access to a fridge at school, so we found it well worth getting the matching cooler bag to go with the Bento Box. Not only does it protect the box from the inevitable drops and scrapes, but it also keeps their lunches nice and chilled.
Since testing out their Bento Box we've also grabbed a pack of the personalised iron-on stickers from Stuck On You to label everything else. We were forever losing hats and jumpers, even a few shirts on swimming days. The iron-on labels mean that any forgotten items come straight back to us now. Haven't lost a thing since!
---
RELATED:
9 AWESOME ABC toys to kickstart your child's alphabet
4 seriously amazing laundry gadgets you can't live without
---
This is a sponsored post
Written by
kidsonthecoast