Hands up who could do with a little R&R?
Yep, with Omicron worries, cancelled activities and extended school holidays, this summer really didn't bring much of a break for parents. We made it to February utterly desperate for a holiday!
Luckily, living in southeast Queensland means we are in the perfect location for a sneaky weekend staycation, and recently we discovered the perfect spot.
Just 15 minutes from Maroochydore (we even popped back home because I forgot pack the kids' toothbrushes), the gorgeous Novotel Resort Sunshine Coast is exactly what every family needs right now.
What's at Novotel Sunshine Coast Resort for kids?
Short answer – LOADS!
The newly refurbished pool area is utterly gorgeous and brilliant for kids. There are plenty of super-comfy bean bags loungers around the pool to park yourselves. The pool has huge floating bean bags to play on, pool noodles and toys. There is a large shallow stepped area that is perfect for little ones, and there is plenty of deeper water for the older ones to jump in.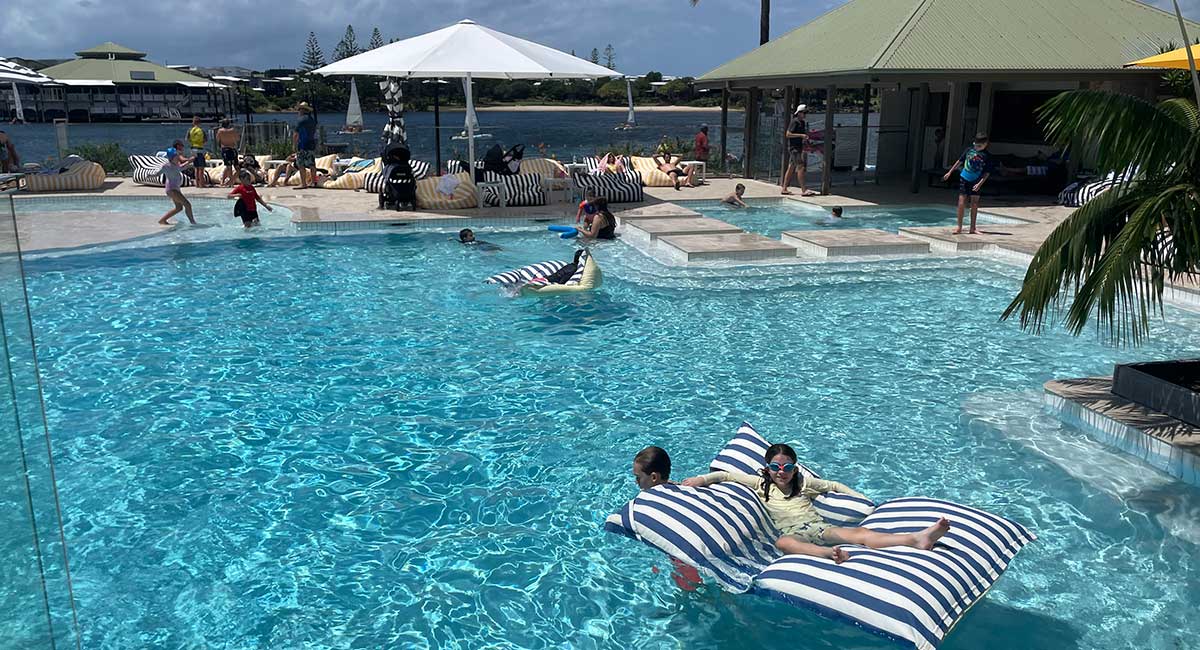 The refurbished pool at Novotel Sunshine Coast is brilliant for families
Novotel Sunshine Coast Resort also puts on a heap of fun activities for the kids each day. There was a treasure hunt, beach flags, kayak relay race, fish feeding, touch footy, cricket, sandcastle competition, and frisbee. Phew.
The range of activities on offer is designed to cater for everyone, and that it did. We have two kids with very different interests, and they both had plenty to do. One was off playing sport, whilst the other was building sandcastles.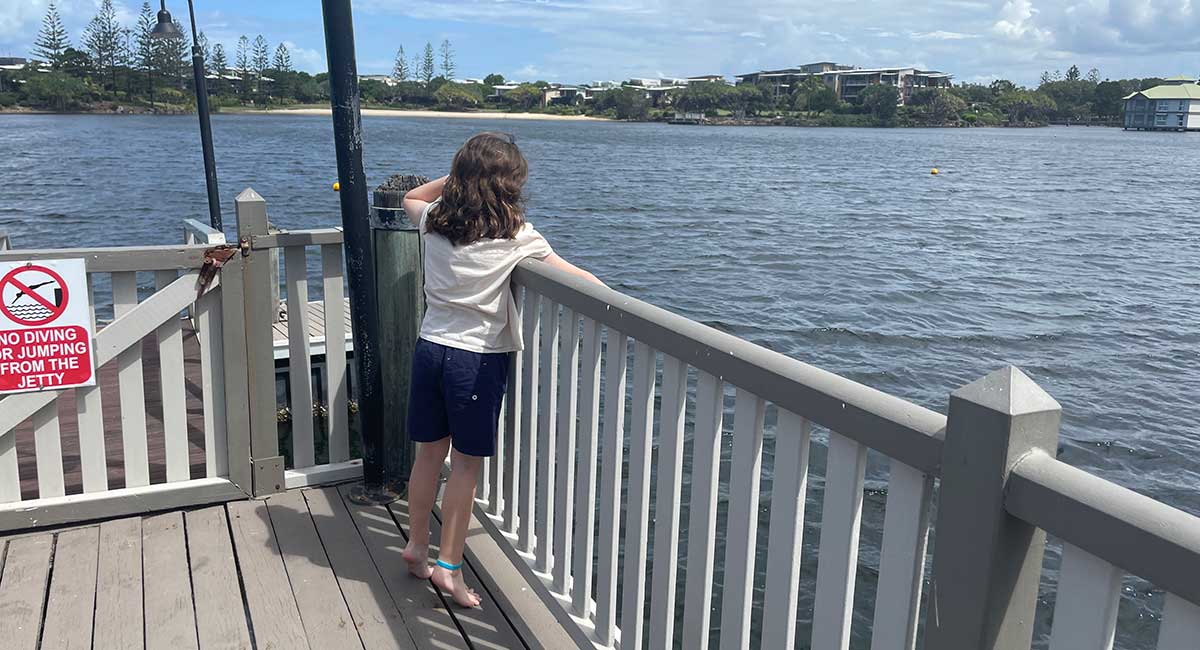 If you prefer water sports, there are plenty of activities to try out at your leisure. Sail a catamaran, borrow the kayaks and paddle around the lake (they have a double kayak so the little ones can jump in with an adult), and go stand-up paddle boarding.
Or if you prefer two wheels, you can hire bikes from the activity centre.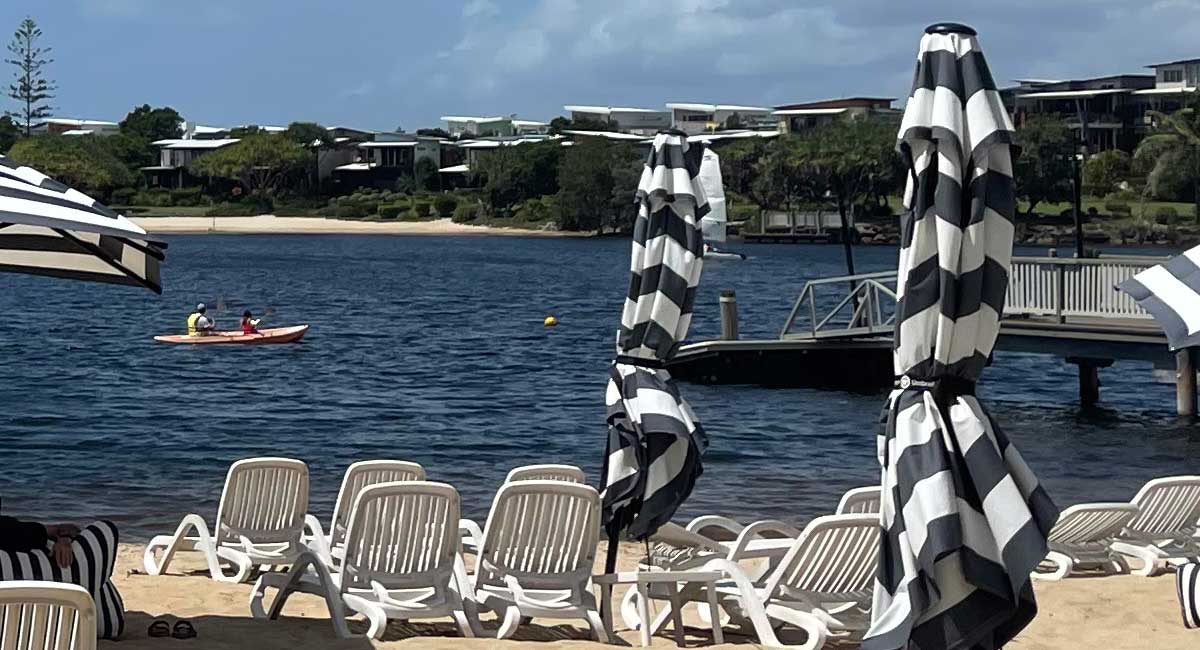 There is also a pool table and two ping-pong tables. Our kids' favourite spot was the gaming room – with air hockey, racing games, basketball and more.
The resort is nicely spread out, with gorgeous gardens between the accomodation wings. And with no roads to worry about, it was a safe place for kids to come and go. They each have a wrist band to access everything, and they loved that little bit of independence.
Dining at Novotel Sunshine Coast Resort – Twin Waters
All dining at Novotel Sunshine Coast Resort is managed through the SOLA Bar & Restaurant, making it straightforward to navigate and really easy to stay COVID safe.
Scan the QR code to view the menu, then order everything you want from the counter. You can choose to eat as takeaway, or grab a table and they will bring your food out to you.
The menu is extensive, with pizzas, pasta, fish, yummy burgers, salads and poke bowls. There is a decent kids menu too – nuggets, pizza, pasta, fish.
Novotel Sunshine Coast Resort also has a deli/cafe open in the mornings that sells snacks, coffee and smoothies.
The buffet breakfast is uh-mazing, with everything you could want to fill up the family for a busy morning of activities. Pancakes, hot food, fruit and cereal, pastries and pancakes… oh my poor covid curves gained another few inches that weekend!
The refurbished rooms at Novotel Sunshine Coast Resort
We did a weekender at Twin Waters Novotel many years ago, and I'll admit, the rooms were a tad tired, so we were excited to see the refurbishment. And we weren't disappointed! Huge super-comfy bed, big smart TV on the wall with Foxtel, gorgeous bathroom with walk-in shower.
There are tea/coffee facilities in every room, and all rooms have a patio or balcony, providing the perfect spot for a morning cuppa.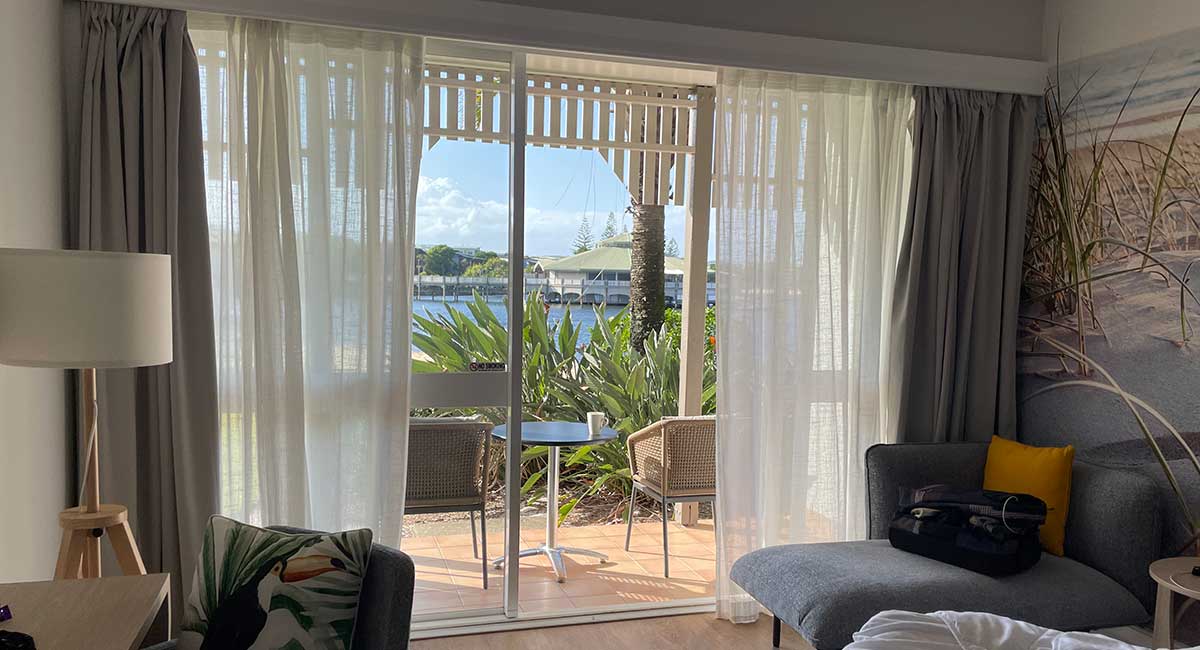 The resort has a range of room formations, depending on your needs. We had two rooms next to each other, but if the kids were littler you could have a family room with two queen beds, and all be in the one room.
Beach towels are provided, so you don't even need to pack them! Just grab them from the kiosk by the pool.
Why we all need a staycation
To me, the staycation is my favourite type of holiday. There's no long road trip to contend with (my kids don't last more than 10 minutes in the car before plotting the other's demise). There's no epic packing session, then spending the next 3 hours panicking because we forgot to bring teddy or the current favourite undies.
In less than 30 minutes you can be a world away from home, feet up with an ice cream as the kids splash in the lagoon-style pool. Straight outa school on a Friday afternoon, and boom – into paradise by 4pm.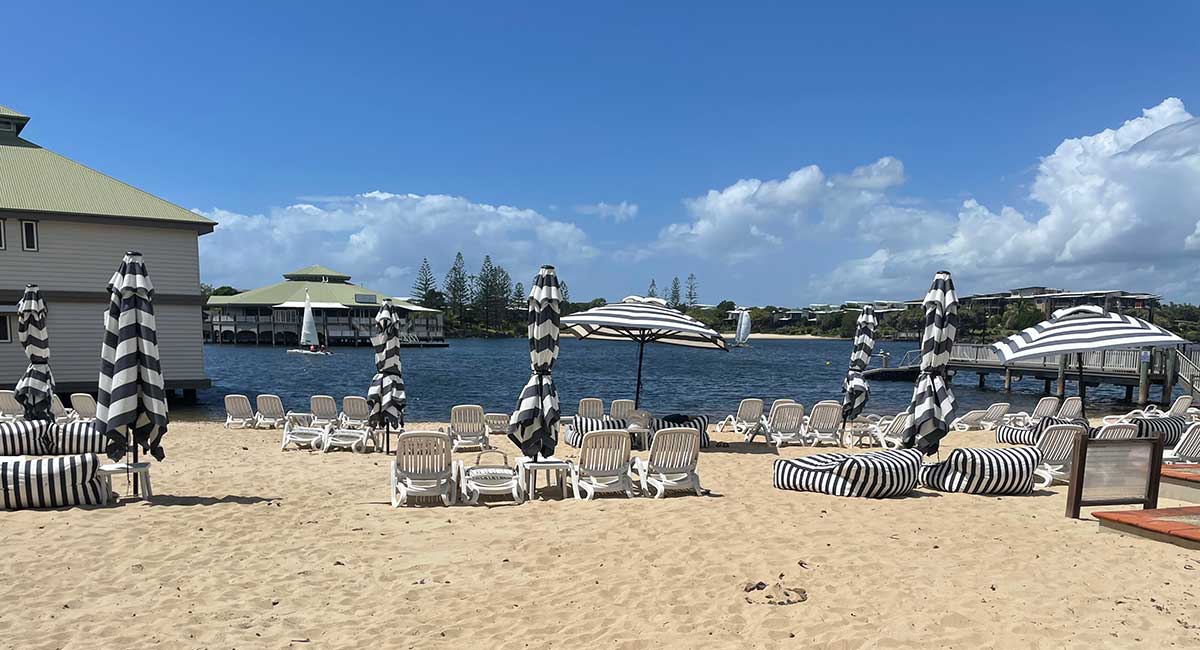 Two days with someone else to do the cooking, the tidying up, and a gorgeous place to stay. Loads of activities to keep the kids entertained and a safe space to do it. Novotel even has a gym and a spa for mum and dad to enjoy whilst the kids are entertained.
Between playing air hockey (ahem, family champion here!), relaxing by the pool whilst the kids played, and eating waaaaaay too much food, I'm not sure where the time went. As Sunday came around far too quickly. We'll certainly be back again soon!
---
You may also like…
Great bushwalks for kids on the Sunshine Coast
Top 5 Sunshine Coast Coastal Pathway walks and rides for families