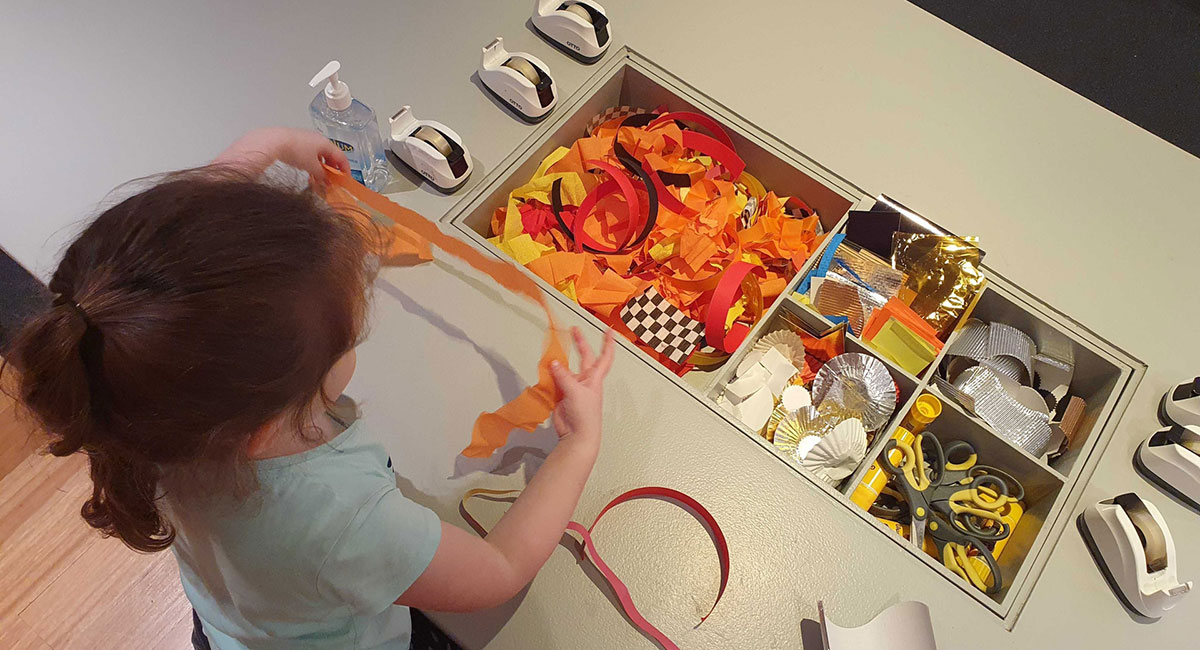 Activities
We check out Built for Speed at Ipswich Art Gallery
When I was a kid, going to the art gallery was nowhere near as much fun as it is for kids today. There was a strict 'look, but don't touch' policy. Yet, the launch of Ipswich Art Gallery's latest exhibition – Built for Speed – just in time for the Christmas/New Year school holidays, demands interaction.
Arguably one of the gallery's most popular exhibitions for kids (and kids at heart), with thousands of pieces of LEGO and a series of jumps, ramps and racetracks to play with, it's hard to resist!

There are tables full of LEGO! Source: Calista Bruschi
Make your own LEGO racer
The exhibition takes up the entire gallery, so kids have three levels of LEGO-based fun to experience. There's no right or wrong way to explore either.
The bare bones of basic LEGO race car construction adorn the gallery walls and provides inspiration. There are also creations from previous visitors to be played with or used by kids who might need help getting started.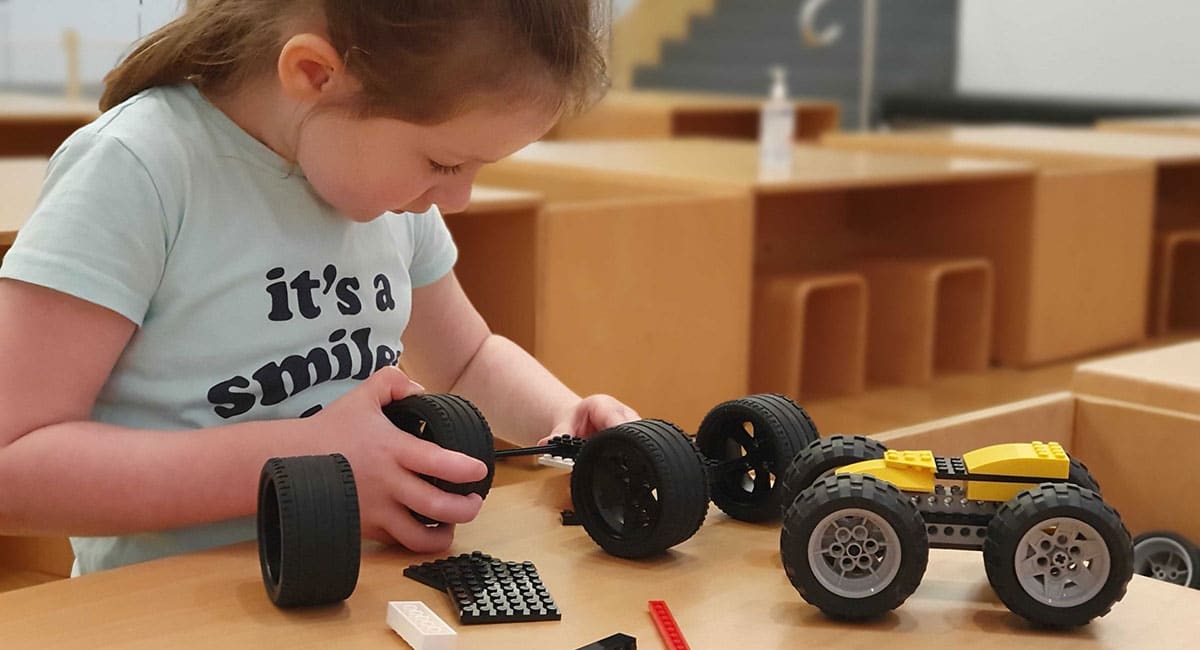 Kids aged 4 and older can build their own racing cars, test and then modify them for extra speed. Source: Calista Bruschi
The build tables are perfect for kids to sit down and start building, but they also provide an opportunity for parents/carers to get involved. It's hard not to get lost in the excitement of sifting through LEGO pieces to find the perfect part.
As soon as the last piece of the race car puzzle has been clipped into place, we're racing off to test our creation.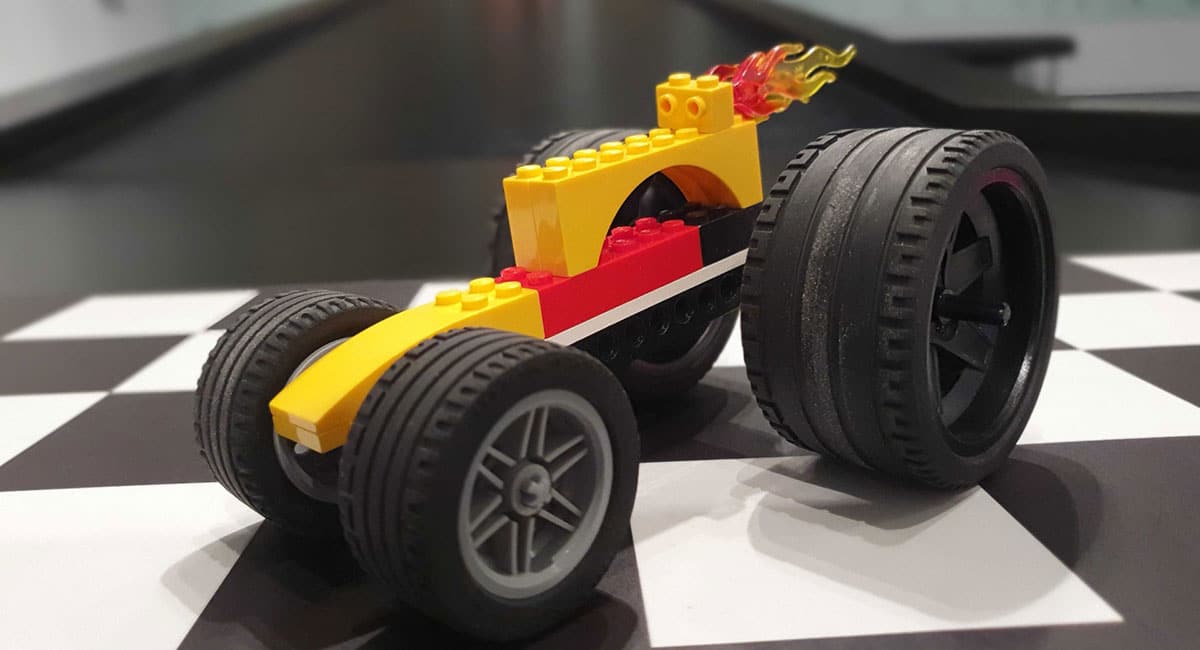 The Built for Speed exhibition at the Ipswich Art Gallery is thrilling and interactive, allowing kids to design, build and race LEGO racers. Source: Calista Bruschi
Go Speed Racer!
Every level of the exhibition has its own set of jumps, ramps or tracks and it's here kids see how their racer stacks up. The cries of triumph (or despair) and excitement are unmistakable.
Miss Four held her breath in anticipation as her racer slowly made its way up the conveyor belt of the Mega Ramp. She'd gasp watching the racer hurtle down the ramp at speed and crash before the main jump, keenly scooping up her creation and returning to the table for more 'garage work'.
Older kids will enjoy building their own track in the gallery's main foyer, with blocks, cylinders and foam pieces on-hand to create bends, loops and jumps. It's a thrilling space and it's exciting to see how kids engage in having so much freedom to create.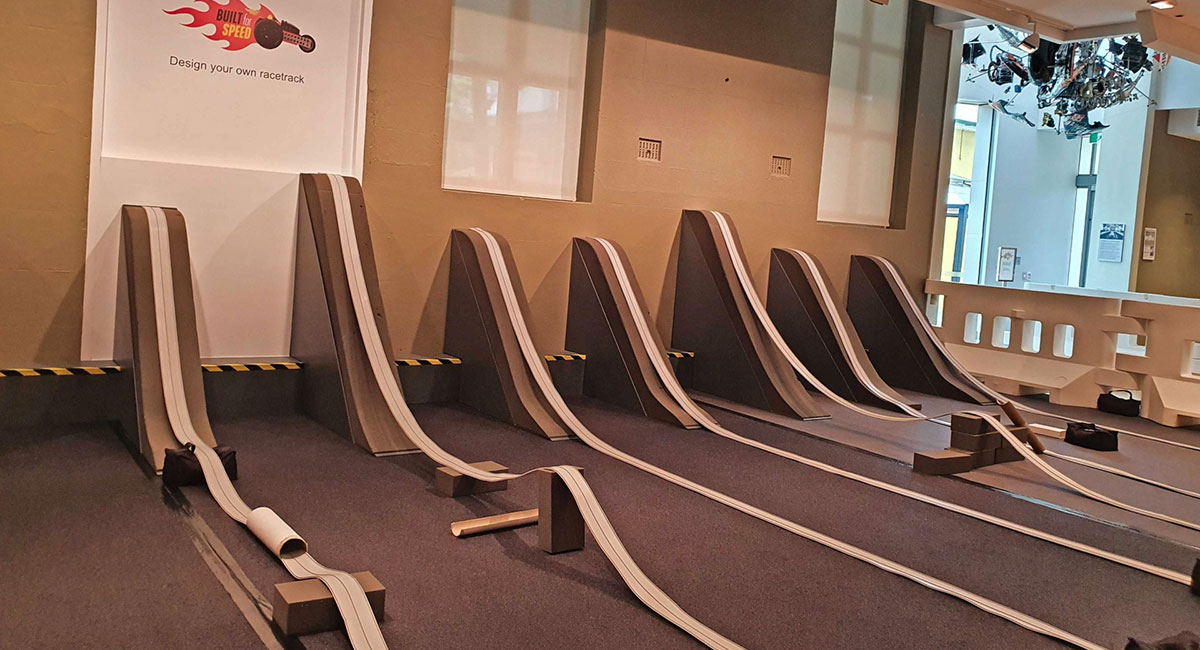 Build your own track with blocks, cylinders and foam pieces to create bends, loops and jumps. Source: Calista Bruschi
Chill-out zones
There are chill-out zones to allow kids to recharge when the excitement and competition becomes overwhelming.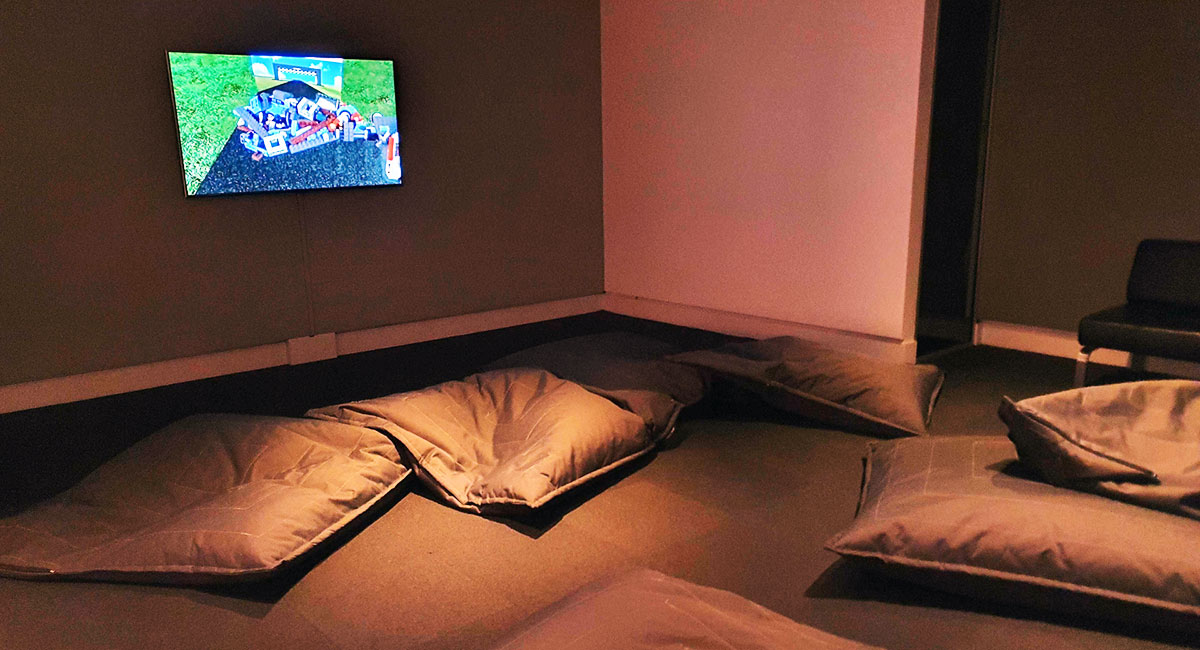 Large pillows and a television make for a comfortable and cosy escape from the racing excitement. Source: Calista Bruschi
One quiet, cosy area is full of large pillows and a television showing race car-related programs. Another has craft materials to make medals with.
There is also a smaller space with television touchscreens where kids can 'colour in' racing-themed templates or 'draw' with their fingers.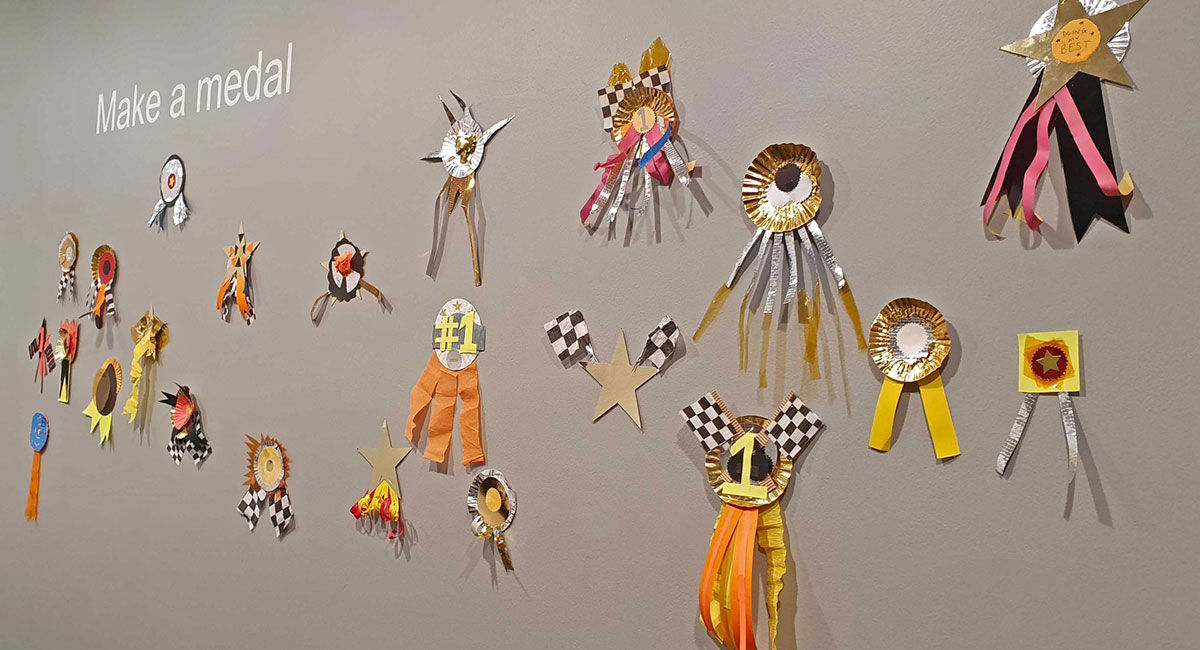 Make your own medal at the craft tables in the exhibition's chill-out zones. Source: Calista Bruschi
For the little speedsters
Toddlers are also catered for. Although the exhibition is best suited for those aged 4 and older, Master One enjoyed hanging out in the contained spaces dedicated to those kids aged 0-3, where he played with large Duplo-style LEGO pieces.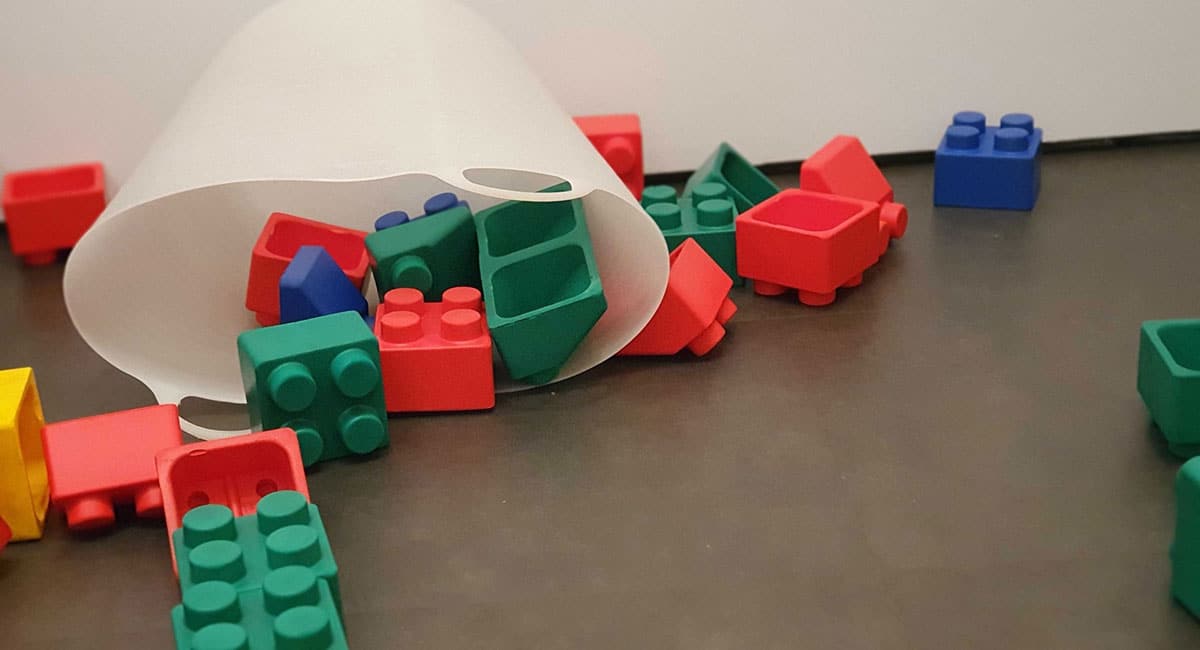 Toddlers aged 0-3 can spend time playing with Duplo-style blocks. Source: Calista Bruschi
Easily accessible
The gallery is pram and wheelchair friendly. Ramps lead to the gallery from the street entrances and there are lifts to all levels. The gallery's lower level has toilets with wheelchair access and infant change tables.
In a sign of the times, entry to the Ipswich Art Gallery will be staggered to allow visitors to enter safely and to ensure social distancing can be maintained. You'll need to check-in on arrival via the Check In QLD app. Hand sanitiser is available at stations throughout and LEGO is replaced at the end of each day.
The gallery doesn't have a café. It's easy to spend a couple of hours at Built for Speed, so make a day of it by exploring a local cafe (you can get a 'pass out' so you can return after refuelling), or bring your own lunch and ask the gallery staff to store it for you.
Dates and Tickets
Built for Speed runs from December 3, 2021 until January 30, 2022, closed between December 24, 2021 and January 3, 2022.
The Ipswich Art Gallery is open from 10am to 5pm, and the warm and friendly gallery staff assure me that afternoons and weekends are often less busy than other times.
Entry is $7 per person (aged two years and older). You can also purchase a Family Pass (for up to four people, one of whom must be an adult) for $25.
Children under two are free.
For more information about this exhibition, or future exhibitions, check out the Ipswich Art Gallery website.
Do your kids love building and creating with LEGO? Have you been to the Built for Speed exhibition? Tell us about it.
By Calista Bruschi
Written by
Angela Sutherland
After spending many years hustling stories on busy editorial desks around the world, Angela is now mum of two little ones and owner/editor at Kids on the Coast / Kids in the City. She is an atrocious cook and loves cutting shapes to 90s dance music.