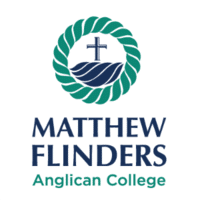 Matthew Flinders Anglican College is recognised as one of Queensland's leading academic schools, offering extensive bespoke curriculum and co-curricular programs with exciting opportunities for character development, leadership and community engagement. The College's vision is to provide its students with a dynamic education and caring community for excellence in learning and life.
Founded in 1990 in Buderim on the beautiful Sunshine Coast, Flinders is an independent co-educational college of 1,380 students from Prep to Year 12. The Flinders Early Learning Centre supports 120 families with children through creative and caring Pre-Kindergarten and Kindergarten programs inspired by the Emilio Reggia experience.
OUR MISSION
Through transformational learning experiences, we inspire our students at Flinders to achieve academic excellence, develop a profound sense of humanity and be motivated to create positive change in the world around them.
ACADEMIC RIGOUR AND PERSONAL BEST
Flinders fosters a vibrant learning environment that promotes exceptional scholarship and a culture of deep learning and engagement. Students are supported to develop as thriving learners and leaders, with the ability to gain enterprise and technical skills and build their character and competencies to lead and contribute to making the world a better place.
TOP ACADEMIC RESULTS AND INDUSTRY RECOGNITION
Senior assessment results attained each year place our students, both individually and as a cohort, in the highest levels in Queensland. Outstanding results in the new Queensland ATAR system and NAPLAN are the outcome of excellent teaching and student endeavour.
Our Flinders Primary School and Secondary School achieved the top NAPLAN results on the Sunshine Coast in 2022. Flinders was also honoured to be named an Apple Distinguished School and to be awarded as one of The Educator's 5-Star Innovative Schools for 2022.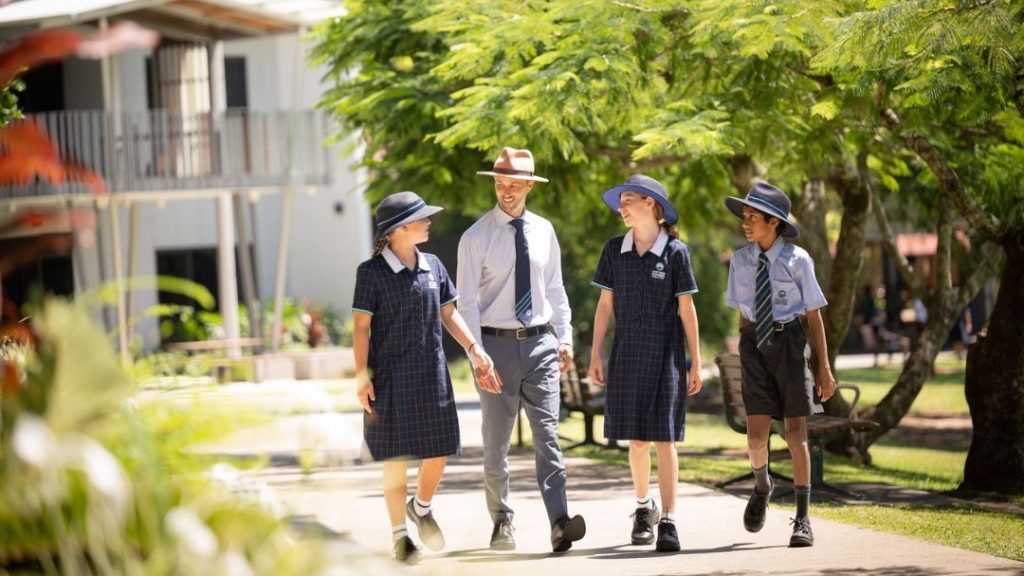 FLINDERS' CARING AND ENGAGED COMMUNITY
Our Flinders community is caring, connected, inclusive and engaged. Together, we actively uphold our College values of Compassion, Courage, Integrity and Respect. Through the Christian character of our Anglican foundation, we promote the spiritual and moral development of each student, based on compassion and service. Our parents, friends, board members, volunteers and graduates work to support our students and grow our College across our Flinders Parents & Friends, Flinders Foundation, Old Flinderians' Association alumni network and Round Square global school network.
PERSONALISED AND REAL-WORLD LEARNING AT FLINDERS
Flinders was endorsed as the Australian Primary School of the Year (Non-Government) in 2023 at the Australian Education Awards and is regularly cited as one of the top schools at local, state and national levels. Our bespoke Primary School and Secondary School curriculum programs are based on design thinking and entrepreneurial pedagogy, and provide our students with transformational learning experiences. The aim is to prepare our students for tertiary study and beyond, empowering them to become problem seekers and solvers who learn through a classroom culture and environment that promotes relationships, autonomy, mastery and purpose.
Innovative programs in the Primary School include the Ready For… program with specialist teaching and targeted lessons in numeracy and literacy, facilitated by our English and Mathematics Specialist Teachers/Pedagogical Coaches. The new Flinders Learner Powers program teaches the dispositions of learning to build five key learner muscles: Collaborative, Innovative, Reflective, Resilient and Self-Motivated.
The Secondary School features a range of bespoke enrichment programs, including our new Year to RISE curriculum for Year 9 in the Middle School and the Music EDGE program and extension subjects to extend exceptional music students.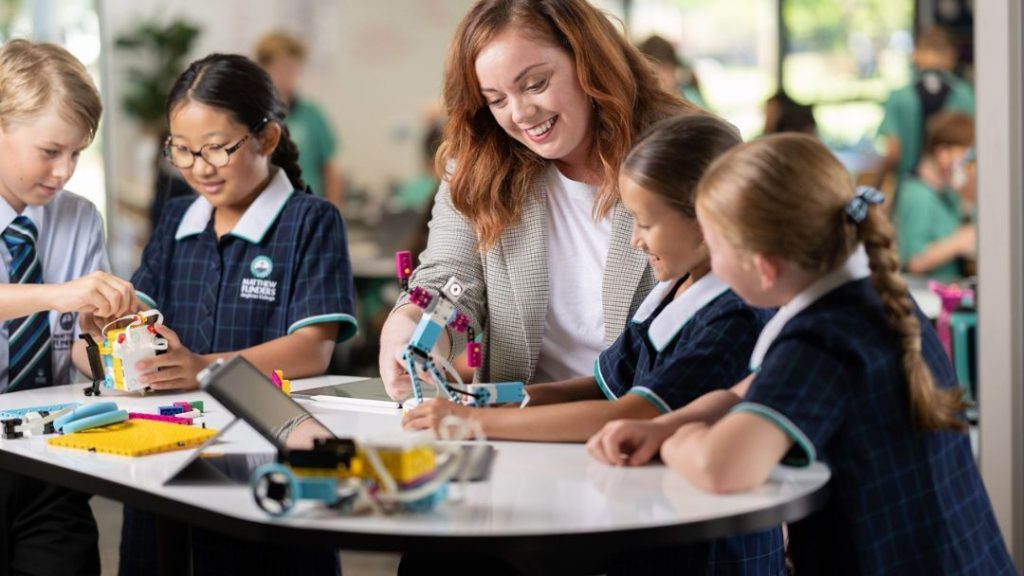 QUALITY TEACHING
Flinders prides itself on providing quality teaching as one of the cornerstones of effective education. To achieve this, the College builds the capacity and capability of our Flinders staff to thrive and lead learning, committed to a genuine environment of care and respect for our students. We have teachers who are experts in their field, with exceptional depth of knowledge and passion for the subjects they teach.
RICH CO-CURRICULAR OPPORTUNITIES
Our students also achieve highly commendable results and explore their passions in our creative arts, music and sports programs. Students are able to participate in our Round Square global school network through student exchange, community service and community engagement programs. Through these experiences, students become informed and engaged citizens who are attuned to their environment, take responsibility for themselves and their actions, and serve their community.
OUTDOOR EDUCATION PROGRAM
The Flinders Outdoor Education Program supports students from Primary to Secondary to develop their character and skills – building resilience, growing as leaders and strengthening their relationships. Opportunities are offered through our Curriculum Camps Program and Duke of Edinburgh's Awards. Outdoor education also provides our students with a sense of peace and self-efficacy as they connect with the natural world.
QUALITY FACILITIES
Flinders is well-known for its quality facilities. The College's charming rainforest-fringed campus is set on 22 hectares in Buderim, just 10 minutes' drive to pristine coastal beaches. Flinders has a state-of-the-art Performance Centre, which includes a multi-purpose 600-seat
theatre with professional staging. There is also the newly refurbished music precinct, a drama theatre and cafe which is open to the public and the Digital Zone to support 21st century skill development in areas of digital technology, film, TV, new media and electronics.
Sports facilities at Flinders include two superb floodlit sports ovals, an indoor Sports Centre, Fitness Centre and the Flinders Aquatic Centre with 25-metre outdoor pool and learn-to-swim school, among other impressive facilities. Our students access our quality facilities on-site during school hours but also beyond the school day via our extensive co-curricular program.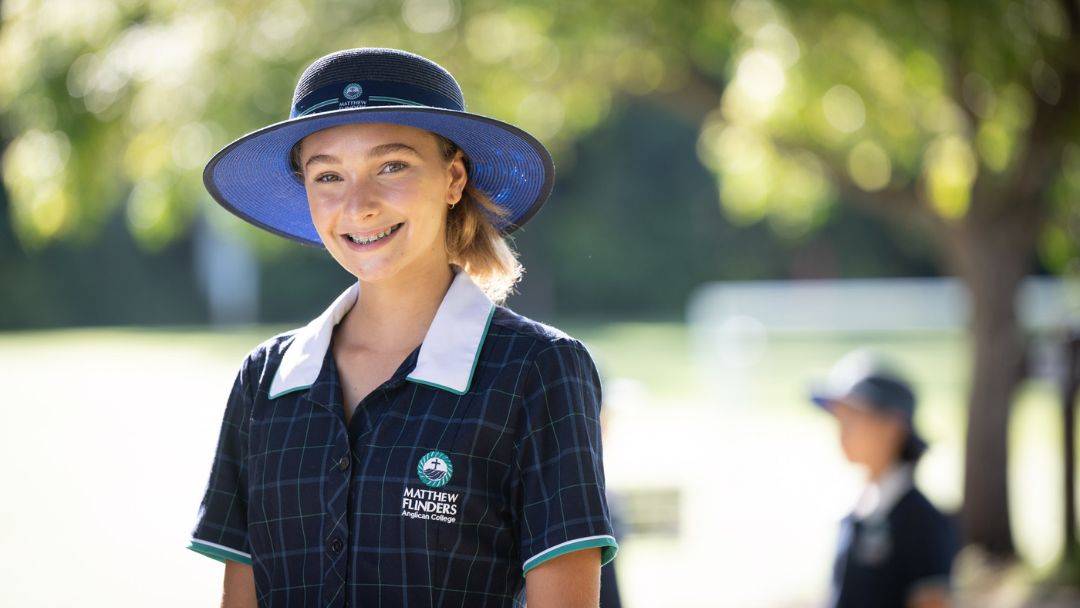 FLINDERS MASTERPLAN
The Flinders Masterplan is providing agile and modern new learning spaces and facilities with richly integrated technologies. New facilities include the Year 7 Precinct, the Flagship Centre for Years 5 and 6 students, the Wonderarium learning centre in the Primary, and a new Junior Primary Nature Playground. There is also the impressive two-storey Infinity Centre opening in 2024 as an agile hub for students to embrace and explore entrepreneurship, innovation, creativity and design thinking. The half-hectare Flinders Farm is for students, staff and families to use as a vibrant, hands-on learning hub. The farm has citrus orchards, vegetable gardens, productive beehives, ducks and chickens, and Erol the emu who came to the College as a chick more than 20 years ago.
BOOK YOUR TOUR AND APPLY
There is so much to see and enjoy at Matthew Flinders Anglican College. We invite you to visit, book a group or personalised tour, and discover it for yourself.
To book your personalised tour or apply to Flinders, please visit our website or contact our Admissions Team on 07) 5477 3260 or
CONTACT
WEBSITE: http://www.mfac.edu.au
PHONE: 07 5477 3200
EMAIL:
LOCATION:
1-47 Stringybark Road, Buderim, Queensland, 4556, Australia