Trying to keep your toddler entertained can sometimes feel like a full time job. Getting out of the house and into various activities can encourage stimulation and learning. Plus, it's a great way to burn off all that excess toddler energy! Luckily, Brisbane has a fab range of toddler activities to offer families.
Here are six of our favourite things to do with toddlers in Brisbane!

First 5 Forever Toddler Time
Where: Your local library or park
When: Weekly sessions
Cost: Free!
First 5 Forever is a state-wide government initiative designed to get little ones talking, reading, singing and playing. Weekly toddler sessions are run at local libraries and parks across Brisbane. Sessions are highly engaging, and encourage your little one to get social through singing, clapping and dancing. Find your local First 5 Forever events on the Brisbane City Council website.
Kids Collective at South Bank
Where: South Bank precinct
When: Spring & Autumn, Thurs 9:00am – 1:00pm
Cost: Free!
Kids Collective run weekly events open to the public during autumn and spring. You can come and go as you please, which can be very handy when dealing with toddler meltdowns. They are completely free, and often include engaging activities designed specifically for toddlers. Check the Kids Collective website to see upcoming classes and locations.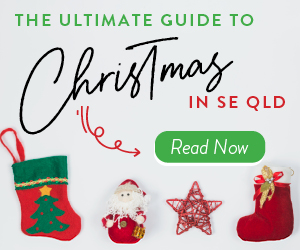 Art Play Date at QAGOMA
Where: Queensland Art Gallery, Gallery of Modern Art (QAGOMA), South Brisbane, QLD 4101
When: Autumn, Winter and Spring, Tues 10:15am or 11:30am
Cost: $10
Queensland Art Gallery is hosting a weekly event designed to introduce art to little people. The session goes for 45 minutes and includes an artwork viewing followed by song, music and movement with objects to engage the little ones. You can pre-purchase tickets or join the waitlist on EventBrite.
Sensory Playhouse
Where: Shop 17c/235 Sinnamon Rd, Jindalee QLD 4074
When: Mon-Fri (9:00am – 5:00pm) & Sat (9:00am – 11:45am)
Cost: From $15/week or $24 for a once-off visit
This top-rated play centre is only for under 5 year olds and focuses on early childhood learning. Sessions include sensory exploration through arts & crafts, music, play and bonding. The toys and atmosphere have been carefully curated to create a gentle and explorative experience. Booking is essential, so check out the available sessions and upcoming events on the Sensory Playhouse website.
Ipswich Nature Centre
Where: Queens Park, Goleby Avenue, Ipswich QLD 4305
When: 9:30am – 4:00pm (Closed Mondays)
Cost: Free (gold coin donation appreciated)
Designed to recreate local bushland wildlife, Ipswich Nature Centre provides a world of new experiences for toddlers. The park has various enclosures including a walk-through aviary, bilby den, and a farm animal petting barn. It's also surrounded by Queens Park picnic areas and state-of-the-art playgrounds. No booking is necessary, and the paths are stroller friendly. See more at the Ipswich Nature Centre website.
Wynnum Whale Park
Where: Wynnum Esplanade, Wynnum QLD 4178
When: Open 24/7
Cost: Free!
One of the best toddler friendly water parks can be found on Wynnum Foreshore. The water park overlooks Pandarus Beach, and neighbours the heritage-listed Wynnum Wading Pool. It features a tip bucket and various whale-shaped fountains for your little one to explore. This coastal delight provides plenty of stimulating fun with sand and sea, so make sure you bring a spare change of clothes.
---
By Annie Mayer-Rayment
Annie has been researching and writing her whole life. She graduated with a bachelor's degree from Macquarie University in 2019. In 2022 she received a master's degree from the University of Sydney. That same year, Annie joined the university of motherhood, welcoming her first baby in April.
Throughout her studies Annie has explored a range of topics across the arts and sciences. Her focus has been on cultural heritage and anthropology. In 2019 she received the Halder Chowdhury Prize for her research on Indigenous Rock Art in the Sydney Basin. However, no task has proved as challenging as raising a little human.
Annie now enjoys exploring all things baby and postpartum, and writing informative pieces for her fellow mums. 
---
More stories from Annie: 
Baby Led Weaning – what is it and is it right for my baby?
What are the benefits of baby wearing?
---