Missing Ash Gierke from the Hot91 airwaves at the moment? We tiptoe into her newborn bubble to find out how she is going with her gorgeous new little bundle.

So, tell us about Luna!
She's here!  Luna Darbie Hutchins made her way into the big wide world on July the 10th at 7:06 pm, weighing 3.29kg. (The only time you can talk about someone's weight!) Her big blue eyes, gorgeous smiles and beautiful nature are everything we wished for and more.
Are you ready to share your birth story?
At 32 weeks, I was getting plenty of Braxton Hicks, multiple sets of false contractions, which we thought, "is today the day?" At 39 weeks, I ended up being induced, thanks to the amazing team at Buderim Private Hospital and Dr Kirsten Morrow. After a four-and-a-half-hour labour and a speedy thirty-minute delivery, she graced us with her presence, and we've been over the moon since.
A special shout out to my amazing Brendan, who was very supportive throughout the whole process, to the point of retrieving a booga out of my nose during an intense contraction. I'm not sure if Mia, our midwife, had seen that before, let alone all the giggling that took place while the contraction was happening. (I do not recommend laughing while being in that much pain. It hurt a lot more than I thought it would!)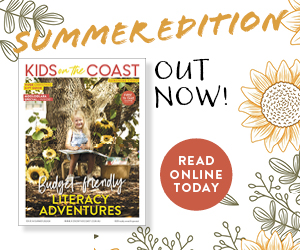 How is Milla adjusting to her new role as big sister?
Her big sister Milla, who is two and a half, is extremely proud and very protective. She tells her friends that visit, "You can't take home my baby sister; she's mine."
Since bringing Luna home, we've also had the privilege of Milla asking us how Luna was made, how she was made and how Mummy and Daddy were made. We gave her the brief version: "It's a miracle, you were in our tummy, and now you're here!" We might save the birds and the bees chat for another few years!
Sadly, growing your family has not been without heartbreak, as it is for many couples…
The last year has seen our family go on a journey that we never thought would happen to us. Last year on June 24, we lost our baby boy at 16 weeks. Our pregnancy loss journey saw us come into contact with many families on the Sunshine Coast that had unfortunately been through very similar circumstances as us. We learnt that one in four families suffer pregnancy loss, which is such a heartbreaking statistic. In February, 91.1 Hot FM and my family decided to throw a Butterfly Lunch to raise awareness for Pregnancy Loss and to pull the curtain back on what has always been a taboo subject. Talking about our experience helped my husband and I deal with our loss and look forward to the next chapter that was.
And when will you be back on the air?
I'll be back on the airwaves full-time in January with my co-host Sam Coward, or Uncle Sammy, as my girls know him by. In the meantime, I'm soaking up the newborn bubble and everything it brings.
---
Related Stories
Fresh initiative helping young people become real world ready
2022 Pregnancy and Babies Guide
11 weird and wonderful facts about babies
---