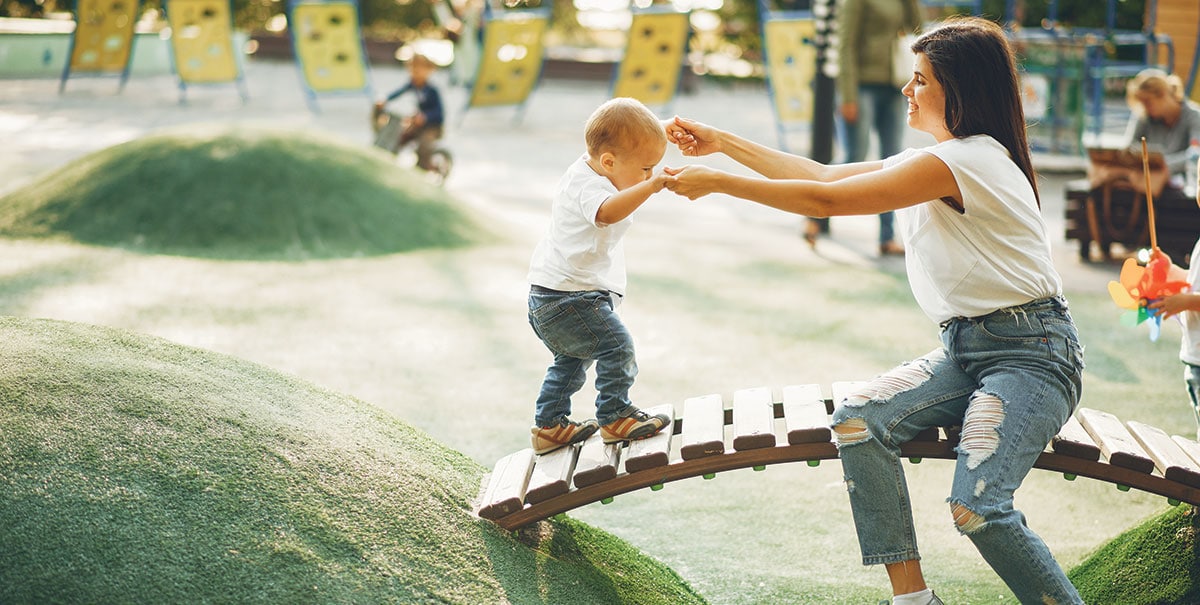 Playgroup: Where friendships are made one nursery rhyme at a time
It's 9.30am on a Monday in a leafy Brisbane suburb. There's a group of a dozen children, varying in age from bubs up to five years, dressed in brightly coloured clothes and singing the Wheels on the Bus in their best (loudest!) voices, while the parents are doing the actions alongsideg them, enjoying the children's laughter. The song ends and attention switches to activities… for some, it's time for building blocks, while others are helping to create artistic masterpieces with cardboard, glue, feathers and glitter!
As the children play, parents can chat and connect, sharing their joy over the newest phrase their toddler is using, or seeking advice on food options for fussy eaters. Conversations go from light-hearted to meaningful, just like parenting! This pocket of busyness is playgroup and anyone with a child under five can join in the fun.
"It's given me a place to go where my little girl can learn as she plays and has fun, and I get to enjoy playtime with her," Fern Warren said.
"At home there are so many distractions … playgroup makes you stop and have quality time with your kids. But mostly for me, it's about supporting other mums or parents going through similar things; laughing about the funny stuff and giving each other ideas on how to manage things. Going to playgroup is honestly such a pleasure each week," she said.
What is Playgroup?
Playgroup is a safe, relaxed environment where ideas, experiences, challenges and 
the joys of parenting can be shared. The playgroup experience helps parents, families and children connect with each other, build friendships and establish a 
sense of community through informal, weekly get-togethers. Most importantly, playgroup supports parents on their 
child's development journey by learning through play.
As a mother of four, Fern Warren has been a playgroup mum from the time her oldest son was 18 months old. Jake is now in his first year of high school and Fern is the facilitator of her local playgroup.
"I started going to playgroup when Jake finally slept through," she said.
"In hindsight, I should have gone sooner because when I told the other mums at playgroup about Jake not sleeping, they were really good about it and suggested loads of things to help. It was great just to have people to connect with and you realise you're not alone. Playgroup is so good for new parents. Honestly, it should be something every new parent gets encouraged to go to from the birth of their child."
Fern started her local playgroup two years ago, when she decided to build a playgroup community for her youngest, Ella. Most playgroups meet once a week, usually with six to eight families, but Fern's group now meets a few times a week and on its busiest days can have over 20 children along with their parents.
"I have seen how going to playgroup has helped my children's overall development and how much of a difference it makes in getting them ready for kindy and school," Fern said.
"But more than that, playgroup is not just about the kids, it's also about the parents being part of a support network and the bigger community. And as you become closer, it also becomes this great catch-up with your best friends each week while the babies are happily playing together. There really aren't many places where you can sit and have a conversation with other parents, enjoy playtime with your kids, and know that the kids are in a good environment."
Benefits of Playgroup
Playgroup Queensland offers numerous playgroups throughout Brisbane and families can join for just $40 a year ($30 concession or free Play Stars* membership for families with a child under 1) and get access to as many playgroup sessions as you like. In addition, membership gives you a community both in-person and online, tips and resources on how to learn through play at home, member-only deals, and a friendship circle that can last a lifetime.
"I didn't have many friends or family in Queensland when Jake was a baby and needed support. I started going to playgroup every week and found I finally had a social life with other parents who became my closest friends," Fern said.
Playgroup helps children:
participate in new experiences
develop and increase their social skills
learn about sharing, cooperating and routines
interact with other families in a safe environment
discover more about their world
and have fun!
Who is Playgroup Queensland?
Playgroup Queensland was founded in 1973 by Queensland families, to connect, engage and share in the early stages of parenthood. The organisation continues to work to empower families to support each other and advance children's development through play.
For over 45 years, the organisation has connected families with young children across diverse cultural, social and economic backgrounds. Playgroup Queensland's ethos of recognising parents as their children's first teachers is embedded in every activity and program implemented by the organisation.
Playgroup helps adults:
meet other local families and develop friendships
relax and talk in a safe environment
share experiences and ideas
play with and nurture their child's development
make connections within their local community
have fun!
Playgroups are accessible and inclusive to all parents and carers; the organisation currently supports in excess of 10,000 families with children aged birth-to-five.
With the topsy-turvy year we've had already, finding a supportive community is vital. Get connected to other families through Playgroup Queensland. Visit 
www.playgroupqld.com.au to become a member and discover playgroups in your local area. To contact the team directly, message through Facebook or freecall 
1800 171 882.
* Play Stars is proudly funded and supported by the Queensland Government
---
RELATED:
Sparking early literacy with creative play
Sensory play and its importance in early learning
The benefits of black and white books for babies
Written by
kidsonthecoast