Once upon a time, going to the zoo was nothing more than a day trip. You'd load the kids in the car, pack yourselves a picnic lunch and head off, roaming around enclosures in search of the animals… You might have even spent more than a few minutes squinting in search of that elusive leopard or tiger. At the end of the day, you'd all pile back in the car sunburnt and sore, falling into bed when you got home.
But getting your animal fix has taken on a new dimension in recent years. More zoos and wildlife sanctuaries are offering punters the chance to spent more than a day exploring. Taronga has accommodation adventures at both its Sydney and Dubbo zoos, you can Roar 'n' Snore at the Melbourne Zoo, and the National Zoo and Aquarium in Canberra offers luxury in the face of danger.
Now, Queensland's Australia Zoo joins the mix.
Years in the making
Inspired by the late Steve Irwin, The Crocodile Hunter Lodge (back then it was to be called 'Camp Crocodile Hunter') was initially planned to open in 2020 to coincide with Australia Zoo's 50th anniversary. Of course, you know what the past couple of years have been like. However, if you have been eagerly waiting for the chance to sleep with the animals, the first of its cabins at The Crocodile Hunter Lodge were up and running in June.
Accommodation at Crocodile Hunter Lodge
There are eight rustic cabins, each with a roomy deck that looks out across the site's bushland surroundings. Enjoy spotting all the wildlife that lives within it! Red kangaroos, emus, echidnas and koalas affected by the summer bushfire season a couple of years ago will all be found.
The cabins are made out of timbers recycled from the zoo's crocodile viewing grandstands, which were built by Steve Irwin himself. Inside, you'll find a queen bed and two singles. There's also a kitchen with a fridge, microwave, cooktop and dishwasher. In the lounge there is a television, but hopefully you'll be too busy watching the animals to turn it on. Guests will indulge in a breakfast pack, which is best enjoyed while dining on the verandah. You'll also receive a welcome gift as a reminder of your stay.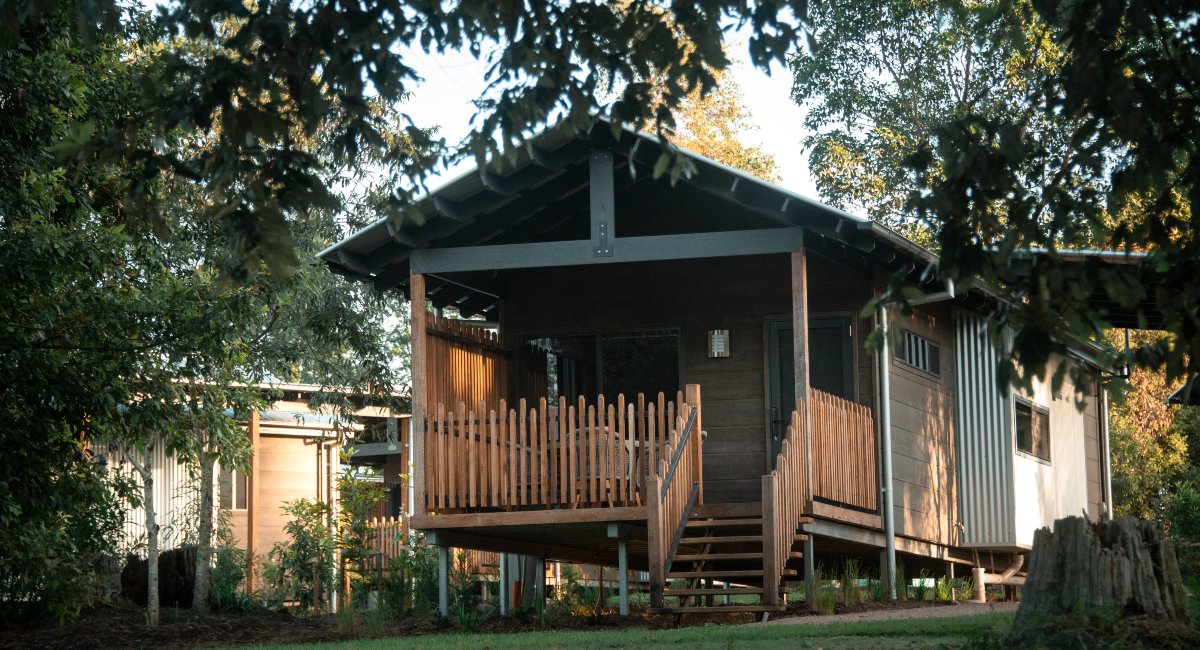 In warmer months, enjoy a dip in The Billabong. It's The Crocodile Hunter Lodge's 25-metre infinity pool that looks out at the native wildlife.
Naturally, you'll have unlimited access to Australia Zoo, which boasts more than 1,200 animals. Stick your head inside the Australia Zoo Wildlife Hospital while you're staying, too.
You might be wondering what all this will cost. We're not going to lie, an overnight visit for two adults doesn't come cheap — prices start at around $949. Yet, this is on par with what you might pay for other luxury zoo experiences.
Restaurant and bar now open
In addition to the cabins, The Crocodile Hunter Lodge has also pulled back the curtain on its Warrior Restaurant & Bar. It's open to Lodge guests and the general public for breakfast, lunch or dinner. There is a private room for group dining bookings.
Perhaps no surprise is that the menu focuses on Australian cuisine and locally sourced ingredients. It also pays homage to our First Nations people and the plants that made up their diets.
We like the look for the grilled Maleny haloumi and corn fritters for breakfast. While the Stockman's Plate featuring Kenilworth cheese, double wood smoked ham, quandong chutney, cornichons, sourdough and pickles has us salivating for lunch. Noosa Valley wine features in the restaurants delectable grilled organic chicken breast and native karkalla adds a unique flavour to the pan fried snapper at dinner.  There's desert too!
View this post on Instagram
For those with smaller appetites, there are bar snacks. Plus, wine and beverages to suit all tastes.
Crocodile Hunter Lodge expands zoo's sustainability and conservation
Upon opening The Crocodile Hunter Lodge, Terri Irwin said "Steve always had a dream that one day, people would not just visit Australia Zoo, but stay overnight, and have the immersive experience of listening to and being around wildlife after dark."
She says it was important for the family to make his dream come true by opening The Crocodile Hunter Lodge. It is surrounded by the zoo's conservation work, giving a home to native wildlife species and continuing Steve Irwin's important legacy.
In fact, the Lodge features more than 3,000 native trees and shrubs.
---
You might also like…
'A matter of months': Australia Zoo to open The Crocodile Hunter Lodge
Novotel Sunshine Coast Resort – the ultimate family staycation