We are always looking for new and interesting things to do with the kids. One that has always been top of the list has been the turtle encounter at Mon Repos.
Ever since having a pet terrapin as a child, and now living in Queensland and seeing first-hand the plight of these incredible creatures, helping at a turtle hatching has been a massive life goal for me. And so, as soon as my kids were old enough to behave impeccably at something so remarkable, it took top spot on my to-do list. 
Mon Repos Turtle Encounter with kids
Located a four-hour drive north of the Sunshine Coast and just 10 minutes from Bundaberg in the little seaside town of Bargara, Mon Repos is home to most significant loggerhead turtle nesting population in the South Pacific region.
The Mon Repos Turtle Centre itself is a great place for the kids to explore and learn more about the turtles that nest along the beach, and you can wander through this before or after your turtle encounter.
The Turtle Encounter is in the evening. Kids need to be at least 5 years old – there's walking on the beach in the dark and you need to stay quiet, be patient, and follow instructions – so it's not suitable for babies or toddlers. Don't forget your mozzie spray, there's plenty of biters around at the time you set off. 
Led by a volunteer Park Ranger, you walk carefully in a group along the beach, until you reach a nest. Every nest along this beach is flagged; the rangers know absolutely everything about what's happening along this stretch of sand. Ranger John was wonderful, sharing plenty of fun facts about the turtles as we made our way to the nesting sites.
The turtle encounter is very well managed to ensure the turtle's safety. You can't touch the hatchlings, take photos, or shine any light (phones must be off and in your pocket). So you forget all about trying to record the moment, and instead just take it all in.
Seeing hundreds of tiny turtles erupting from the sand is on absolutely magical experience. Hoping with all your heart that when they reach the ocean, every single female will be back one day to lay her own eggs and keep these incredible creatures going.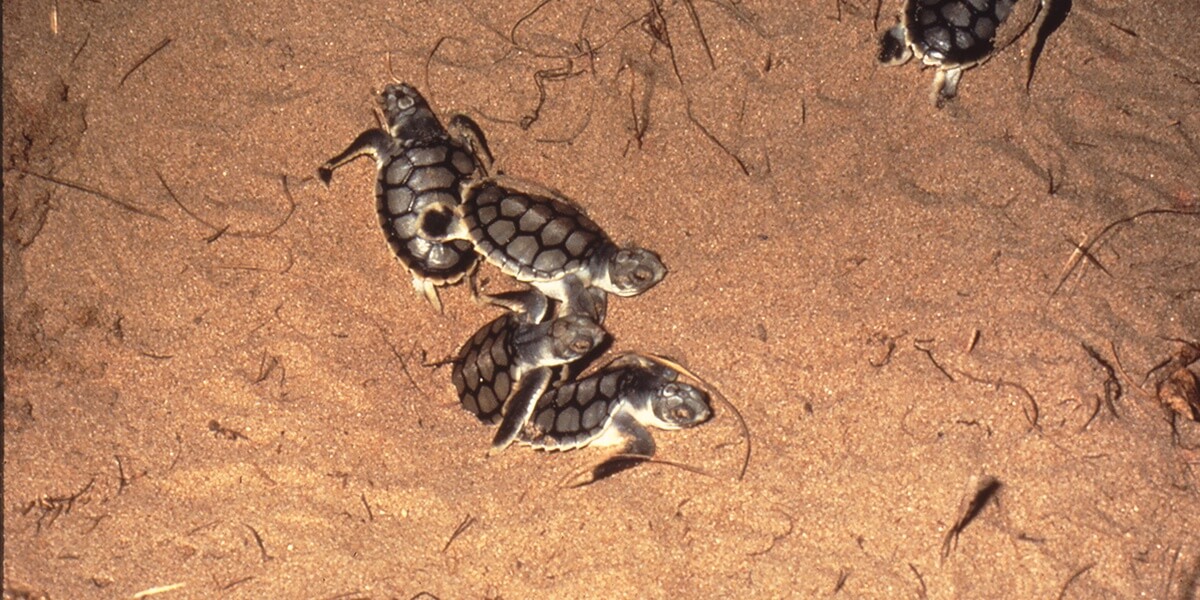 The turtle encounter at Mon Repos lasts around 1.5 – 2 hours. Turtle season is November to March: in November and December you will see turtles coming up to lay eggs; January to March is when the hatchlings appear.
It is currently run in small groups of 20 (COVID has reduced the group sizes from 60 to 20), so you need to book tickets early to guarantee your place. 
Where to stay
There's plenty of accommodation options in Bangara. Kelly's Beach Resort has a Turtle Package, which includes a family ticket for the Mon Repos Turtle Encounter and two night's stay in one of their Eco Villas. It was a super easy way to lock in the encounter tickets and accomodation in one go! And with individual eco villas dotted amidst a tranquil rainforest setting, Kelly's Beach Resort has everything you need for an affordable family holiday.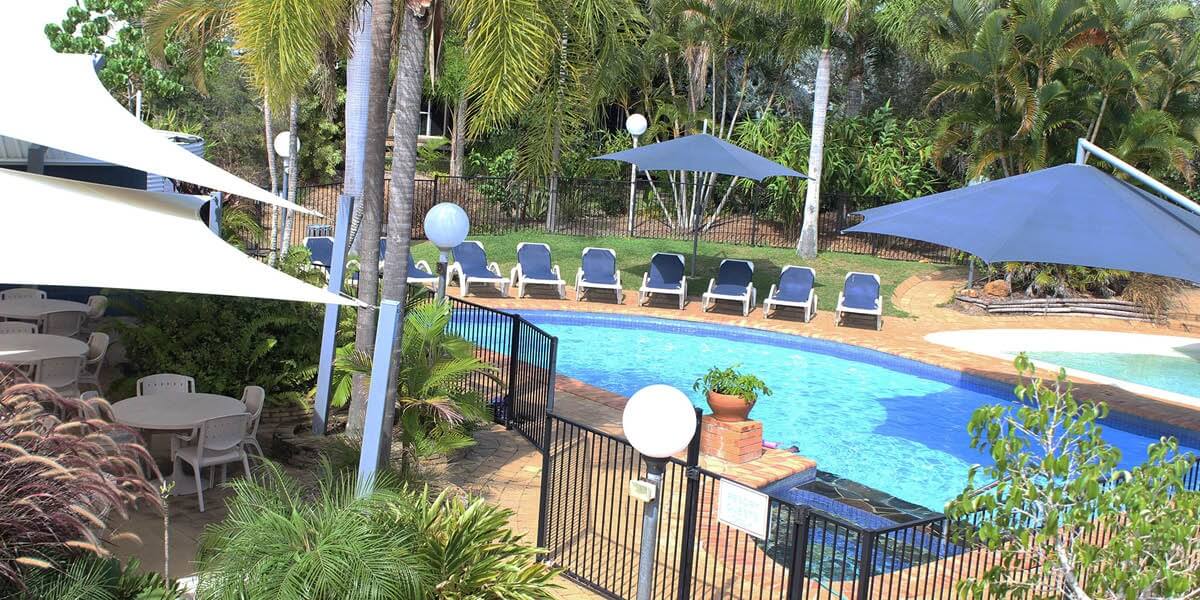 Inside the villa you'll find a full kitchen, bedrooms, bathroom, lounge area with TV. And at the front is a lovely deck from which to watch the water dragons bask in the sun. (Warning, they are very tame and will go for a stroll through your villa, if you leave the screen door open!)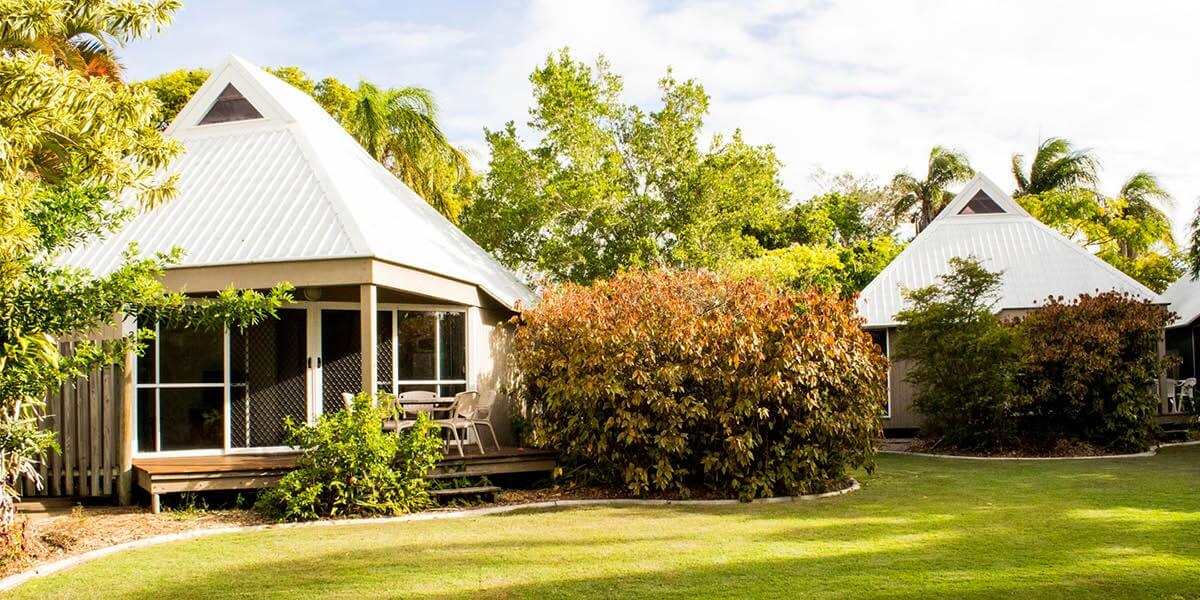 Our villa had the kids' beds up a ladder in a loft mezzanine. They LOVED this, but it might not be suitable for younger children who need help in the night. However, the sofa in the lounge doubles as a big comfy pull out bed too, so there are plenty of options for every circumstance. 
With two swimming pools, a games room, tennis court and spa, Kelly's Beach Resort is a perfect place for a Queensland family holiday. There is space to ride scooters, a little shop with ice creams and snacks, and a really relaxed vibe throughout.
The resort has on-site restaurant and bar, where you can eat in or utilise the takeaway service. The food was amazing, with a comprehensive kids menu and impressive adult menu, and the takeaway is a genius idea for families. All in all, Kelly's Beach Resort is simple, yet offers everything a family could want. The restaurant can get busy with locals on the weekend (yep, it's that good!), so book a table if you want to dine in. 

Things to do in Wide Bay with kids
As incredible as the turtle encounter is, there are many more things to do with kids in Wide Bay. 
Just a 10-minute drive south from Bargara is Elliott Heads, a stunning beach and river mouth with looooooads of space to run and play. The calmer waters at the river are perfect for little kids to splash in. And at the river mouth there are some awesome rock pools with plenty to explore, so bring your snorkel or swim goggles.
On the way back to Bargara, stop by Tinaberries for the most amazing ice cream. This working farm has a bunch of giant games to play, such as Jenga, Connect 4 and Tic Tac Toe, in a beautiful garden whilst you enjoy a deeeeeelicious mango ice cream. It was a lovely way to spend an hour or so, and the kids had a blast playing all the giant games.  
Things to do in Bundaberg with kids
Just 10 minutes from Bargara, Bundaberg is the nearest main town. Famous for its ginger beer our first stop had to be the Bundaberg Barrel. With hands-on experiences, along with the story of how ginger beer is made, and the chance to taste a variety of flavoured ginger beers, this kid-friendly museum was perfect for little ones. You also get to make your own 6-pack to take home. Yum!
But no visit to Bundaberg would be complete without a visit to the Bundaberg Rum Distillery.
Despite it being about rum, the tour was surprisingly kid-friendly. It takes you around the factory to learn about how the rum is made, including tasting their molasses and tasting a couple of top-shelf rums at the end (there were soft drinks and ginger beer for the under 18s).
There is also a nice museum to find out about the history of Bundaberg Rum and the story behind the polar bear. 
If you are looking for a place for the little ones to burn off some steam in Bundaberg, head over to Bundaberg Botanic Gardens. Covering over 27 hectares of land and featuring a variety of over 10,000 trees and shrubs, it's a gorgeous slice of nature and outdoor play. 
Kids will love the nature-themed adventure playground that has 17 play structures including swings, a carousel, two large play forts and a smaller fort suited to toddlers. There are obstacles for the kids to navigate, a suspended log walk and climbing zone which features a challenging range of net and timber-based climbing structures. In addition to an all-abilities swing and carousel, one of the large play forts has wheelchair accessibility.
There is also a lovely walking track around the lake, where you can spot birds, turtles, ducks and plenty of wildlife on the way. 
If you would like a little slice of local history, Hinkler Hall of Aviation, Fairymead House Sugar History Museum and the Bundaberg and District Historical Museum are also located within Bundaberg Botanic Gardens.
With so much to do and within an easy drive from home, Wide Bay and Bundaberg is certainly an area of Queensland we can't wait to visit again!
---
Related Stories
Family-friendly weekends at Tangalooma Island Resort
Heron Island: A turtle-y awesome eco-adventure for families
A family review of Lady Elliot Island

---