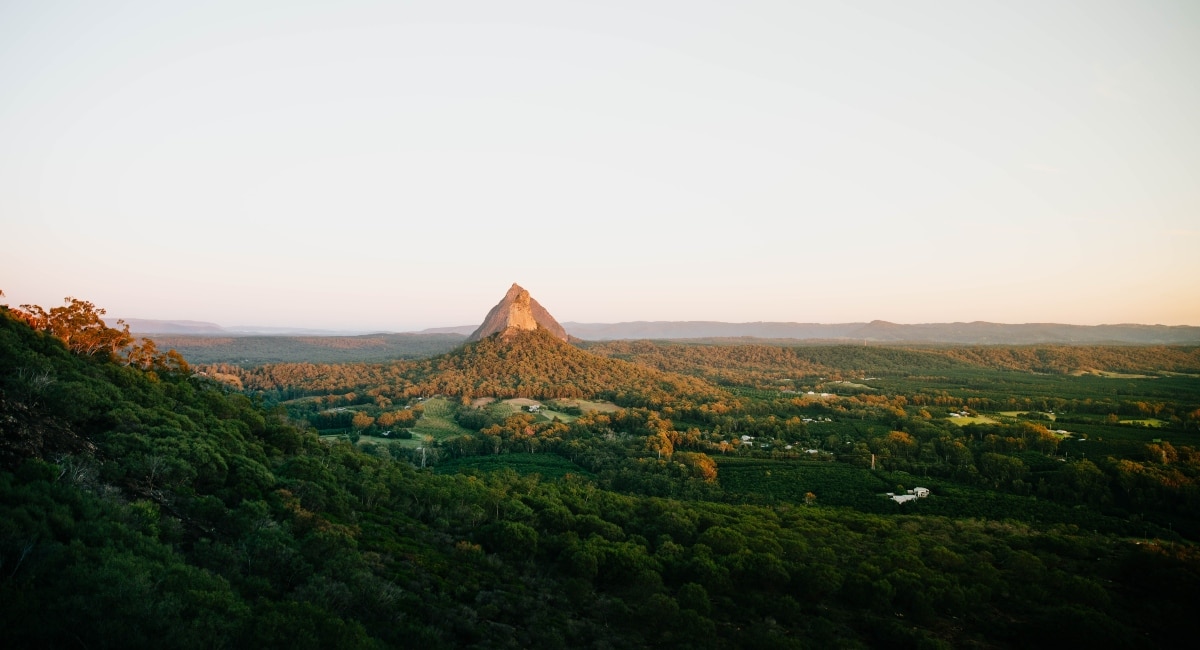 Outdoor
5 family friendly natural attractions on the Sunshine Coast
The Sunshine Coast is a haven for natural wonders and outdoor adventures. From the coast to the hinterland, making memories as a family is easy!
Here you'll find five of our favourite natural attractions the region has to offer.
Buderim Forest Park and Falls
If you're looking for an easy bushwalk, Buderim Forest Park and Buderim Falls should be top of your list. Buderim Forest Park is a haven of tranquillity. It's hard to believe you are located just minutes from the beaches and the village of Buderim when you're surrounded by sub-tropical rainforest and tranquil rockpools.
Within the 45 hectares of the Buderim Forest Park you'll find towering trees, strangler figs, ferns and the melodious sounds of whipbirds, catbirds and other bird life. Wandering along the bush pathways is easy, even for little legs. However, take the time to listen to the creek babbling for a truly relaxing experience.
Buderim Falls is a wonderful place to visit at any time of year. It does, however, look particularly spectacular after rainfall when waters cascade down the rockface into the waterhole below.
Buderim Falls is the perfect location to enjoy a picnic, and is an ideal day trip for families. There are barbecue facilities, picnic tables and toilets. Parking is available at both Lindsay Road and Quorn Close entrances.
Gardners Falls
Gardners Falls is a hidden gem in the Sunshine Coast Hinterland. You'll find this refreshing freshwater natural wonder off Highway 23 near Maleny.
You can leave your vehicle parked on the banks of the Obi Obi Creek and take the short, level walk down to the falls. Along the way you'll pass a number of shallow rock pools, which are ideal for smaller kids who want to have a splash.
The pools increase in size as you continue downstream. The largest pool is under the falls.
Bounded by grassy banks and backed by the native forest, Gardners Falls make a peaceful spot for a picnic.
Kondalilla Falls Circuit Track
Kondalilla National Park is quite possibly one the most stunning locations the Sunshine Coast has to offer. The National Park is roughly 1.5 hours north of Brisbane, near the picturesque village of Montville. Get a change of scene from the beach and enjoy the idyllic panoramic views.
Via the Kondalilla Falls Circuit, make your way to the popular Kondalilla Falls, a cascading waterfall and family friendly rock pool nestled deep in the Sunshine Coast Hinterland rainforest.
The Circuit Track is 4.7 kilometres and will take you up to 3 hours to complete. Be ready to climb the 300 flights of stairs and get snapping on your camera. The abundance of wildlife (more than 100 species of birds alone!) makes the strenuous walk worth it.
A family-favourite, the 1.7km Picnic Creek Circuit is the shortest of the walks. It's relatively easy and suitable for children. Give yourself around 45 minutes to complete it. That said, it's not a track that is suitable for prams or strollers.
There is also conveniently a picnic area and toilets on hand.
Mary Cairncross Reserve
Overlooking the Glasshouse Mountains is the Mary Cairncross Scenic Reserve. These 55 hectares of sub-tropical rainforest are diverse in plant and animal life. There's a Rainforest Discovery Centre with multi-sensory and interactive educational displays, as well as a playground for children aged up to 12 years.
Rainforest walks are open from 7am to 6pm every day. Gaze at the diverse array of greenery from the pram-friendly tracks — between 1.3km and 1.7km — or take to the lawn with a picnic.
Tin Can Bay Wildflower Walk
Tin Can Bay is blessed with a collection of spectacular wildflower species. The Wildflower Walk is an especially impressive activity to enjoy in spring, but can be enjoyed throughout the year. These beautiful indigenous wildflowers and dozens of other native flora burst to life in their natural environment.
Aside from the flowers, you'll also encounter many stunning bird species at the wetlands.
The Wildflower Walk is just one of several exciting things you can do while in the Tin Can Bay area. It's one of only two places in Queensland where you can hand feed a rare Indo-Pacific humpback dolphin. Under the supervision of Barnacles Dolphin Centre, you are able to stand in the water and get up close and personal with these gentle souls.
The location of this coastal town also makes water activities easy. You can go sailing, kayaking and fishing.
What natural attractions have you visited?
---
You might also like…
Great bushwalks for kids on the Sunshine Coast
Top 5 Sunshine Coast Coastal Pathway walks and rides for families
Written by
Calista Bruschi
When she's not moulding Play-Doh or dancing in the living room with her children, Calista Bruschi is an editor and writer. She has oodles of experience working on newspapers, magazines and websites. Calista likes to organise and be organised. She loves being a mum, Italian food, wine, sport and stationery. She hasn't sleep a full night in more than five years and is powered by coffee.