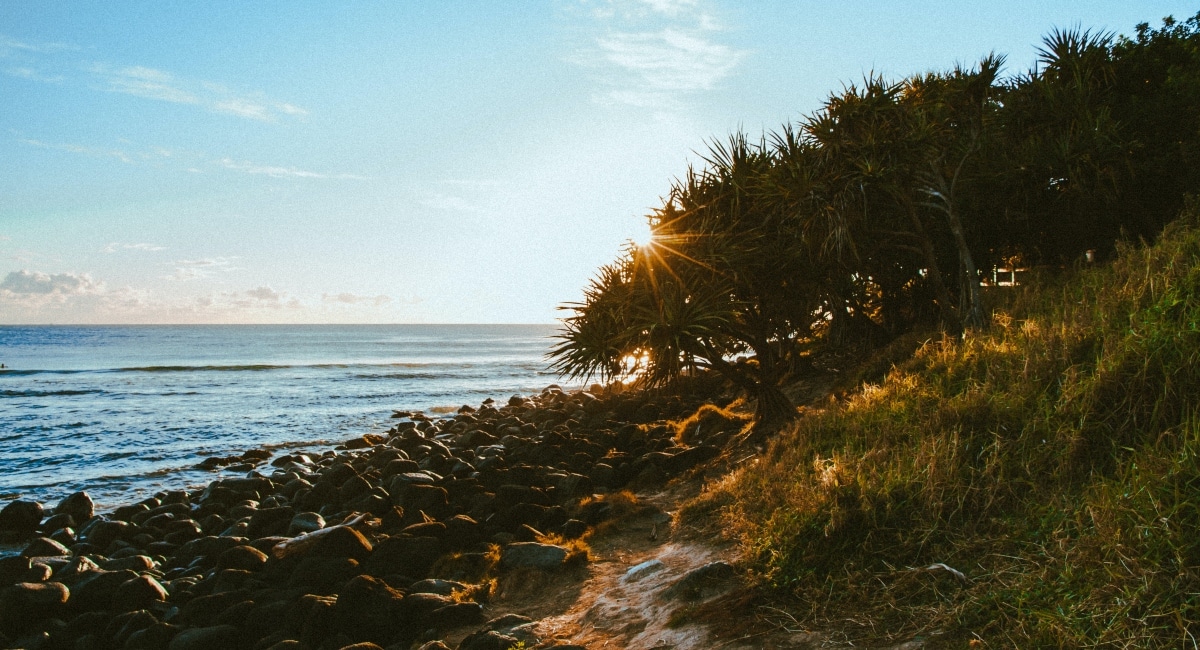 Outdoor
5 must-see natural attractions on the Gold Coast for the whole family
With roughly 300 days of sunshine each year, the weather provides few excuses not to get out and enjoy the natural attractions the Gold Coast has to offer. Beyond the golden beaches, you'll find swimming holes, hiking and walking trails and up-close encounters with wildlife. When it comes to nature, the Gold Coast region has an abundance!
If you've been visiting the Gold Coast for a while, you'll know that with each visit there is something new to explore. We've pulled together five natural attractions that should be added to your travel itinerary the next time you're in the region.
But first, the beaches
Let's be honest, a lot of the GC's visitors are wanting to enjoy the local beaches. It's hard to go wrong; they're all alluring. Surfers Paradise is obviously the poster child and most well-known of the beaches at the Gold Coast, but some of our favourite spots are ideal for the whole family. They include:
Tallebudgera Creek. A sparkling creek framed by Burleigh Heads on one side and Palm Beach on the other. It's popular with families (many of whom have been enjoying the waters there for generations) because you're less likely to be rolled by a wave as your paddle. The waters are regarded for being calm, so swimmers, picnickers, kayakers and those who don't mind throwing in a line are well-catered for here.
Broadbeach. Roughly 10 minutes south of Surfers Paradise, this beach has pristine white sand, lifeguard-patrolled beaches and an all-ability playground and park. It's a hotspot for families because of its relaxed atmosphere and close proximity to stylish accommodation, shopping, eateries and events.
Currumbin. You'll experience small-town charm when you visit Currumbin. Currumbin Beach is enclosed by Elephant Rock and Currumbin Rock, making for a naturally discrete beach. The beach is patrolled year-round and swimming is pretty gentle. There are rock pools are either end of the beach for kids to play in.
Burleigh Head National Park
At Burleigh Head is the national park; a wild, natural headland in the heart of the Gold Coast. Here you'll find walks along the rocky foreshore and through rainforest, including the family friendly Oceanview Track. The 2.4-kilometre track goes from Tallebudgera Creek to the southern edge of the Burleigh Head township. It's a good one for little legs, longer legs and those pushing prams and strollers. When you need a rest, stop at The Cove viewing platform. You can return by the same path or try the shady Rainforest circuit.
Kids will get a thrill out of the six-sided basalt columns they can see along the path. If you've seen Moana you'll know these are similar to the ones Moana and Maui climbed to get to the entrance of the Realm of Monsters.
Enjoy the council picnic area and toilets at the northern entrance. Additional toilets can be found in the carpark near the southern entrance.
View this post on Instagram
David Fleay Wildlife Park
This heritage-listed wildlife park is located in the heart of Burleigh Heads. It's a small park, allowing visitors to stroll through tranquil surroundings and meet some of the state's most threatened and unique animal species. There's a nocturnal house, expansive naturalistic enclosures and wildlife presentations running all day. Queensland Parks and Wildlife Service Rangers care for the park's wildlife and are always up for a chat about the conservation work that goes on.
It's a fascinating and educational, value-for-money day out for families. There is ample parking and the park has a café and toilets on-site.
View this post on Instagram
Nerang National Park
This network of shared trails at Nerang National Park are well-worth exploring. If you're a family who loves to bike ride and get off the beaten track. Plan your own scenic walk or saddle up (that's inclusive for both horse riders and mountain bikers) and hit the trails. The three mountain biking trails were designed specifically for the 2018 Commonwealth Games.
There aren't any toilet facilities here, so be sure to go before you leave home.
View this post on Instagram
Pine Ridge Conservation Park
While dune vegetation has all but disappeared on the Gold Coast, you'll find the last remaining patch of wallum banksia stands at the Pine Ridge Conservation Park. You'll see banksia woodland, heath and paperbark swamp forests as you stroll or cycle through the park. The boundary track is sealed and suitable for prams and wheelchairs.
Pine Ridge is culturally important to the Kombumerri-Ngarangwal people. The park has varied plant life, including tall bloodwood trees; wildflowers like banksia, boronia and wallum wedge pea; and abundant wildlife, such as lace monitors, koalas, bearded dragons, sacred kingfishers and variegated fairy-wrens.
Relax over a lazy picnic after you've explored, making this a special day out.
View this post on Instagram
Lamington National Park
Many have said Lamington National Park is a good place to start if you're new to hiking. There are more than 160km of walking and hiking tracks ranging in difficulty from Class 1 to Class 5. Choose a path that suits your skill level and your appetite for adventure.
Newbies should try the Centenary Track, which takes roughly 30 minutes and is fully paved. Leaving from the Green Mountains carpark, it connects with the Python Rock track if you want to go a bit further. (It's about 4.9km, so allow yourself at least 1.5-2 hours.) The Python Rock track is a cool rainforest were enormous curved buttress roots rise from the ground. You'll marvel at the ancient trees towering overhead.
If you like hearing bird song, you'll be overwhelmed at what's on offer in the national park. You'll have to keep your eyes peeled though, if you want to see them.
Also within Lamington National Park are 500-odd waterfalls and almost as many lookouts. Breathe in the beauty of this place!
View this post on Instagram
Have you visited any of the natural attractions on offer at the Gold Coast?
---
You might also like…
6 Hidden gems for families on the Gold Coast
The best bushwalks on the Gold Coast for families
Written by
Calista Bruschi
When she's not moulding Play-Doh or dancing in the living room with her children, Calista Bruschi is an editor and writer. She has oodles of experience working on newspapers, magazines and websites. Calista likes to organise and be organised. She loves being a mum, Italian food, wine, sport and stationery. She hasn't sleep a full night in more than five years and is powered by coffee.