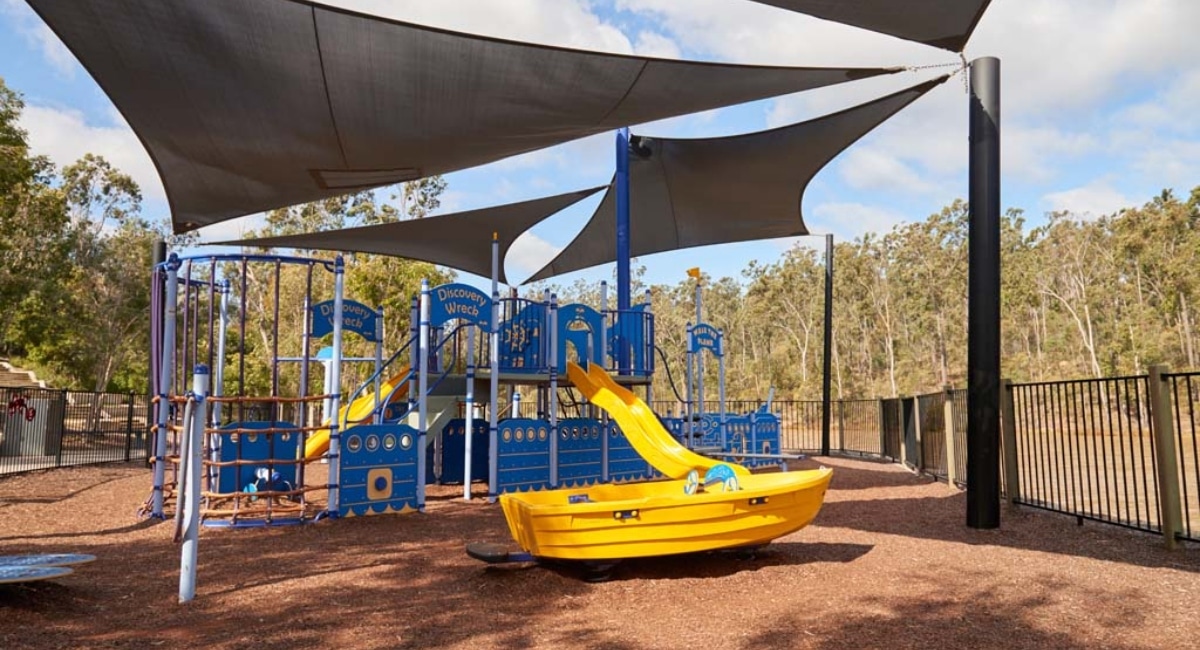 Outdoor
7 Pirate-themed playgrounds in and around Brisbane
Themed playgrounds are ideal for kids to enjoy imaginative and active play all at once. If you have a pirate-obsessed child at home, there are numerous playgrounds in an around Brisbane to explore.
All Hand Hoy! Weigh anchor and hoist the Mizzen. These pirate-themed playgrounds will have your lads and lassies calling 'Yo! Ho Ho!' in no time.
Cleveland Point Park, Cleveland Point
A picturesque park surrounded by sea and adjacent to the historic light house, Cleveland Point Park is a marine-themed play area for young kids. You'll find a turtle sculpture for kids to climb on, a row boat and pirate ship with slippery slides. There is also a mini climbing frame, hurdy gurdy and swings.
Parents will like the abundance of seating, including covered picnic areas, and public amenities. There are also gas barbecues, just in case you want to make a day of it.
A short walk from the park is the Lighthouse Cafe, which serves breakfast on weekends and lunch every day. You'll also find a fish and chipper and gelati kiosk.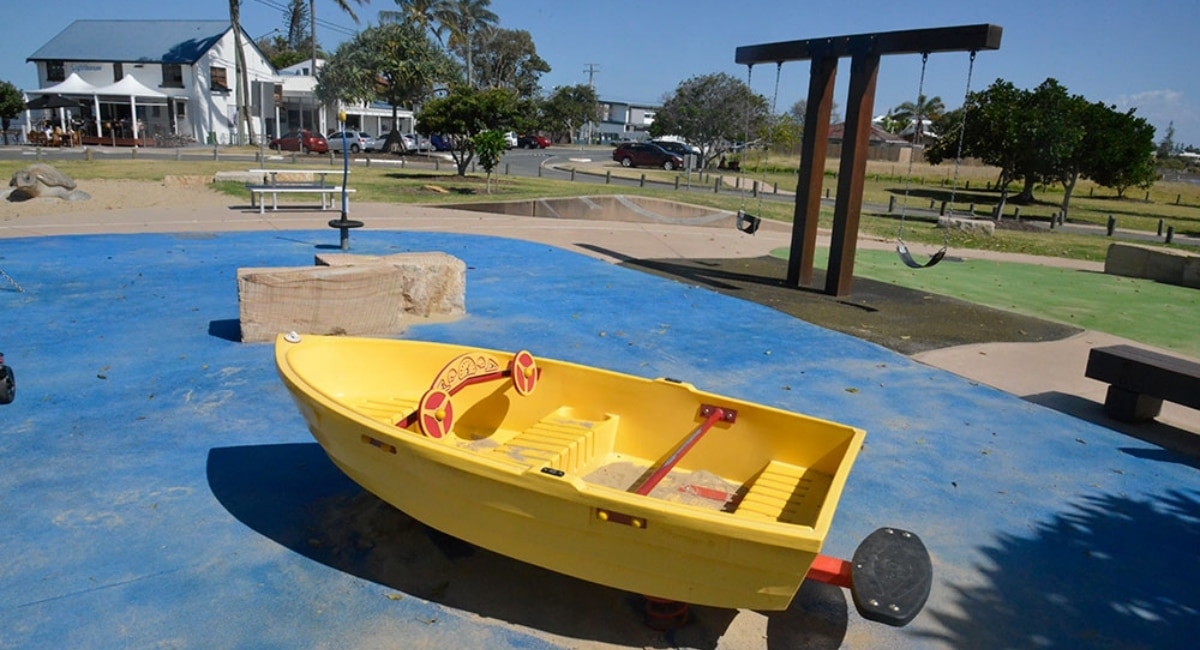 Pirate Ship Park, Flagstone
Ahoy! An adventure playground for serious pirate lovers can be found at Flagstone, roughly 45 minutes from the Brisbane CBD via the M3. Here you'll find the 18-metre long pirate ship Intrepid, the biggest playground in Australia. Best suited for kids of preschool and primary school age, they will love exploring the range of play activities on both upper and lower decks.
Use the stairs and climbing nets to get onboard. Gaze through binoculars and steer the ship from port to port in search of treasure. There are cannons in the stern and bow of the ship, perfect for when battle occurs. On the lower decks there are viewing ports, a treasure chest (to be heavily guarded), sleeping hammocks and play desks. You'll also find a double plastic slippery slide and a super-fast metal slide for those who dare.
If it all becomes overwhelming, kids can take a break on the surrounding green areas. Parents will need to prepare themselves for involvement too, especially if toddlers want to get involved in all the swashbuckling action.
Because the playground is situated in a residential area, parking is limited and there are no public amenities. The playground is also unfenced and only partially shaded.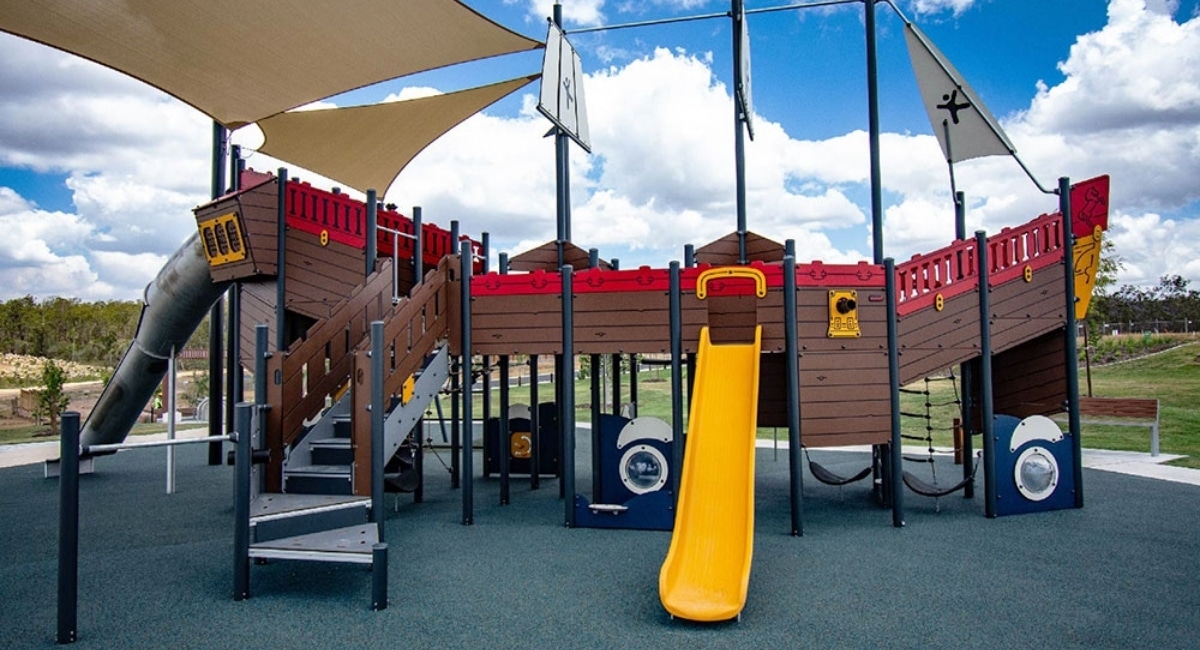 Simpsons Playground, Graceville
Bordering Oxley Creek and the Brisbane River is the beautifully secluded Simpsons Playground. The nautical-themed play equipment is perfect for Old Salts and Landlubbers alike. Features include slippery slides, swings, climbing ladders and spring seesaws.
Parents will love that this playground has so much shade. There are both shade structures and trees. Bench seats are located within the play area, so you can stay close by while your children get lost in their imagination playing.
The park also has a picnic shelter with shade structure. There are also several other unsheltered tables around the park. It's an ideal spot for a picnic too, with plenty of grassy space to set down a rug. There are also public amenities.
The playground is unfenced, and given its proximity to the Brisbane River, we recommend parents and carers remain alert while children are playing.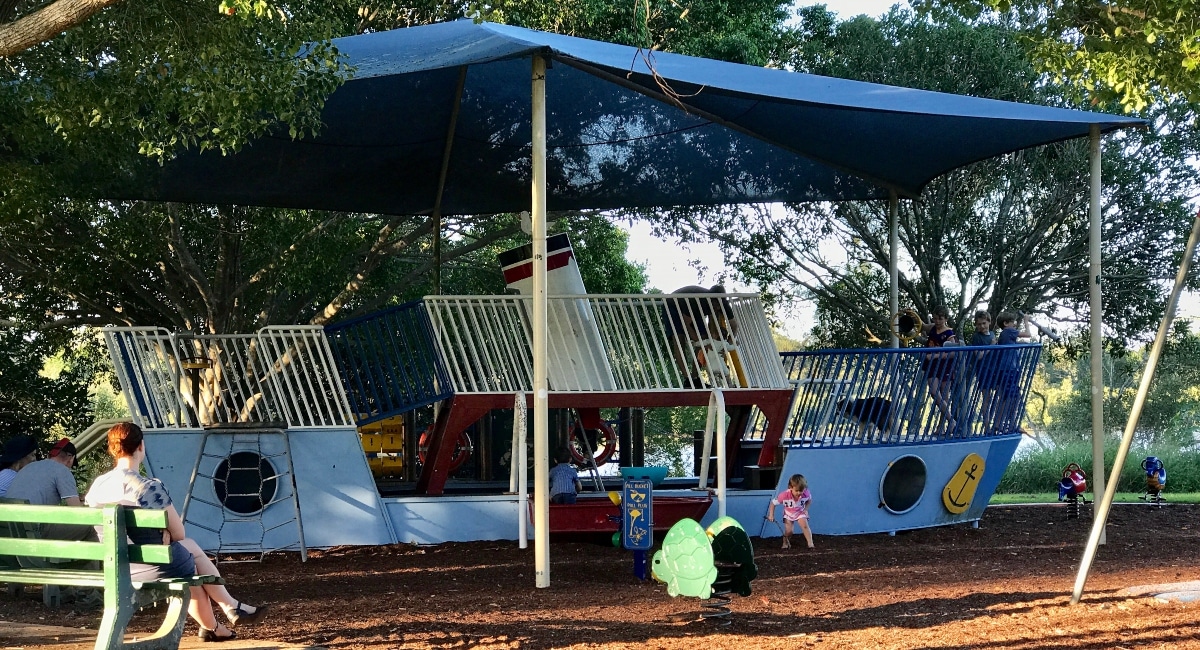 Pirate Park, Scarborough
Pirate Park is a favourite spot for toddlers, teens and parents alike. You'll find it set on absolute beach frontages near the Scarborough Village shopping strip. The playground is fully fenced and easily accessible for prams and wheelchairs. You'll find traditional play equipment for the kids, as well as the pirate-themed attractions. There are paved concrete footpaths that give way to sand and tan bark at the edges of the playground. The swings have rubber fall underneath them.
Benches and tables are located within the playground, so parents need not worry too much about their little ones running around. Outside of the playground are shelters with electric barbecues. These are ideal for when you have a gathering (say, a pirate-themed birthday party). Get in quick though…
At the opposite end of the playground are shady trees and seating. There is plenty of climbing to be done here, for both little and bigger kids.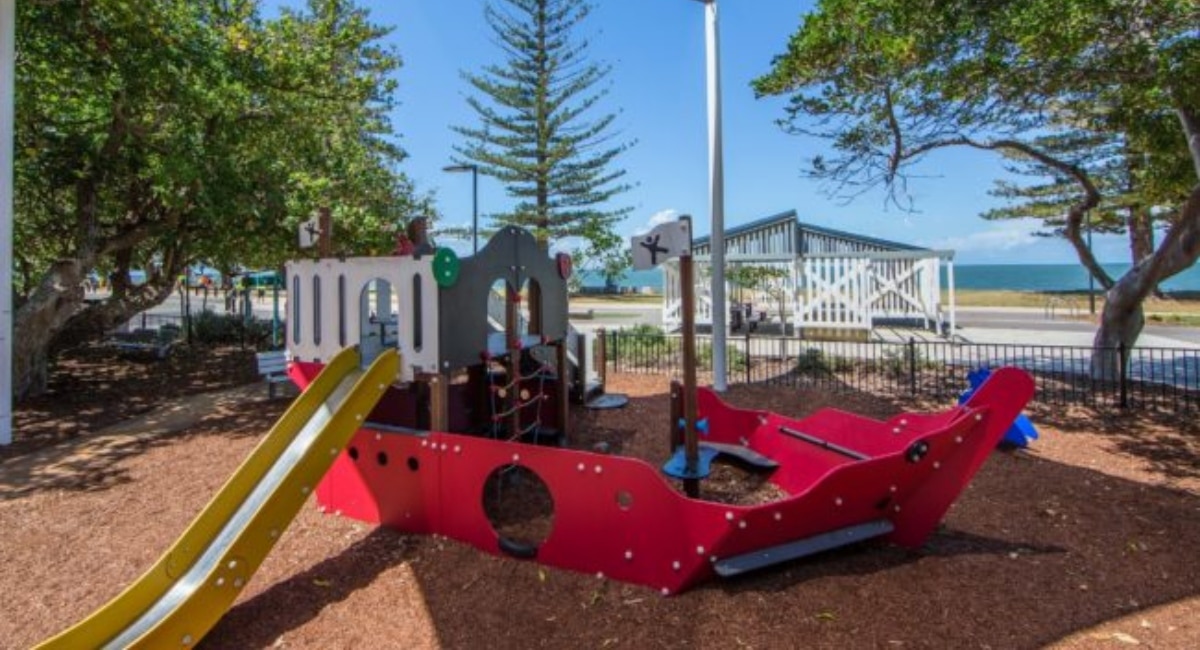 Discovery Park, Springfield Lakes
Roughly 35 minutes from the Brisbane CBD is Discovery Park. This fantastic nautical-themed playground is a great place for kids to unleash their imagination. The park itself is situated right on the edge of a beautiful lake. The playground is full-fenced, so parents can breathe a little easier knowing their little pirate isn't going to wander too far away.
The playground features a giant ship with navigation centre. There are climbing ropes, slippery slides and, best of all, a plank to walk. A bright yellow speed boat can also be found inside the playground. Kids will love using it as they imagine themselves making a fast getaway, or leisurely putting around a far-off island. Swings and a swinging hammock add to the feeling of living a life at sea.
Stay a while and enjoy a barbecue or picnic overlooking the water. There are shade sails and mature trees providing cover from the sun. You'll also find drinking fountains and all-access public amenities on-site.
Once kids have finished plundering, take them for a stroll or ride along the lakeside pathways. There is plenty to explore!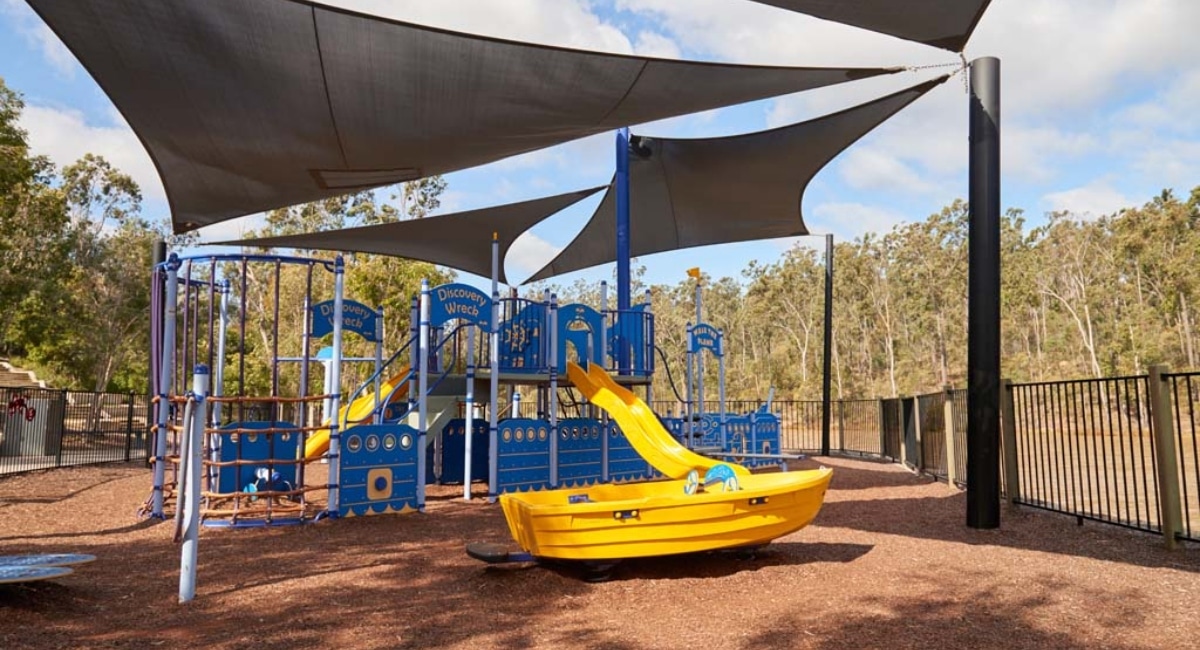 Tygum Park, Waterford West
A drawcard for pirate-made kids is Tygum Park. It's a vast area with a nautical-themed playground. The main playground area has a pirate ship complete with sails and flags. There is also a six-metre-high climbing fort that resembles a ship's crow's nest lookout.
The park overlooks a large lagoon. The playground is unfenced, so parents and carers will need to keep an eye on the kids while they play.
In addition to the pirate-themed playground, Tygum Park also has skate facilities, a half basketball court, covered picnic tables and electric barbecues. Use the pathways to explore further afield on foot, scooter or bike.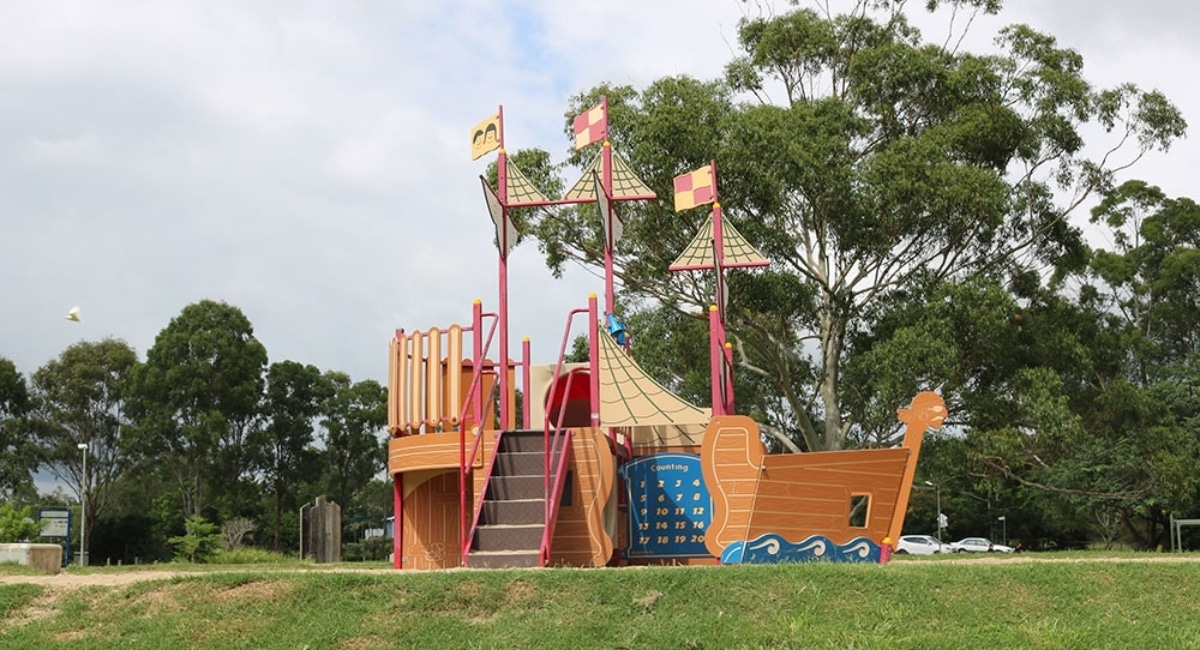 George Clayton Park, Wynnum
Another name this delightful park goes by is Lighthouse Park because there's a red lighthouse play tower located at one end. The playground is fully fenced and has plenty of shady areas. The equipment — puzzle board, sea creature-themed fortress, slippery slides and climbing frames — are mostly for lads and lassies. There is a fantastic sand play apparatus and a hurdy gurdy.
More experienced pirates will have fun, too. Especially climbing the 4-metre high lighthouse!
There are also barbecues and picnic facilities, as well as public amenities.
While you're in the area, head 2 minutes up the road to Bayside Park at Manly. There is a small, sandy playground with a HMAS Manly ship for pretend play. It has a double slippery slide, as well as rockers and a set of swings. Older children can climb the large pyramid-style climbing net and look for Buccaneers as they approach.
In addition to the playground, the area boasts a bike path running alongside the bay, which is perfect for taking in the view and getting some exercise.
There are also sheltered tables, barbecues and lots of space for those who want to lay out a picnic. Plus, public amenities.
Do you have a favourite pirate-themed park in or around Brisbane? Tell us about it.
---
You might also like…
The best indoor play centres in and around Brisbane
Written by
Calista Bruschi
When she's not moulding Play-Doh or dancing in the living room with her children, Calista Bruschi is an editor and writer. She has oodles of experience working on newspapers, magazines and websites. Calista likes to organise and be organised. She loves being a mum, Italian food, wine, sport and stationery. She hasn't sleep a full night in more than five years and is powered by coffee.