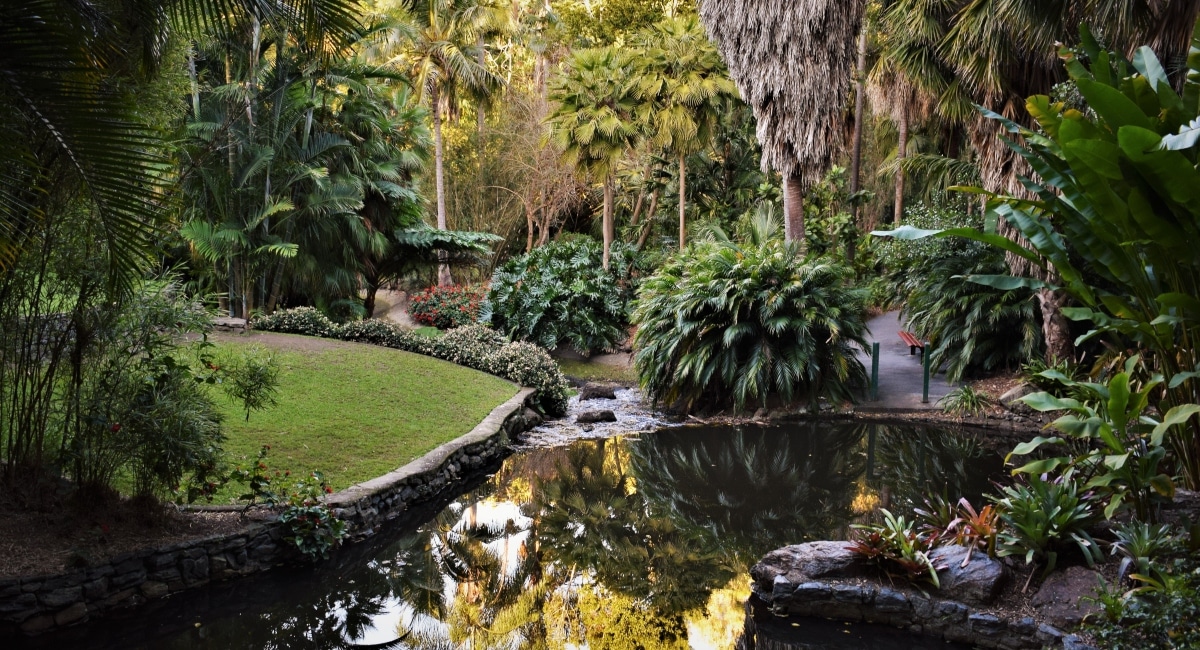 Outdoor
The top 5 natural attractions in Brisbane and surrounds
There's no denying, when it comes to natural attractions Australians are spoilt for choice. In south-east Queensland, Brisbane has national parks and rainforests, surrounding islands, sanctuaries and zoos. Away from the city centre and among the trees, creeks and oceans, you'll find a diverse range of native wildlife. An assortment of birds, echidnas, koalas, local marine animals, wallabies … even wombats and platypuses call this area home.
Below is a list of some of the best natural attractions you can find in and around Brisbane. Get you and the kids closer to nature and wildlife, without having to venture too far from the city.
Mount Coot-tha Forest
Mount Coot-tha is a favourite destination for locals and visitors alike. It's located just 5 kilometres from the Brisbane CBD and is the city's largest conservation reserve. There are more than 1,500 hectares of open eucalypt forest. Day or night, it offers spectacular views.
At the top of Mount Coot-tha is the Brisbane Lookout, but there are plenty of other natural attractions to be enjoyed. The return climb from the bottom of Mount Coot-tha to the Lookout takes you about 1 hour. Other popular walking tracks — ranging in distance from 650m to 2.8km — include Eugenia Circuit, Ghost Hole Track, Mahogany Trail, Simpsons Falls Track and Summit Track. You can find the trail map here.
Mount Coot-tha Forest has nine picnic areas. Each has facilities that include picnic tables, barbecues, toilets, water taps and access to the walking tracks.
A short drive down the hill is the Brisbane Botanic Gardens Mount Coot-tha. This is Queensland's premier sub-tropical botanic gardens. Pop into the Brisbane Planetarium, which is next door to the gardens.
Chermside Hills Reserves
There's more to Chermside than the Westfield shopping centre. Escape to Chermside Hills Reserves. It's a network of three natural areas in Chermside West and McDowall that include:
Raven Street Reserve
Milne Hill Reserve
Chermside Hills Reserve
The reserves are mostly open eucalypt forest with more than 200 native plant species including grass trees, banksias, stringybarks, bloodwoods and spotted gums. You'll likely stumble upon wallabies, a diverse range of birds (more than 115 species have been recorded in the area), blue-tongue lizards, goannas, water dragons, skinks and geckoes. In the creeks, be on the lookout for turtles, fish, striped marsh frogs and scarlet pobblebonk frogs.
It's a surprisingly diverse walk in the heart of the 'burbs, with the ability to totally lose oneself from the hectic pace of modern life, the sounds of traffic, the visual pollution of human settlement. Allow up to 2 hours to tackle the track. There are picnic and barbecue facilities.
Kangaroo Point Cliffs
Park your car at the top of the Kangaroo Point Cliffs and walk down its infamous stairs to the base. Then, head off to the City Botanic Gardens via the Story Bridge.
Follow the winding boardwalk along the riverfront towards the Thornton Street Ferry Terminal. Then, cross the road and head over the Story Bridge. Cross the bridge and continue wandering the riverfront path until you reach the City Botanic Gardens. The path is perfectly pram-friendly, but little legs are going to need a break. If you want, skip the Story Bridge and take the free red City Hopper.
Around the Kangaroo Point Cliffs you can watch adventurers abseil and rock climb. Pack a picnic or food for a barbecue, as there's space to relax by the river.
Karawatha Forest
On the southern edge of Brisbane is Karawatha Forest. It's one of the city's largest areas of remnant bushland and contains a variety of habitats, including eucalypt, heathland, wetlands and freshwater lagoons.
The reserve is home to more than 100 bird species. But you'll also find rare species here too, including the greater glider, koalas and the green-thighed frog.
If plants are your thing, there are more than 320 species. Keep an eye out for Bailey's stringybark and Planchon's stringybark, which are not commonly found in Brisbane.
The architecturally designed Karawatha Forest Discovery Centre is a popular spot for families (and Queensland's first nature play space). The creative, educational and play space allows children to explore, discover and be inspired by the area. Pack a picnic before exploring the network of walking tracks that range in distance between 1km and 2.5km.
Short walks include:
Melaleuca Circuit (approximately 20 minutes)
Wild May Trail (roughly 30 minutes)
Curtisii Tail (allow 45 minutes, and be cautious around the cliff edges)
There's also an 'Agents of Discovery' game you can play on your mobile phone. Download the free app via Google Play or the Apple Store.
Roma Street Parklands
In the heart of Brisbane is where you'll find the Roma Street Parklands. It's an incredible place to explore with kids. Explore the more than 16ha of lush green lawns, flower gardens, forests, lakes and playgrounds.
It's easy to spend a whole day at Roma Street Parklands. There are beautiful displays of manicured plants and hedges. Water features and sculptures will have you in awe. Cool down on a hot day by walking through Fern Gully; kids will love the towering ferns and waterfalls. Count the water monitors that appear on paths, in trees and on rocks.
What natural attractions have you visited?
---
You might also like…
The best kids bike tracks in Brisbane
Brisbane's best bushwalks with kids
7 family friendly activities to do in Brisbane
Written by
Calista Bruschi
When she's not moulding Play-Doh or dancing in the living room with her children, Calista Bruschi is an editor and writer. She has oodles of experience working on newspapers, magazines and websites. Calista likes to organise and be organised. She loves being a mum, Italian food, wine, sport and stationery. She hasn't sleep a full night in more than five years and is powered by coffee.