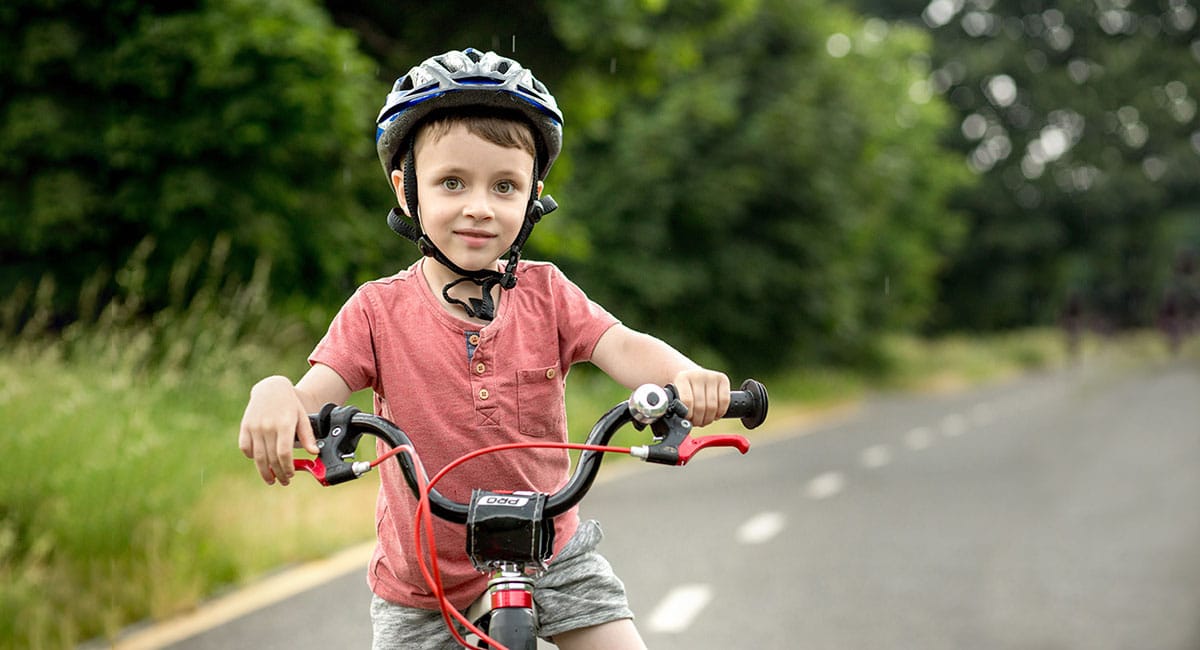 Outdoor
The best kids bike tracks in Brisbane
Want to get your little one out safely on two wheels? Why not take the bambinos to one the many ultra-cool kids bike tracks in Brisbane.
7th Brigade Park
This Chermside park recently underwent an upgrade, and now has a large bike and scooter track. It has realistic road signs and markings, complete with 'stop' signs, a roundabout and speed bumps. When the kids have had enough riding, they can enjoy the enormous timber fort and a playground with slides, swings, cargo netting and rockers. 
Bradbury Park
Kedron is home to Brisbane's first dedicated scooter track which opened just last year. The 200m-long looped traffic pathway comes complete with obstacles, including moguls, jumps, bumps, a tunnel, mini street signs and even a door to scoot through. A large section is suitable for toddler use, and the more challenging obstacles have a cleverly-designed bypass for the less-experienced riders – whether it be scooters or bikes.
Crestmead Park
This popular local park boasts skating facilities and a network of mock traffic roads with realistic markings and traffic signage. 
DM Henderson Park
Located in MacGregor, this bicycle safety learning track has street signs and line markings for an authentic experience. It also has a learning BMX track with plenty of curves and humps, as well as a half basketball court, off-leash dog area, playground and barbeque facilities. 
Greenways Esplanade Park
Iconic landmarks of Brisbane are featured in this excellent learning track in Parkinson. Check out the Storey Bridge and gateway motorway amid the traffic signage, intersections, roundabouts and crossings. There are plenty of other attractions here, too, including a BMX track, cricket practice net, playground, basketball half court and off-leash dog area. 
Grinstead Park
This popular park is a great northside destination in Alderley. Little ones learning to ride will love the road circuit, which comes complete with road markings, pedestrian crossings, traffic lights, speed bumps, and a petrol pump station. The adjacent playground, skate park and basketball court are undergoing renovations between July and December 2021, so will be closed at times, but the bike track will remain open. 
Kangaroo Gully Road Park
The brand new learn-to-ride path in Bellbowrie features mini petrol stations, traffic signs and is perfect for beginner riders.
Joe Bradfield Centre Park
Located in Carina, this track is shaded and fully-fenced with traffic lights. It has the bonus of two two playgrounds nearby as well as tennis, netball and cricket facilities. 
Pallara District Park
This 190m learn-to-ride circuit comes complete with intersections, signage and even features a "fix-it" shop so kids can pump up their tyres. The circuit runs the perimeter of a playground which has an epic 10 metre-high climbing tower.
Perrin Park
Toowong's mini road track is perfect for both little and bigger kids and is recommended by Cycling Brisbane as one of the best places to learn to ride. The figure-eight track weaves around a playground and is ideal for junior learners, while a bigger track surrounds the entire park for faster riders. 
Sutton Park
This precinct adjacent to Brassall Shopping Centre in Ipswich is all about learning and play. Kids can ride and scoot safely on the bike path that replicates a real road, with stop and give-way signs, traffic lights, roundabouts, direction arrows and pedestrian crossings. The playground next door is well equipped, too, with swings, see-saws, monkey bars and a fort. 
Symphony Crescent Park
Burpengary's mini road track is well-equipped with signage and an interlinking network of concrete paths suitable for both bikes and scooters. There's also a playground, basketball court as well as toilet amenities on site. 
Timberland Park
Featuring a road system with street signs and pedestrian crossings, this park at Algester is worth trying out. There's also a large wooden playground structure the kids will love, and picnic facilities. 
By Josephine Agostino
---
You may also like…
Best playgrounds in Brisbane
Brisbane's best bushwalks with kids 
Directory of swim schools in Brisbane
Written by
Angela Sutherland
After spending many years hustling stories on busy editorial desks around the world, Angela is now mum of two little ones and owner/editor at Kids on the Coast / Kids in the City. She is an atrocious cook and loves cutting shapes to 90s dance music.