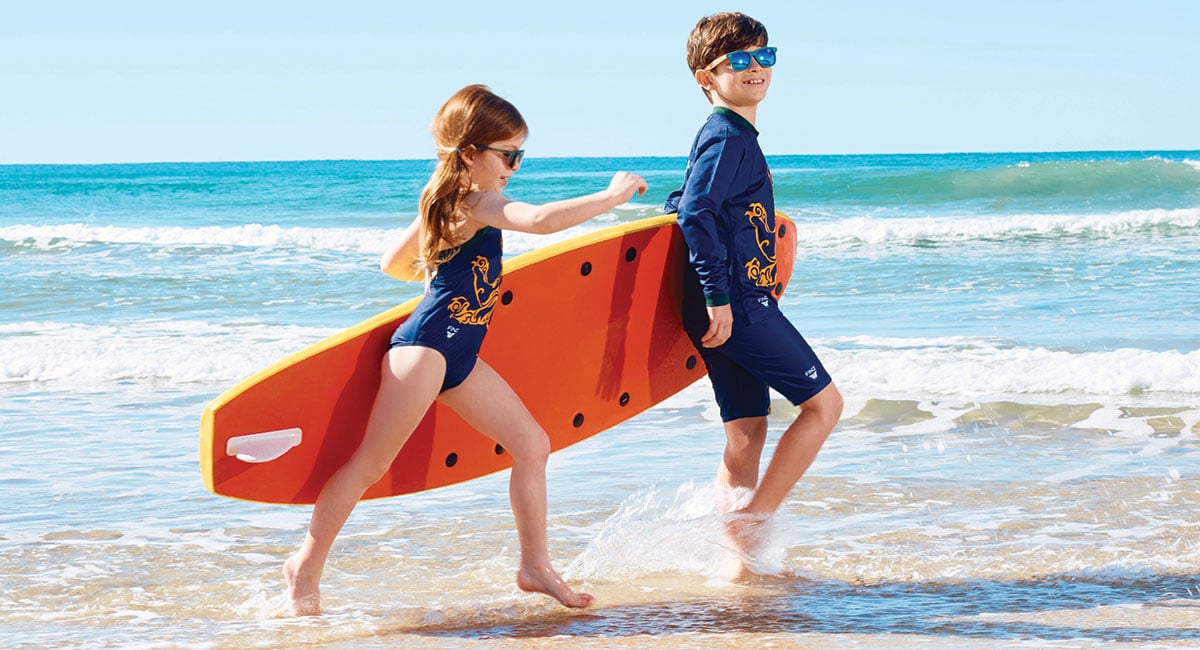 Home & Health
Beach safety for Sunshine Coast kids
It's that time of the year where the sun is setting that little bit later, the ocean breeze feels warm on our skin, and the glistening waters of the Sunshine Coast beckon us back under the surface.
Whether it's amongst the Coast's spectacular beaches, idyllic waterholes, tranquil rivers, or even our own backyard pools, spending balmy days cooling off in the water is what living in this part of the world is all about.
The days where the kids can splash around to their hearts content will give them the most special of life-long memories. But as parents, giving our children this gift comes with a very important responsibility—to keep them as safe as possible.
Learn to swim is critical to beach safety
Growing up on the Sunshine Coast, learning to swim and beach safety are critical skills for our kids to learn.
"When we live somewhere with such beautiful beaches and swimming holes, and with many homes having backyard pools, it's essential that our children are not only capable swimmers but strong swimmers so they are safe in that environment," says Jess Hart, Learn to Swim Coordinator at Sunshine Coast Grammar Aquatic Centre.
Startling statistics have shown that babies and toddlers can drown in as little as five centimetres of water, so Jess encourages parents to enrol their little ones in lessons as early as three months old.
"It's never too young to start a learn to swim program," Jess says. "Babies are so capable of starting to learn early and it means they're safer around water sooner. It gives them confidence in the water and respect for it rather than being wary of it."
A mother herself, Jess says the swimming lessons she enrolled her daughter in since she was a baby ended up saving her life.
"My daughter—who had been doing lessons since she was three months old—was standing on the side of a pool when she was two-and-a-half. A dog ran past, knocking her into the pool and she was able to swim to the edge and pull herself up by the time I ran over to her," Jess says.
"She didn't panic and wasn't bothered by it at all. What she knew kept her calm."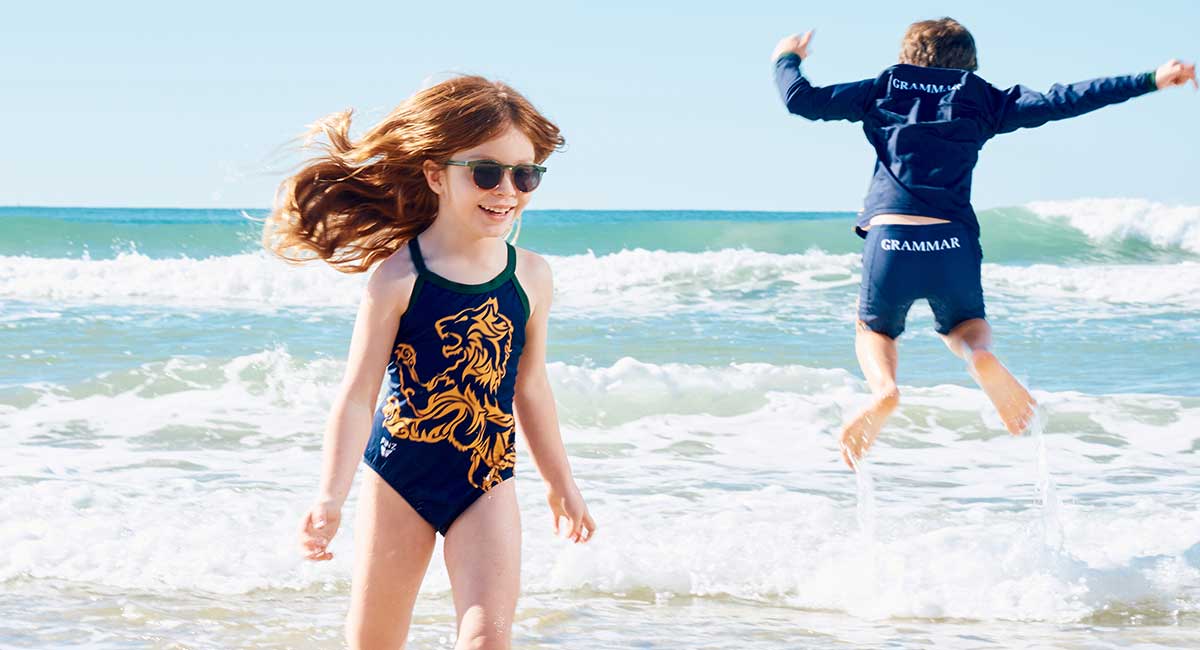 Choosing a learn to swim program
In choosing a swim school, Jess says parents should always select one that is AUSTSWIM or ASCTA accredited. Sunshine Coast Grammar Aquatic Centre is one such accredited facility that has a learn-to-swim program for children as young as three months right up to adult squad teams, and is open to anyone, not just those in the school community. Water safety is paramount in its lessons, which always begin in the same way.
"When a child is about to enter the pool, we teach them a cue to stop and wait, make eye contact with the adult they are swimming with in the pool, then go in, so that wherever they are swimming, they do the same thing," Jess explains.
While life-long lessons are being taught, learning to swim doesn't need to be a strictly serious business either, especially when it comes to helping hesitant little ones find their feet.
"We make it a fun and positive environment," Jess says. "We use games, toys and songs so they become comfortable in the pool."
The swimming instructor believes a child who is timid around the water also benefits from frequent exposure to help them be comfortable in a pool sooner.
"I encourage parents to have them play in the bath more and not just limit their water time to one lesson per week," she says.
While learning how to swim is a skill every child should have, having that ability still isn't a guarantee that they will be 'drown proof', according to Sunshine Coast Grammar Aquatic Centre Head Swim Coach Luke Stafford.
"There is no such thing as being drown-proof. Safety is everyone's responsibility and it doesn't stop just because your child has had lessons," Luke says.
"No matter how confident your child is, especially if they are under 12 years of age, parents should always keep a close eye on their kids in any body of water. A toddler may be able to run through water, but if they fall down in it, some don't have the instinct yet to bring themselves back to the surface.
"Drowning is a silent killer. You don't hear someone drown. It only takes a couple of seconds and they're under the water."
Jess advises that whether it's at the beach, pool or river—no matter what the water depth—it's always a must to keep a child within arm's reach if they aren't able to swim 25 metres on their own.
"A rip in the surf can be up to five lengths of a 50-metre swimming pool, so being able to swim to the edge of a pool can be very different to navigating a rip at the beach," she says.
How do I spot a rip current? The key signs to look for are:
Deeper and/or darker water
Fewer breaking waves
Sandy-coloured water extending beyond the surf zone
Debris or seaweed
Significant water movement
And if you think having flotation devices in the water with your kids helps keep them safe, then that's one very big myth.
"It's never a replacement for supervision," Luke insists. "They're fun to play with, but they shouldn't be relied on as safety devices."
Is your swimming pool safe?
The swimming instructors advise that when it comes to pools, there are a few safety aspects to consider that many parents often forget.
"Check the depth of the pool before the kids jump in because a shallow pool can pose dangers too," advises Luke.
"Check pool fences are in good working order—they should automatically slam shut after being opened. Make sure there's nothing near the gate that kids use to climb onto to reach over the gate, and have a CPR chart on display that you've read and understand."
Beach safety tips
When it comes to beach safety, between the flags is always the safest place for the kids to swim—even if those crashing waves look daunting.
"The flags will always be up in the safest place to swim, so don't think that if you see calm water further down the beach that it's a good choice," says Surf Life Saving Queensland Community Awareness Manager, Helen Hallett.
"If you swim where the waves are crashing, they will always push you back into the beach. If you're in a flat part, it's usually the water trying to get back out in the ocean quickly, and that's often a rip current. That's why you won't see a set of flags where it's very calm."
When it comes to understanding which flags are which, the rules are pretty simple. "A red and yellow flag indicates the safest place to swim," explains Helen. "The black and white flags indicate where people should ride their hard surfcraft, and the red flag is for danger. An orange or amber flag means people should proceed with caution."
If you are caught in a rip current and not a confident swimmer to get out of it, Helen explains that lying flat on your back and floating is the best course of action.
"Lie on your back and stay calm, and the current will only take you out to where the waves are. Then hold your hand up and a Surf Lifesaver will come out and help."
To avoid being caught in a rip current, always swim between the flags at a patrolled beach, where lifesavers and lifeguards are on duty.
By Josephine Agostino
---
You may also like…
Meet the Principal at Sunshine Coast Grammar School
5 reasons to enrol your child in swimming lessons
Written by
Angela Sutherland
After spending many years hustling stories on busy editorial desks around the world, Angela is now mum of two little ones and owner/editor at Kids on the Coast / Kids in the City. She is an atrocious cook and loves cutting shapes to 90s dance music.