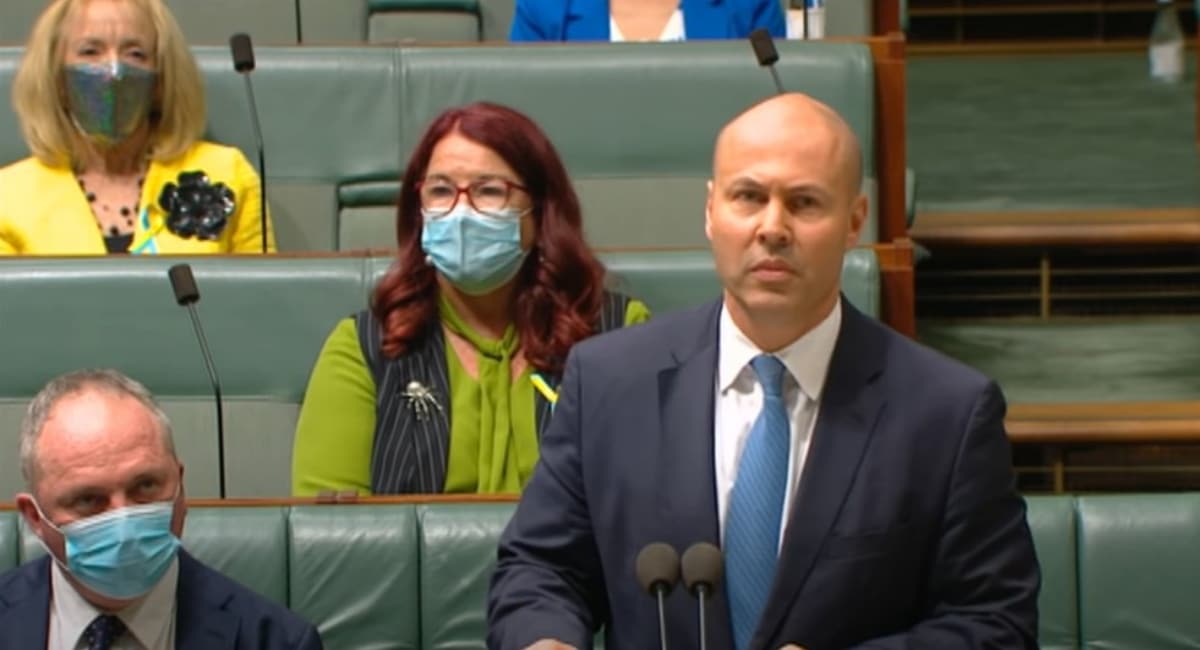 News
Are women really better off under the budget? The experts think not
If you missed the Government's budget talk on Tuesday, March 29, you might have missed the raft of announcements for women. Among them were measures for domestic violence, women's health and the gender pay gap. Also proposed are sweeping changes to the Paid Parental Leave (PPL) scheme.
As Prime Minister Scott Morrison and Women's Minister Marise Payne put it, the 2022 Budget "demonstrates the Government's continued commitment and action to achieving greater gender equality in Australia, and puts women at the centre of the economic and social recovery".
Does this really measure up, though? Following the Budget speech, experts and economists overwhelmingly feel the Government misses the mark on its PPL reform and  gender equality. While others say the budget fails to address one of the biggest issues of them all — the cost of childcare on families. We take a look at some of the big topics.
Paid parental leave shake-up
The Government announced plans to roll the existing 18 weeks of paid parental leave and two weeks of dad-and-partner pay into a single scheme. It also affords families the decision on how best to split the 20 weeks. Single parents are eligible for the full 20 weeks, which adds a fortnight to their existing entitlement.
The government is also raising the household income threshold to $350,000.
"Families, not government, are best placed to decide what works for them," Treasurer Josh Frydenberg said in his budget speech.
Perpetuating traditional caring roles
Mr Frydenberg says the changes form part of a $346.1 million five-year women's economic security package. The package aims to boost women's participation in the workforce. However, economists say traditional gender stereotypes and wage disparities mean mothers are more likely to take the entire 20 weeks. There is no specific incentive for their partner to use the leave.
Associate Professor Political Economy and Deputy Director, The Gender Equality in Working Life Research Initiative, Elizabeth Hill says by removing the specific provision for dads and partners, it undoes good policy architecture designed to 'nudge' men to take leave when baby arrives.
In an article for The Conversation, Associate Professor Hill says global research shows parental leave policies available to both parents on a 'use it or lose it' basis deliver the best health and economic outcomes for children, women and men.
Speaking to The New Daily, Dr Angela Jackson, lead economist for Impact Economics cites Quebec, Canada for being one of the best examples in the world. They introduced five weeks of leave for dads on a 'use it or lose it' basis. The result was a huge increase in the number of dads taking leave.
"That led to an increase in women's participation in the workforce and an increase in female wages as well," Dr Jackson says.
The policy shouldn't have scrapped the Dad and Partner Pay Leave Scheme. It should have increased incentives for dads and partners to take up more of the care load.
"Paid parental leave should be extended to 24 weeks, including six weeks of maternal leave, six weeks of partner leave," Dr Jackson says. "The remaining weeks can be split as couples wish."
In 2020-21 there were 168,167 women who received taxpayer-funded parental leave pay. In the same year, 89,784 people used the Dad and Partner Pay Leave Scheme.
What about childcare?
Associate Professor Hill feels the Government's budget overlooks early childhood education and care.
"This has been billed as a 'cost-of-living' budget," she writes. "Childcare payments are one of the biggest costs to households, alongside housing costs and food."
The Government brought forward the $1.7 billion childcare subsidy changes from July 1 to March 7.
It says the average family will be more than $2,200 per year better off. However, a report from 2021 shows almost 40 per cent of Australian families cannot afford childcare. The report found that one in three families spend more on childcare than groceries. Also, 85 per cent of families said they spent more on childcare than their utility bills.
Many economists and community groups agree there's an urgent need for free or more affordable early learning and care services. These services should be available to all children, regardless of what their parents do or do not do for work.
Ending violence against women
In January, a new national plan to end violence against women and children was released. All states and territories need to agree on the final version before mid-year. Programs for prevention, early intervention, response and recovery will split the new budget funding. It includes:
$222.6 million for improving initiatives to prevent gendered violence, including expanding the role of national prevention organisation, Our Watch.
$290.9 million provided to strengthen programs that support domestic violence victims and survivors' recovery. This includes new pilot programs.
$328.2 million to create programs focused on early intervention and prevention. These include campaigns to boys and young men.
$480.1 million to fund programs supporting women and children experiencing domestic violence. This includes extending Escaping Violence Payments and the Safe Places program.
What did you think of the Budget measures announced? Do you think you'll be better or worse off?
Written by
Calista Bruschi
When she's not moulding Play-Doh or dancing in the living room with her children, Calista Bruschi is an editor and writer. She has oodles of experience working on newspapers, magazines and websites. Calista likes to organise and be organised. She loves being a mum, Italian food, wine, sport and stationery. She hasn't sleep a full night in more than five years and is powered by coffee.