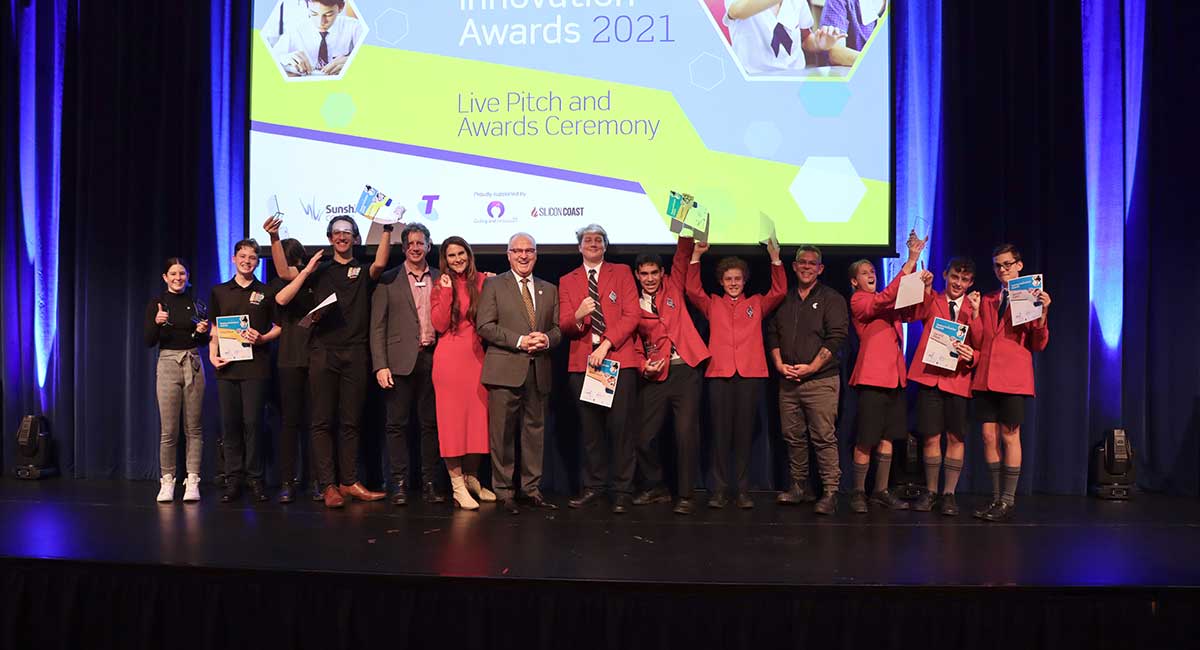 News
Mayor's Telstra Innovation Awards search for creative and inspiring minds
Got a budding innovator at home? Well, it's time to get creating as the Mayor's Telstra Innovation Awards are back in 2022!
Entries are now open for high school students from across the Sunshine Coast region in Years 9 to 12. The awards help bring students' creative ideas to life and connect them with industry mentors.
Sunshine Coast Council Mayor Mark Jamieson has been a champion of these awards since their inception in 2016. He said the program supports students in developing business ideas that use innovation or technology to solve a community, environmental or business challenge.
"Students and teachers involved in this competition each year demonstrate we are well and truly on the right track in encouraging opportunities for our young people to succeed in the 21st century," Mayor Jamieson said.
He said council supports programs that provide a pathway for the next generation.
"As a community, we are continuing to see the benefits from these types of initiatives, with an increase in programs such as robotics, entrepreneurship and coding being offered in schools and through extra-curricular activities," Jamieson said.
Looking to the future
Many of the jobs of the future will be built around science, technology, engineering and mathematics — STEM subjects.
"It's incredibly important to foster these skills in our region," Jamieson said.
 Telstra's regional general manager May Boisen said a remarkable range of ideas and projects blossomed from the imaginations of Sunshine Coast students.
"They are the next generation of innovators," she said. "It's so important that all of us, in business and the community, continue to nurture and support this talent."
Boisen said innovative technology is critical to "keep us connected".
"These awards are just one way [Telstra] can support the Sunshine Coast to continue to be at the forefront of innovation and fostering talent," she said.
The Telstra Innovation Awards encourage students and schools to embrace and be creative with technology. They offer a wonderful opportunity for students to network, explore and develop their passion for entrepreneurship. Throughout the process they will gain real-life experience, skills and knowledge.
"This will help prepare them for the next step in their journey," Boisen said.
Engaging with industry leaders
Tracey Coobula, program director for Study Sunshine Coast, said the Mayor's Telstra Innovation Awards were ideal for students. Not only do students gain valuable business experience and skills, but they are also mentored by successful and forward-thinking industry leaders.
"With our focus on identifying, supporting and connecting local talent for both students and industry, we can't wait to uncover the next rising stars of tech, innovation and business through this program," Ms Coobula said.
A panel of judges will assess applications and decide on the 12 finalist teams to progress to the next stage. This stage includes a four-week industry-led mentoring program.
Mentors will assist students in developing their idea, understanding their potential customers and developing a prototype.
Glasshouse Christian College students received the top gong in 2021 for their creation of 'LEDPlates'. LEDPlates provided learner drivers a bright new way to display their 'L' plates, along with a compatible phone app to change the plates as needed from Ls to Ps. The LEDPlates team went on to win the Generation Innovation GI Challenge.
For more information and to apply, visit the website.
---
You may also like…
The program creating the next generation of entrepreneurs
Design thinking at Flinders is solving problems with heart
Written by
Angela Sutherland
After spending many years hustling stories on busy editorial desks around the world, Angela is now mum of two little ones and owner/editor at Kids on the Coast / Kids in the City. She is an atrocious cook and loves cutting shapes to 90s dance music.