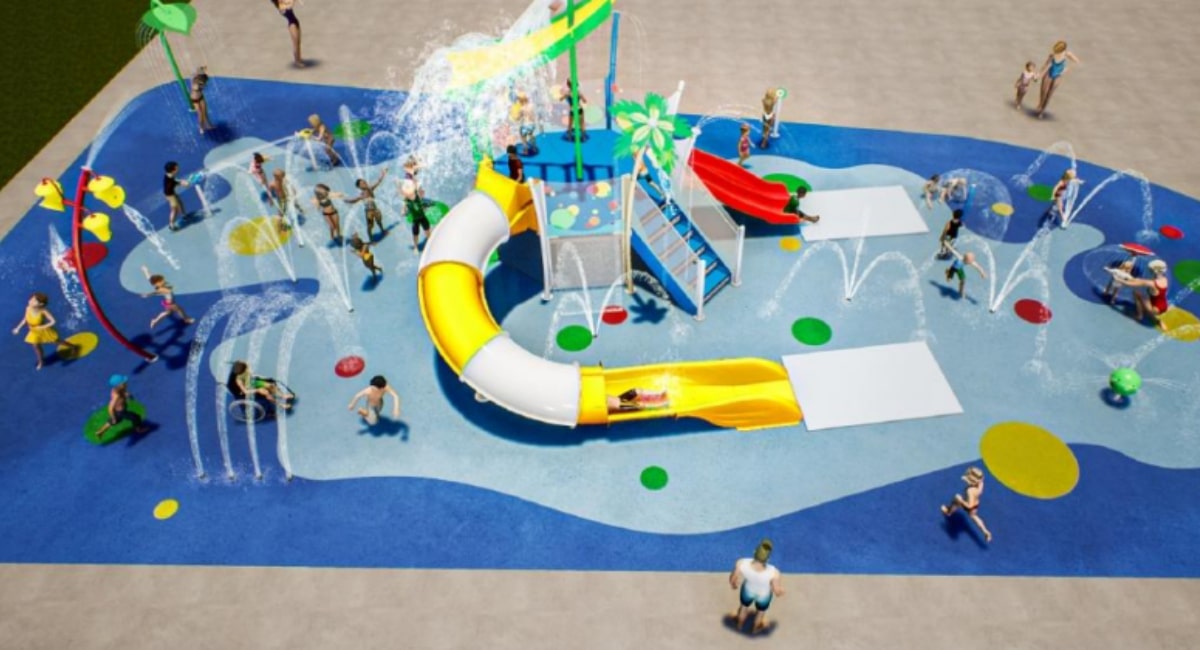 News
SUNSHINE COAST: Make a splash at Nambour's new water park
A water wonderland in the heart of the Sunshine Coast hinterland will be unveiled to the public at a 'soft launch' on January 22. The new multimillion-dollar Splash Park at the Nambour Aquatic Centre officially opens in mid-2022 and will be a major drawcard for locals and visitors alike.
The children's zero-depth and fully accessible splash pad is ready for community use.
Together with the centre's existing 50-metre lap pool and its 25m indoor pool (both of which are heated), the Splash Park, also features two adventure slides.
When construction started on the $3.26 million project, Sunshine Coast councillor David Law said the upgrade would help promote Nambour's revitalisation. The state-of-the-art Splash Park will make the Nambour Aquatic Centre a major destination for the whole family.
The Nambour Aquatic Centre is one of nine council-owned centres throughout the region. The water slides at the Nambour Splash Park will be a first for the facilities.
Its spacious grounds are ideal for family and friends wanting to enjoy south-east Queensland's idyllic weather. Purchase delicious coffee and freshly prepared food at the on-site café.
The centre also provides Learn to Swim lessons, aqua aerobics and a SwimFit program.
Read more: Looking for a swim school on the Sunshine Coast? Check out our directory
While you're enjoying the Splash Park
There are plenty of things to see and do while you're visiting Nambour. Once known for its sugar mill, the hinterland town is today renowned for the talented creatives who reside there.
Walk or drive the art trail. Showcasing a growing number of public and street artworks, you'll find murals and sculptures on the walls, in laneways and on bridges around the CBD.
View this post on Instagram
You might also like to browse the racks in the many retro and vintage fashion stores around town. There are op shops galore in Nambour, including the Salvos and Adra Op Shop on Currie Street; Vinnies, Mr Beesley Vintage Clothing, Helping Children Smile , Aus Living Support, Neighbour's Aid on Howard Street; Bloomhill Op Shop on Hospital Road; and Lifeline on Lowe Street.
Bibliophiles will delight in the many vintage and second-hand book shops, with The Time Machine and Nambour Book Exchange on Currie Street offering more than 200,000 used and second-hand books, magazines and toys (as well as vinyl records and other vintage memorabilia and collectables).
For outdoor lovers, families will enjoy The Big Pineapple, The Treetops Challenge, and Wildlife HQ — some of our favourite things to do with kids on the Sunshine Coast. Also, if you time your visit right, the Sunshine Coast Railway Modellers Society at Florence Street have miniature train rides on the fourth Sunday of each month and on public running days (weather and Covid-19 permitting).
Are you looking forward to the Nambour Aquatic Centre's new Splash Park? What other things have you done in and around Nambour?
Written by
Calista Bruschi
When she's not moulding Play-Doh or dancing in the living room with her children, Calista Bruschi is an editor and writer. She has oodles of experience working on newspapers, magazines and websites. Calista likes to organise and be organised. She loves being a mum, Italian food, wine, sport and stationery. She hasn't sleep a full night in more than five years and is powered by coffee.